Visits
Details

Written by

Silvia G Golan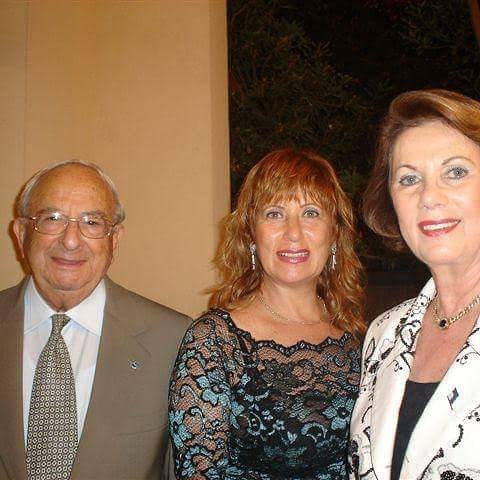 "Diplomacy Staff would like to express deep sorrow over the passing of Israel's fifth president, Yitzhak Navon, and send condolences to his family
Daniel Schwarz Silvia G. Golan

CEO Executive Director
Mad Logic - Latina Media Group www.diplomacy.co.il
Facebook Diplomacy Israel
Photo Silvia Golan
Details

Written by

President's Spokesperson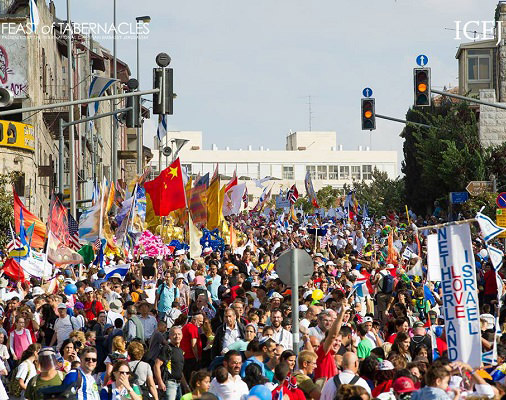 President Rivlin addresses 5,000 Christian visitors to Jerusalem at Tabernacles Feast
President Reuven Rivlin this evening (Tuesday) addressed the 36th Annual Tabernacles Festival of the International Christian Embassy in Jerusalem, attended by 5,000 Christian visitors to Jerusalem from 85 countries, among them around 50 ministers and members of parliaments, from around the world, who are members of the International Israel Allies Caucus Foundation.
President Rivlin welcomed the visitors to Jerusalem, and stressed the importance of the Jewish people's return to Zion, both in ancient and modern times, as an inspiration to all peoples, "What an inspiration," he said, "was the return from exile in Babylon for the Jewish pioneers of the 19th century - and indeed for the 17th century pioneers fleeing European persecution, seeking freedom in the New World, and eventually founding 'One nation, under God, with liberty and justice for all'."
The President told the attendees of his own family's arrival in Jerusalem, over 200 years ago. He thanked the visitors for their support, and for coming from around the world, and said, "Thank you for standing with us."
Photo :Christians from around the world celebrate the Feast of Tabernacles in Jerusalem
Copyright: International Christian Embassy in Jerusalem
Details

Written by

Israel Foreign Ministry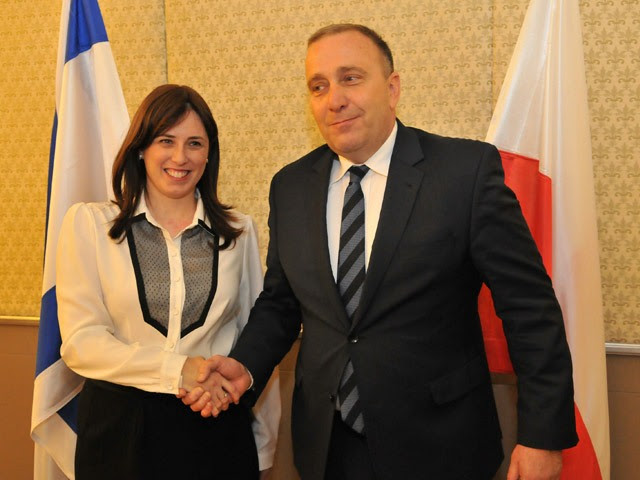 Joint Declaration: 25 years of Polish-Israeli bilateral cooperation
Over the past quarter century, Israel and Poland have built privileged and friendly bilateral relations that draw on common history, mutual respect for sovereignty and security needs, as well as economic and cultural collaboration.
This year, Poland and Israel mark 25 years since renewing diplomatic relations. Over the past quarter century, we have built privileged and friendly bilateral relations that draw on common history, mutual respect for sovereignty and security needs, as well as economic and cultural collaboration.
We have consistently expanded our political dialogue. This is evidenced by the many visits of ministers, prime ministers and presidents, as well as the mechanism of intergovernmental consultations which is presided over by the heads of government. The dynamism of our political cooperation is confirmed by the current visit to Israel by Mr Grzegorz Schetyna, Minister of Foreign Affairs of the Republic of Poland. The aims of his trip are to sum up bilateral relations, and foster relations in promising fields of cooperation, chief among them the economic, military and strategic ones. We also want to deepen our dialogue at the level of local governments.
We are hopeful that in the years to come we will unlock the potential of collaboration among scientific and research companies and institutions, in particular from the broadly defined research and development sector. We are considering setting up an Innovation Council as a Polish-Israeli mechanism to support innovation projects.
We outline the need for future development of relations between Israel and the European Union, and to continue our cooperation in regional strategic issues. We are convinced of the need to work closer together in the framework of EU programmes, notably Horizon 2020, which will help forge closer ties between the scientific circles of both countries.
Moreover, we can see cooperation potential in traditional sectors of the economy. We welcome the ever stronger economic relations between Polish and Israeli companies. We are ready to intensify government measures to enhance comprehensive economic cooperation by frequent exchange of visits and organization of economic missions.
After a new and free Poland was born and bilateral diplomatic relations were restored in 1990, we have invigorated people-to-people contacts. Following over two decades of contact restrictions, Poles and Israelis had a chance to get to know each other anew. An array of educational projects, aimed at disseminating knowledge about the Polish-Jewish past and bolstering modern-day dialogue between societies, allows young people from Poland and Israel to discover their historical sensibilities together, and discuss all subjects, including the difficult ones.
We will seek to increase the number and scope of programmes that enable young Israelis to meet their Polish peers during educational trips and encourage contacts, cooperation and exchange visits of youth from both sides on the basis of the principle of reciprocity. Such relations go a long way towards rounding out our cooperation on preserving the memory of both nations' heritage, and the extermination of Polish Jews perpetrated by Nazi Germany.
Poland and Israel recognize the importance of securing the wellbeing of Holocaust survivors and other victims of the Second World War in occupied Poland and work together to secure that.
We want to further deepen contacts between our societies. We hope that measures to develop cultural cooperation will contribute to more interest in modern-day Poland in Israel, and modern-day Israel in Poland, and result in joint actions and projects being put in place. We applaud the revival of the institutions of Jewish life in Poland, and will facilitate their contacts with educational and cultural organizations in Israel and among the diaspora.
The two nations are being brought closer together by Polin, the Museum of the History of Polish Jews, which has recently opened in Warsaw. This modern institution has all the advantages to become an important stopover for Israeli educational trips in Poland, and all those who are interested in nearly a millennium of Jewish presence in Polish lands. Besides exhibitions and traditional museum activities, Polin offers a meeting space for young people from Poland, Israel, and the whole world. We hope it will foster a better understanding of our shared history, and contribute to the development of people-to-people contacts.
Photo
Deputy Foreign Minister Tzipi Hotovely with Polish Minister of Foreign Affairs Grzegorz Schetyna
Copyright: Shlomi Amsalem
Details

Written by

The Peres Center for Peace
Michael Douglas to arrive in Israel next week to accept 2015 Genesis Prize

Inclusion, diversity and tolerance chosen as a main theme of award ceremony
The renowned actor, producer and peace activist Michael Douglas arrived in Israel to accept the 2015 Genesis Prize. The annual prize celebrates the richness and diversity of the Jewish culture and aims to strengthen the Jewish community across the globe.
The award ceremony will be held on June 18 at the Jerusalem Theater, where Prime Minister Benjamin Netanyahu will present the Prize to Michael Douglas. Jay Leno will return as Master of Ceremonies and Bar Refaeli will join as a presenter. Mr. Douglas's wife, actress Catherine Zeta-Jones, Knesset Speaker Yuli Edelstein, Chairman of the Executive of the Jewish Agency Natan Sharansky and Genesis Prize Foundation (GPF) CEO Stan Polovets are expected to attend, together with leaders of Jewish organizations and representatives of Israeli and global business, politics and culture.
The 2015 Genesis Prize award ceremony will be composed of three elements: a tribute to the Laureate, a celebration of the contribution of Jews to Hollywood and Broadway, and a segment on inclusion, diversity and tolerance – the main theme of GPF's activities this year. Michael Douglas announced earlier that he plans to defer the prize money, and work with the Genesis Prize Foundation to direct it to projects that promote and encourage inclusiveness in the Jewish community.
"The program this year will be unique and represent the special nature of this Prize," said Stan Polovets, Co-Founder and Chairman of GPF. "In creating this award, we have chosen to annually combine the exceptional profile of the Laureate with an important issue which is of concern to the Jewish people and will resonate with unaffiliated young adults."
During his visit to Israel, Michael Douglas will also take part in additional events organized by GPF together with the Jerusalem Municipality, the Jerusalem Foundation, the Peres Center for Peace, Masa Israel, Taglit-Birthright Israel, the Jerusalem Cinemateque and others.
###
The Genesis Prize is awarded by the Genesis Prize Foundation in partnership with the Office of the Prime Minister of the State of Israel and the Jewish Agency for Israel. It recognizes individuals who have attained excellence and international renown in their fields and who inspire others through their engagement and dedication to the Jewish community and/or the State of Israel. Prime Minister of Israel, Benjamin Netanyahu, presented the inaugural Genesis Prize to Former Mayor of New York City Michael Bloomberg in 2014.
To learn more about The Genesis Prize, please visit www.facebook.com/TheGenesisPrize or genesisprize.org, #GenesisPrize2015
Photo Silvia Golan
Details

Written by

Spain Embassy
LAW OF SPANISH CITIZENSHIP FOR THE SEPHARDIM
Historic moment.

Minister of Justice: "Spain closed a door in 1492. This door fully reopens the 1st October 2015". "Spain is today an open, inclusive, tolerant society".

Recognition of the outstanding importance of the Sephardim in our history and culture.
Why this law? It is the recognition of a unique case. The Sephardim kept Spain in their hearts for five centuries. When they left Spain they scattered, frequently in small, non-connected communities around the world. But until now they have maintained their memories, songs, language, traditions, prayers and, very significantly, their nostalgia for Sepharad.
Key elements of the law
Unanimity on this law. Support of all the political parties in the Spanish Parliament. Shows Spanish people commitment with the Sephardim
This law has the full support of the Spanish Jewish Community.
This is a unique case. When offering nationality, usually countries require that at least the grandparents are nationals. In this case, it is more than 500 years up the family. Only two countries have managed to do this: Spain and Portugal.
The Sephardim will no longer have to move their residence and renounce their previous nationality.
Why now? This law does not come out of the blue. It culminates a path full of gestures:
19th Century, under Isabel II: Jews are allowed to have their own cemeteries.
In 1900 Jews recovered their right to open synagogues in Spain.
1924: the Sephardim are offered Spanish citizenship by law for the first time. Later on, during the Second World War, Spanish diplomats in Europe used this law to save thousands of Jews from the Holocaust. Some have become "Righteous among Nations".
1981: Law stating that the Sephardim only have to reside in Spain for two years to obtain citizenship (general rule is 10 years).
1990: Prince of Asturias Award for Concord, handed by today's king Felive VI.
1992: King Juan Carlos, visited the Synagogue of Madrid and declared: "Sepharad is no longer a nostalgia, but a house where Jews should not feel at home. Because they are at home".
Two material requirements: Applicants will have to prove:
Sephardim of Spanish origin: "Sephardim" has a broad meaning in Israel. This law applies to the descendants of the Spanish Jews that where expelled from Spain in 1492, regardless of their current religion or residence. The law mentions an open list of possible means of evidence that will be considered globally:
certificates of rabbis or Jewish community Leaders or Federation of Jewish Communities in Spain
the language Ladino or Haketia
The use of "ketubah" under the laws of Castilla
The family names, as long as a competent authority is able to link them to the Spanish Sephardim.
Special relation with Spain.
Official studies related to Spanish history and culture
Language Haketia or Ladino.
Philantropic, cultural or economic activities in benefit of Spain or in benefit of the study of the Sephardi culture.
Exams: candidates will have to go through exams of basic level of Spanish language and Spanish culture, organized by the Cervantes Institute. There are exceptions: for minors and handicapped people. Nationals of countries where Spanish is an official language (i.e. Argentina) won't need the Spanish exam.
Process: For the first time, the application will be done online (the website is not open yet). The application and all the documents will be sent directly to the relevant authorities through the internet. Payment of a 100 euro fee. Then, applicants will have to travel to Spain once, to appear before a Spanish notary. After that, within 12 months they will receive the final decision and the rest (registering as Spaniards and obtaining the passport) can be done at Embassies or Consulates. Clarification: Only those who have a positive pre-evaluation will have to travel to Madrid. In other words: only those who are likely to succeed will have to do the trip.
When?
It will be in effect on 1st October 2015, for 3 years + 1 extra year upon Government decision.
Complete applications will be decided upon in 12 months (maximum).
The law will be forever in effect for extraordinary cases or when there are humanitarian reasons.