Visits
Details

Written by

Israel Defense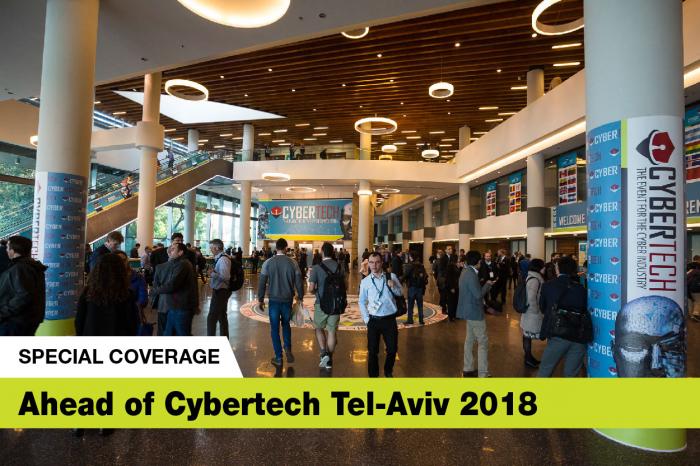 The Cybertech Tel Aviv Conference, which will be held on January 29-31, 2018, is expected to be larger than ever before. Thousands of people have already secured their place at the conference, which is considered the largest cyber event outside the US
Cybertech Tel Aviv 2018 Conference & Exhibition, which will be held on January 29-31, 2018, at Pavilion 2, Tel Aviv Convention Center, is expected to be larger than ever before. Thousands of people have already secured their place at the conference, hundreds of companies will take part in the exhibition, and so far dozens of delegations from more than 30 countries have confirmed their arrival to the event. Every year, Cybertech Tel Aviv attracts tens of thousands of visitors from around the world and is considered the largest conference in the cyber world outside the United States.
Cybertech TLV, which will be held for the fifth consecutive time, will bring together leaders of the cyber industry, government decision-makers from around the world, investors, technology experts and enthusiasts for dialogue and presentation of commercial problem-solving strategies for diverse challenges in the cyber realm. As part of the exhibition, hundreds of companies and startups will showcase their cutting-edge solutions and innovative technologies.
As mentioned, dozens of delegations from all over the globe will visit Cybertech Tel Aviv 2018. Some of the countries that have already confirmed their delegations include Brazil, Canada, Colombia, Denmark, France, Germany, Honduras, Greece, India, Ireland, Italy (where the Cybertech Europe Conference was held in September 2017, attended by more than 4,000 people), Japan (where the first Cybertech Conference was held last month, attended by over 2,000 people), Mexico, the US, the UK, Spain, Ukraine, South Korea, Singapore, Portugal, Romania, Poland, South Africa, the Netherlands, Nigeria, Switzerland, Vietnam and many more.
This year, conference topics will include, among other things, the cyber challenge in the health sector, aviation and transportation cybersecurity, seaports and maritime cybersecurity, and international cooperation in order to deal with global cyber threats.
For full information about the conference: https://www.cybertechisrael.com/
To register for the conference and exhibition: https://www.cybertechisrael.com/registration
Among the keynote speakers at the event are: Gil Shwed, Founder & CEO of Checkpoint; Aharon Aharon, CEO of Israel Innovation Authority; Udi Mokady, Chairman & CEO of CyberArk; Dr. Dorit Dor, Vice President of Checkpoint; Prof. Rivka Carmi, President of Ben Gurion University; Dr. Orna Berry, Vice President of DELL-EMC; John Delk, Chief Product Officer & GM of Security Product Group at Micro Focus; David Burg, Global Cybersecurity Leader at PwC; Marc van Zadelhoff, General Manager of IBM Security; Dr. Zulfikar Ramzan, Chief Technology Officer at RSA; Tony Cole, VP & Global Government CTO at FireEye; Esti Peshin, General Manager of IAI's Cyber Division; Nadav Zafrir, CEO & co-founder of Team8; and many more.
For the full list of speakers: https://www.cybertechisrael.com/speakers
As in previous years, a start-up competition will be held during the conference. Startup companies will have the opportunity to present their developments to a panel of investors and industry experts. The winner will receive two tickets to the RSA Conference, including flight expenses.
To register for the competition: https://www.cybertechisrael.com/startup-competition-1
Stay tuned for more information about Cybertech Tel Aviv 2018!
Published at http://www.israeldefense.co.il/en/node/32406
Photography: Gilad Kavalerchik
Details

Written by

Steven Aiello
A unique Arab-Jewish delegation returned to Israel from Kosovo happy, united, and victorious. The group, including 11 Muslim, Jewish, and Christian students from all over Israel, is only the second ever Jewish-Arab youth MUN delegation to travel abroad, both times as part of the Debate for Peace MUN leadership program. From November 30 through December 6 the delegation met with religious and diplomatic leaders in Kosovo and competed in the Kosovo International Model UN (KIMUN) conference organized by the ICHAT youth organization.
The delegation included students from cities and high schools throughout Israel: Bashaer, Sharet Netanya, Givat Brenner, Ginsburg Ha'alon, St. Joseph, and the Jerusalem Hand in Hand school. Before the conference students underwent extensive preparation, including a special preparation session with MUN guru Daniel Gindis. They also met with the ambassador of Albania to Israel Dr. Bardhyl Canaj, and with Felicita Jakoel, an Albanian-Israeli Jew and learned more about Albanian hospitality, and Besa, the special code of honor which is often cited in reference to the extraordinary story of Jews being saved during the Holocaust, as well as about the unique heritage of Romaniote Jews.
Once in Kosovo, the group got to see Albanian hospitality up close. From beginning to end, the ICHAT organizers worked tirelessly to ensure that every need was met, so that the program ended with close friendships and a desire by all of the delegation members to return to Kosovo.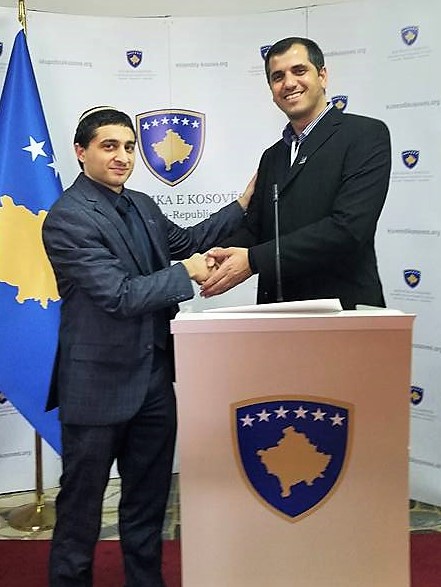 The delegation met with the UN Mission to Kosovo, UNMIK, and heard about the unique mandate that it had received through which it had helped to found much of the state institutions in the young state of Kosovo. Later the group met with Ana Hacic-Vlahovic, Political Officer at the US Embassy in Prishtina, and held a Q and A session with her. Through both meetings, the delegation got a better understanding of the complex relationship in Kosovo between the UN, EU, NATO, and various state and non-state actors working to improve economic and governmental affairs in Kosovo, and diplomatic affairs with the country. Ms. Hacic-Vlahovic told Diplomacy "I am so glad to have had the opportunity to meet with the students and discuss the U.S. relationship with Kosovo and the ways in which we are helping improve the rule of law, economic development, and regional stability. It was particularly rewarding to have this amazing group of students who represent various geographic regions and groups within Israel visit Kosovo and see how youth can make positive change in a post-conflict society. It is incredibly important to have youth involved and interested in international affairs because they are the key to building tolerant, multiethnic societies.
The KIMUN group also visited several historical and heritage sites in Kosovo, including the home and burial sites of the famed Jashari family, and the classical Ottoman town of Prizren. In Prizren, led by Dr. Irfan Daullxhio, the delegation saw mosques, churches, Suffi centers, and the under-construction Jewish center, and met with the heads of the Jewish and Catholic communities in Kosovo, and the leader of the Halveti Sufi order in the Balkans.
Of course the focal point of the trip was the MUN conference itself, and it was there that the group really shone. The topics covered included Kosovo's application to enter UNESCO, counterterrorism, and "Transforming the World" (featuring the underlying goals of the UN's Sustainable Development Goals). While all of the students worked hard to prepare for the conference, only three delegates in the entire conference received the cherished Best Delegate award, with two coming from the Israeli delegation. George Abu Daoud was chosen as the Best Delegate of UNESCO for his energetic representation of Ukraine, teaming with the delegate of Georgia for a tireless effort to marginalize Russia and place the conference focus on the issue of state sovereignty. Aviv Hanuka, the delegate of Senegal, was rewarded for his patience and diplomacy, winning the Best Delegate in the General Assembly, and authoring two of the four amendments which managed to pass the 2/3ds threshold at the end of the conference.
After nearly a week of intense sightseeing, diplomatic meetings, and competitions, the delegation left Kosovo on December 6. As a Jewish-Arab group with students of diverse backgrounds, students learned much from being with one another, and presented a variety of perspectives to everyone they met, along with a unified message of coexistence and tolerance. Together with the rich Albanian history of interfaith humanism, this made for a very successful delegation.
ICHAT Communications Director Agnesa Jashari expressed the sentiments of many at getting to meet the "amazing youngsters from Israel. KIMUN 2017 wouldn't have been such a success without their active participation. Their motivation, dedication, intelligence and smiling faces are to be admired. Knowing their potential, curiosity and their will to learn, a bright future is awaiting for them." Her colleague Albane Hoti stated that ""There is no road to peace; peace is the road itself"- This is what Debate for Peace delegation showed during KIMUN 2017", reminding the group that they would always be welcomed and find a second home in Kosovo."
ICHAT Director Besmir Kokollari also recognized the group's contributions, noting that "KIMUN 2017 was special because of the diversity that this event brought in Kosovo. You added the most important values to this KIMUN, and gave an important message to us and all those who were here: 'We all Debated for Peace'."
Shaked Haninovich, from Givat Brenner High School said that for her, "the diversity between us was one of the main reasons for the trip to be even better than I could have ever imagined." Mayada Othman, from Bashaer High School added that "the people in Kosovo were more than amazing, they did their best for us to always feel well and comfortable during our stay there. It really felt like home."
Read more about Debate for Peace here: debateforpeace.wordpress.com
Steven Aiello
Founder--DebateforPeace
Photos Debate for Peace
Details

Written by

Silvia
Some 500 representatives from over 200 countries will attend the conference, titled "Coping with International Terrorism." Among other speakers will be Ministers Katz, Shaked, Steinitz and Levin, as well as the ambassadors of the United States, Spain and France.
Details

Written by

Slovak Embassy
The launch of a new website promoting cooperation with Israel in R&D
On Friday, December 1st 2017, the Slovak Embassy in Tel Aviv launched the website of the Slovak-Israeli Scientific and Innovation Society SKILL. The ambition of this initiative is to give further boost to the cooperation between scientific and academic communities in Slovakia and Israel.
Details

Written by

Steven Aiello
On Thursday evening November 9th, the Israel-Latin America Chamber of Commerce held a special conference on "Doing Business with Cuba." The event was held in preparation of a business delegation of Israeli firms to Cuba taking place from December 5-7 2017.