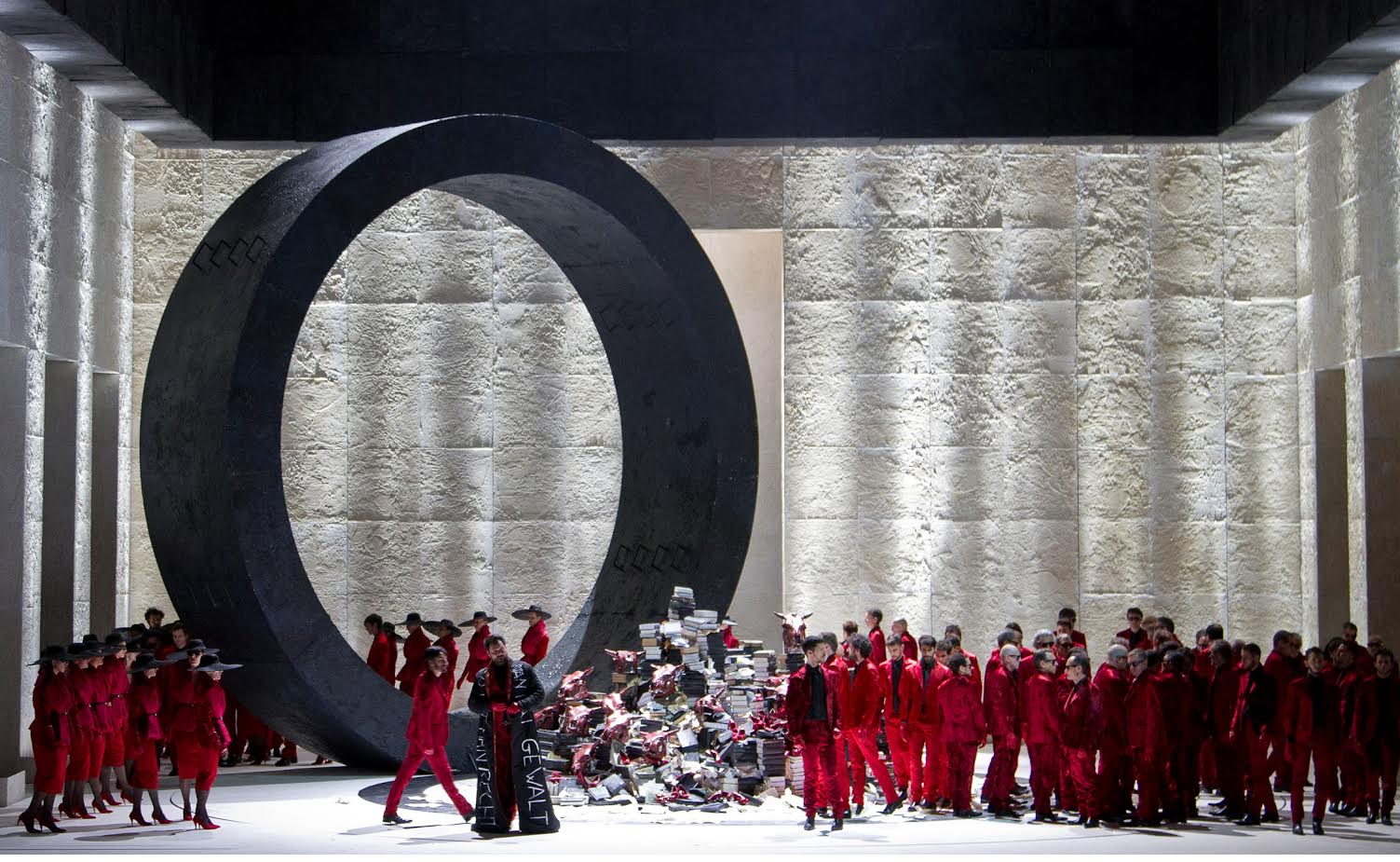 The Israel Opera's current production of Faust by Charles Gounod is an amalgam of grand opera and ballet that combines the best of both artistic worlds. The superb performances by vocalists and dancers alike take place against the backdrop of stunning scenery, whose staging employs high-tech hydraulics.
In this four-hour production of the opera in five acts -- a co-production of the Israel Opera with Teatro Regio Torino and Opera de Lausanne -- the choreography -- by visiting director Stefano Poda -- practically steals the show. The writhing, sensual movements of the souls in Hell are rendered all the more unforgettable by the near-total nudity of the lithe terpsichoreans.
Indeed, at the premiere performance of Faust on March 6, the audience's enthusiastic ovations for the dancers rivaled those that regaled the singers. The dancers also received named credits in the program playbill.
The Opera Orchestra -- the Israel Symphony Orchestra Rishon LeZion -- conducted by Dan Ettinger, was in fine form in an augmented capacity, with two harpists and complete woodwind and percussion sections.
The role of Faust was sung by tenor Gaston Rivera, while that of Mephistopholes was sung by bass Paolo Battaglia. Soprano Aurelia Florian excelled as Marguerite, and the breeches role of Marguerite's suitor -- and Faust's rival -- Siebel was sung by mezzo soprano Na'ama Goldmann.
The roles of all five major protagonists alternate each evening during the course of this stunning production, which runs through March 25.
Faust
Conductor Dan Ettinger
Ethan Schmeisser
Director, Designer and Choreographer Stefano Poda
Among the soloists:
Faust Gaston Rivero
Rame Lahaj
Mephistopheles Paolo Battaglia
Petar Naydenov
Marguerite Aurelia Florian
Tamar Iveri
Siebel Na'ama Goldman
Shahar Lavi
Valentin Serban Vasile
Ilya Silchukov
Wagner Noah Brieger
Martha Edit Zamir
Shay Bloch
The Israeli Opera Chorus
Chorus Master: Ethan Schmeisser
The Opera Orchestra - The Israel Symphony Orchestra Rishon LeZion
Sung in French
English and Hebrew Surtitles
Translation: Israel Ouval
Duration: Three hours & 15 minutes
Co-production with Teatro Regio di Torino and Opera de Lausanne
Tickets Price
PREMIÈRE 210, 280, 345, 420, 470 NIS
SUN-FRI 190, 252, 319, 388, 438 NIS
SAT 207, 269, 334, 404, 453 NIS
The New Israeli Opera
Shaul Hamelekh Boulevard 19, Tel Aviv
Tel. (03) 692-7777
Website: http://www.israel-opera.co.il/eng/
Photo PR