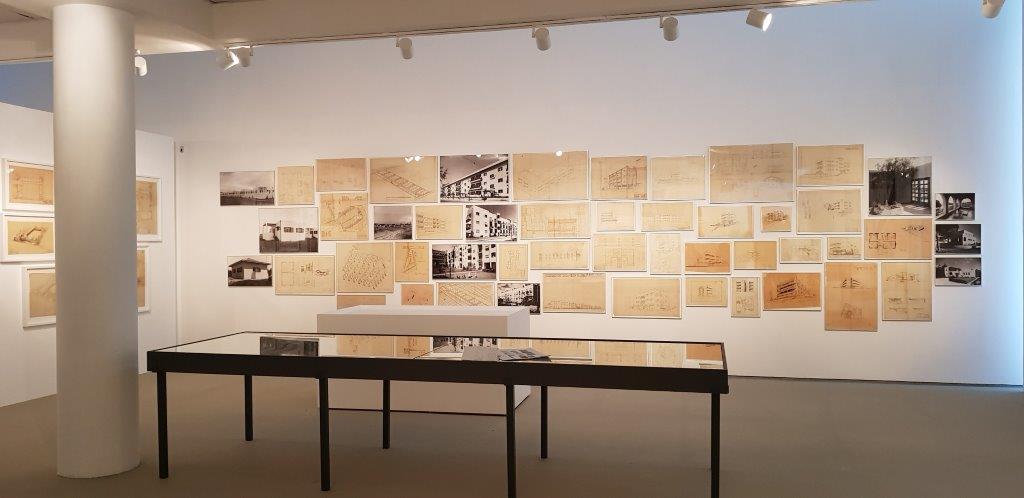 Helena Rubinstein Pavilion for Contemporary Art
ARIEH SHARON: THE NATION'S ARCHITECT
April 13 – October 1, 2018
Opening: Friday, April 13, 2018, 12:00 p.m.
Curator: Dr. Eran Neuman
The exhibition "Arieh Sharon: The Nation's Architect" is the first retrospective exhibition of one of the founding fathers of Israeli architecture, who was among the most active Israeli architects of the 20th century. In conjunction with the 70th anniversary of the State of Israel, the exhibition – curated by Dr. Eran Neuman – casts a comprehensive and interpretive gaze that reveals Sharon's major influence on the shaping of Israeli space and the foundation of the state.
Arieh Sharon (1900–1984), the first recipient of the Israel Prize for Architecture (1962), was born in Galicia, Poland and was one of the founders of Kibbutz Gan Shmuel, shortly after emigrating to Palestine in 1919. A graduate of the Bauhaus, the school of design and architecture in Dessau, Germany, Sharon planned over 600 projects from the 1920s until his death. His works included plans for kibbutzim, residential buildings, office buildings, hospitals, university campuses, and the Sharon Plan – the first master plan for the State of Israel, which was drafted in the office of Prime Minister David Ben-Gurion.
The exhibition offers a critical examination of a range of architectural and historical contexts. It is divided into eight chapters, which offer a chronological account of Sharon's career: his studies at the Bauhaus (Chapter 1), projects planned in Tel Aviv in the 1930s and 1940s (Chapter 2), projects for the kibbutzim (Chapter 3), the physical planning of the State of Israel (Chapter 4), projects dating from the time of his partnership with Benjamin Idelson (Chapter 5), the period of Sharon's partnership with his son Eldar (Chapter 6), planning work in Nigeria (Chapter 7), and the planning of Jerusalem's Holy Basin (Chapter 8).
Most of the materials featured in the exhibition belong to the Azrieli Architectural Archive's Arieh Sharon Collection and to the collection of Sharon's daughter, Yael Aloni. The items on display include project plans, illustrations, models, photogrpahs, films, letters, and additional documents, which together chart the trajectory of Sharon's life. The exhibition is accompanied by a comprehensive catalogue in English and Hebrew. A number of symposiums and lectures on Israeli architecture will be held in conjunction with the exhibition. In May 2018, an exhibition of works by Arad Sharon will open in the Azrieli Architectural Archive, featuring a selection of contemporary projects created by the third generation of the Sharon family.
Photos Silvia Golan