Details

Written by

Prime Minister's Media Adviser

Prime Minister Benjamin Netanyahu, today (Monday, 23 July 2018), addressed the 13th Annual Christians United for Israel Summit in Washington DC by video link. Following are his remarks:
"Thank you, Pastor Hagee. Thank you CUFI for supporting Israel. We appreciate your support, and we thank you for it. We appreciate the support of Christians around the world.
Jews, Christians, so many others can agree on one thing—Israel is a miracle, a state in the heart of the Middle East that has known democracy, pure democracy and liberty every day of its 70-year history, a pluralistic, open society, a democracy where diversity is celebrated, not feared. Christians also know another fundamental truth: Jerusalem has been the capital of the Jewish people for 3,000 years. Jerusalem has been the capital of Israel for 70 years. And Jerusalem will always be our capital.
Thank you President Trump, and thank our many, many Christian friends around the world, for recognizing this basic truth.
Ladies and gentlemen,
Israel is also the only country for thousands of miles where Christians not only survive, they thrive. Christian holy sites are protected and Christian worship is done without fear. Christians have achieved incredible heights in Israel. We have an Arab-Christian who served on our Supreme Court for 15 years. We have others – diplomats, businesspeople, university professors, doctors, everything. They're in every field – many, many examples of Christians who contribute greatly to Israeli society and share in the great miracle of Israel's success.
Sadly, some countries don't respect Christians. In Iran, Christians are brutally persecuted. Christian pastors have spent years in prison. Now, this is an issue which I believe should concern everyone. And let me say clearly: Israel stands in complete solidarity with persecuted Christians in Iran. And I ask: Why are so many people silent as Christians are jailed and tortured in Iran?
Well, I can say this: We in Israel will not be silent, and I will continue to raise the plight of the long-suffering Iranian people – Christians, Bahai's, students, journalists. Iran's regime is a point of darkness in the Middle East. Israel is a point of light.
The great news is that Israel has never been stronger. Nations from around the world are flocking to Israel. They seek our ingenuity. They seek our technology. They seek our intelligence, in both senses of the word.
Israel still faces many threats. On our southern border, the fanatic terrorist group Hamas calls for genocide of Jews. In the north, Hezbollah is stockpiling massive numbers of missiles aimed at Israel. And Iran, well, Iran openly calls for Israel's annihilation.
But Israel is strong. We will not let thugs and tyrants bully us. We will always defend ourselves. We will prosper. We will thrive. And Israel's strength is not merely because of our army; it's because of our spirit. And it's because of the spirit of friends like you around the world.
Thank you for always standing with Israel. You are truly among our greatest friends in the world. I cherish that friendship, and I cherish your solidarity. Thank you for standing with Israel. Thank you for standing with the truth. Thank you all."
Christians United for Israel (CUFI) is the largest pro-Israel organization in the United States with over one million members and one of the leading Christian grassroots movements in the world. We have only 25 staff, but serve over one million members and conduct over 40 pro-Israel events every month
Photo CUFI Conference
Details

Written by

Prime Minister's Media Adviser
Prime Minister Benjamin Netanyahu, this morning (Monday, 16 July 2018), in Sderot, met with local council heads from the area adjacent to the Gaza Strip* and made the following remarks at the end of the meeting:
"I have just finished an excellent meeting with the heads of councils in the area adjacent to the Gaza Strip. I told them that we are in a prolonged struggle.
Just as we are now completing the blocking of the tunnels and as we took action and succeeded in stopping the mass storming of the fences, I have directed the IDF to defeat and stop the terror of incendiary kites and balloons, and we are in the midst of the process.
It is important that Hamas understands that it faces an iron wall and this wall is comprised, first of all, of a determined government, of strong local leadership and Zionist settlement, and that we will continue to strengthen it and – of course – the IDF.
We are proud of them and I am proud of the marvelous local residents who are facing difficult days. But I am convinced of our common strength to rebuff, deter and, in the end, defeat this Gaza-based terror."
From Prime Minister Netanyahu's answers to questions:
"I was just in a kindergarten where I saw small adorable children. We are committed to them and this is a continuous process. I do not want to tell anybody that it is over.
The day before yesterday we took very strong action against Hamas and dealt it the strongest blow it has taken since Operation Protective Edge. It must be understood that whoever asks me these questions needs to be prepared for the continuation of the struggle.
There is an exchange of blows here. It is not over in one go and I cannot comfort those who have taken the most difficult losses. This is very hard to take, but we know that we are in a prolonged Zionist struggle.
For 100 years we have been fighting terror; we fight it forcefully. This place right now is the confrontation line between Islamic terrorism and the state of the Jews and we are determined to win. This entails an exchange of blows which are not yet over."
From Prime Minister Netanyahu's answer to a question about the kites:
"Indeed we have instructed the IDF to stop this. We do not accept, I said this yesterday as clearly as possible and it is worth their while to listen to me, especially on the other side, there is no such thing from our perspective of a ceasefire that makes an exception for incendiary kites and balloons. There is no such thing. From our point-of-view, this does not exist and therefore we are in the midst of a process. I will say this for the seventh time and it will, I hope, get through. But if it will not be understood from my words, it will be understood through the actions of the IDF."
* Attending the meeting were Sderot Mayor Alon Davidi, Shaar Hanegev Regional Council Chairman Alon Shuster, Sdot Negev Regional Council Chairman Tamir Idan, Eshkol Regional Council Chairman Gadi Yarkoni and Hof Ashkelon Regional Council Chairman Yair Ferjon.
Photo credit: Haim Zach (GPO)
Details

Written by

MFA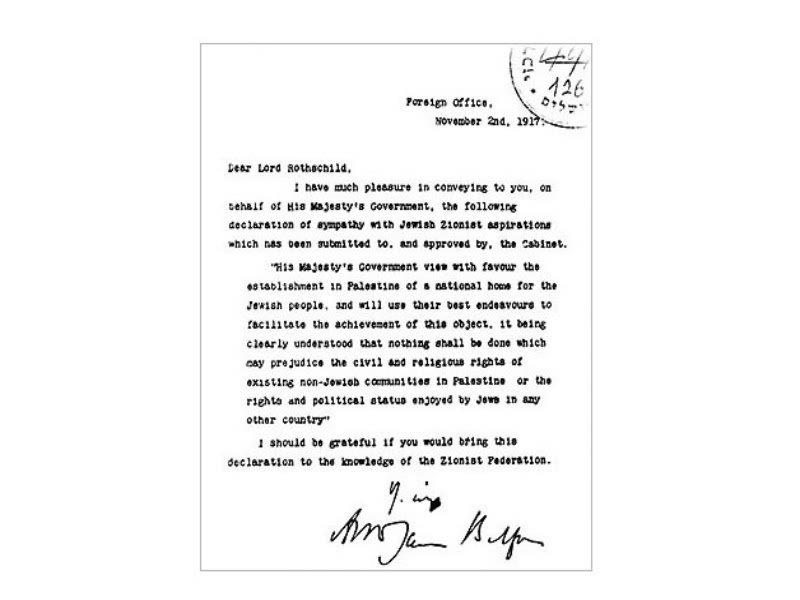 100 years of international recognition of the Jewish people's right to self-determination in their historic homeland, the Land of Israel
November 2, 2017, marks 100 years since the Balfour Declaration, a historic statement of sympathy issued by the British government for the establishment of a national home for the Jewish people in the Land of Israel. Lord Arthur James Balfour, the British Foreign Secretary, penned the historic letter on behalf of the British Government, to Lord Lionel Walter Rothschild, a prominent leader of Britain's Jewish community.
Details

Written by

Silvia G Golan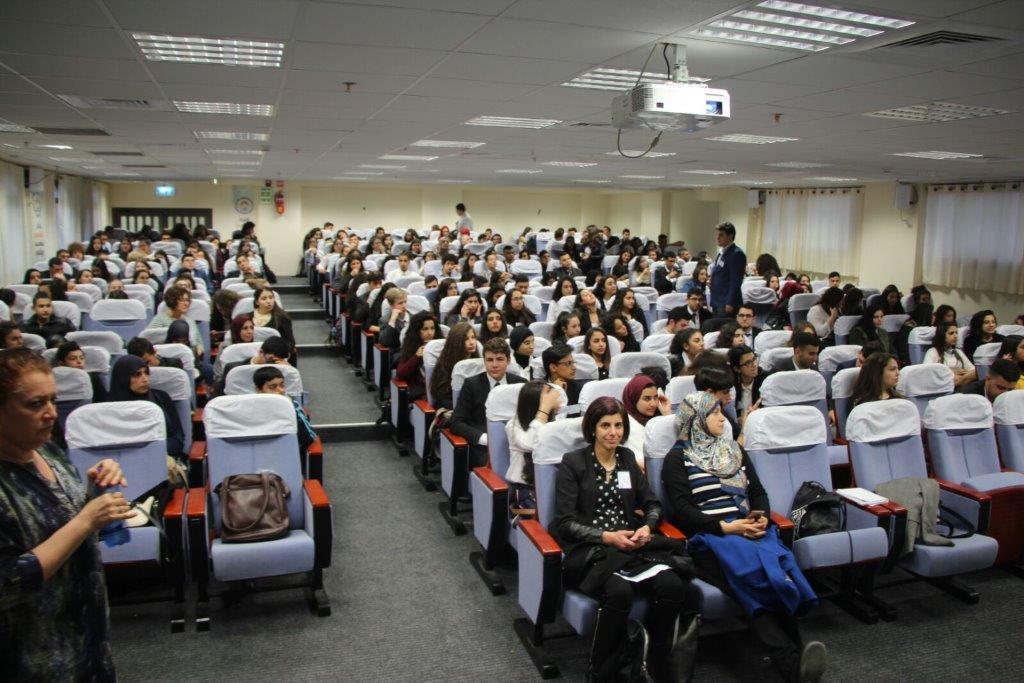 On Tuesday February 27, 2018, the second annual QASMUN conference was held at the Al-Qasemi high school in Baqa al-Gharabiya, focusing on youth in conflict zones.
During the conference 250 students from over two dozen schools and cities participated in seven committees, addressing the situation of youth in conflicts in Yemen, Pakistan and Myanmar, as well as the issue of child soldiers, and the role of education during armed conflicts. An advanced committee created a resolution that offered recommendations for a binational Israeli-Palestinian curriculum to promote peace.
After a full day of debates and negotiations, the committees voted on their respective initiatives. The students then had a dinner break before heading to the closing ceremony.
At the closing ceremony, Dr. Dalia Fadila, principal of Al-Qasemi, welcomed the guests to the Al-Qasemi school and conference. The director of QASMUN, Reham Abu Asba, thanked all of those who had helped in making the conference happen. Rev. Canon Nicholas Porter, the founder of the Jerusalem Peacebuilders, offered words of encouragement for the MUN participants, many who had come to a conference for the first time.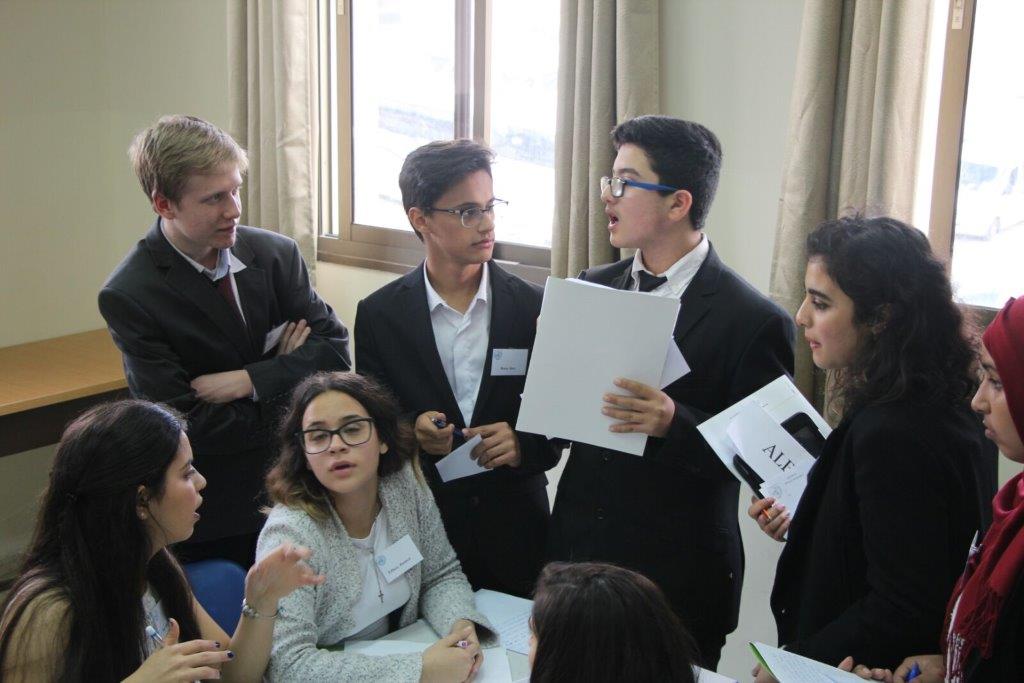 Stephanie Baric, an international relief and development professional with almost 25 years of experience addressing poverty and social injustice in the Middle East, Africa and the Balkans, was the keynote speaker, and also addressed a range of questions from students on the issues of feminism, youth empowerment, and the Israeli-Palestinian conflict.
QASMUN Secretary General Taqwa Ghanayem discussed what she has gotten out of MUN:
"Model United Nations helped me grow into a leader, get to know more what is going in the world, and become confident in myself. MUN gave me the passion to keep working hard and to change myself and my community. I am so grateful that I had the chance to become part of the wonderful MUN world!"
During the awards part of the ceremony, the top delegates in each committee were called up to the stage to receive their awards. These included Muhammad Omar Darawshi (Iksal HS), Eman Abu Abeid (Al-Qasemi) and Baraa Abu Ras (Salesian Sisters) in UNGA1; Husain Hasan (St. Joseph), Malk Halil (Hand in Hand), and Khadija Nukati (Beit Safafa) in UNGA2; Layan Sharkei (Al Qasemi), Ibrahim Alian (Beit Safafa) and Hala Asaad (Salesian Sisters) in UNGA3; Shahd Massarwa (Almjd Taybe), Yara Qudsi (Salesian Sisters), and Leen Jabara (QSchools Tira) in UNGA4; Majdi Yassin (Salesian Sisters), Mira Afifi (St. Joseph), and Bana Shadafneh (Iksal) in HRC; Dona Milhelm (QSchools), Samira Hallak (Hand in Hand), and Feras Marjieh (St. Joseph) in UNICEF, and Daniel Mikhailov (Ort Rabin), Tala Abu Dalo (Beit Safafa), and Almira Farah (St. Joseph) in the Special Committee.
Additionally, a number of students were called on stage as Jerusalem Peacebuilders scholars for the 2018 summer, including: Aviv Liverant, Banan Shadafni, Baraa Abu Ras, Daniel Mikhailov, Eliran Ben Yair, Khadija Nukaty, Leen Jabara, Mariam Abdallah, Rama Halabi, and Tamim Mansour.
QASMUN 2018 was part of the Debate for Peace MUN series, as an Interfaith Encounter group supported by the U.S. Embassy in Tel Aviv.
For more information about future events, please see the website here: https://debateforpeace.wordpress.com/upcoming-events/
Photo credits: Faris Hans/Debate for Peace
Details

Written by

President's Media Advisor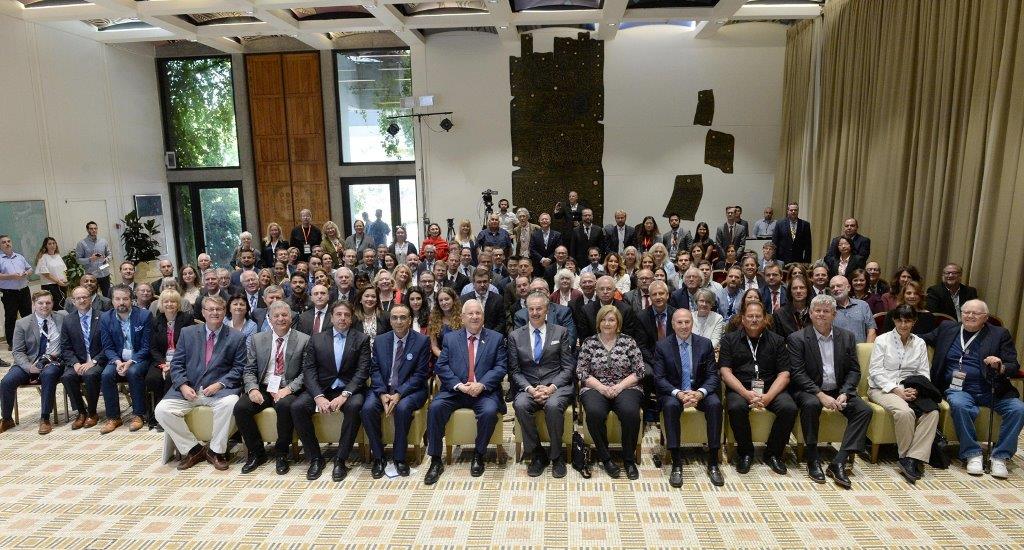 President Rivlin: "Israel will never stop trying to find a way to bring an end to the tragedy between us and the Palestinians. We must work to build understanding between the two sides. I am hopeful. Israel has built new and better friendships with many in our region"
President Reuven Rivlin today (Wednesday), addressed more than 100 journalists and editors from Christian media outlets from more than 30 countries around the world gathered in Jerusalem for Christian Media Summit arranged by (inter alia) the Government Press Office. The four day summit which concluded today, was entitled "50 Years of a United Jerusalem", and included a range of keynote speakers, and panels on a range of topics.
President Rivlin welcomed all the participants, and told them of his family's long history in Jerusalem, he told them that, "Since 1850, Jerusalem has had a Jewish majority; living side by side with the Christians and Muslims of the city." He noted that even though the Jewish community in the city was growing over the years, they continued to pray for the city to be rebuilt. He said, "After painful wars and years of separation Jerusalem was liberated, reunited as the capital of Israel. Jerusalem is now a city of modern innovation, and ancient inspiration. Just yards from the world's holiest places, are technology companies, making self-driving cars. This is a miracle."
The President added however, "There is much more to do. Jerusalem is a microcosm of all our abilities to live together; Jews, Muslims, Christians, religious and secular," he stressed, "If we can do it here in the city of Jerusalem, we can do it all over the Middle East, and all over the world."
The President stressed Israel's commitment – as a Jewish, democratic state – to defending freedom of religion. He said, "I want to reassure you all, that Israel will continue to stand firm to keep the holy sites for all faiths safe and secure."
On the issue of the peace process with the Palestinians, the President stressed, "Israel will never stop trying to find a way to bring an end to the tragedy between us and the Palestinians. We must work to build understanding between the two sides. We must work to build confidence between the two peoples. And I have to tell you, I am hopeful. Israel has built new and better friendships with many in our region; economic and diplomatic cooperation. This is an important step." In particular, the President noted, "I want to say, how much we appreciate in particular, King Abdullah of Jordan, and all he is doing, for peace, security, and stability in our region. The State of Israel and the Kingdom of Jordan, face many challenges. But our relationship is built on a shared commitment, to the dream of a better future, for both our peoples. I hope this friendship grows stronger and stronger, and that the bond of peace between us will be an example to the whole region, for many generations."
Photo credit: Mark Neiman (GPO)
Weather
Jerusalem Israel
Sunny, 28 °C
Current Conditions
Sunrise: 6:28 am | Sunset: 6:35 pm
42%
3.1 m/s
31.484 atm
Forecast

Sat

Low: 17 °C
High: 29 °C

Sun

Low: 17 °C
High: 30 °C

Mon

Low: 17 °C
High: 30 °C

Tue

Low: 17 °C
High: 29 °C

Wed

Low: 17 °C
High: 28 °C

Thu

Low: 17 °C
High: 27 °C

Fri

Low: 21 °C
High: 31 °C

Sat

Low: 24 °C
High: 32 °C

Sun

Low: 22 °C
High: 31 °C

Mon

Low: 25 °C
High: 32 °C
Tel Aviv Israel
Fair (day), 30 °C
Current Conditions
Sunrise: 6:29 am | Sunset: 6:37 pm
54%
6.3 m/s
33.757 atm
Forecast

Sat

Low: 22 °C
High: 28 °C

Sun

Low: 22 °C
High: 28 °C

Mon

Low: 21 °C
High: 27 °C

Tue

Low: 22 °C
High: 28 °C

Wed

Low: 23 °C
High: 27 °C

Thu

Low: 22 °C
High: 27 °C

Fri

Low: 21 °C
High: 29 °C

Sat

Low: 24 °C
High: 29 °C

Sun

Low: 25 °C
High: 28 °C

Mon

Low: 24 °C
High: 28 °C
Haifa Israel
Sunny, 27 °C
Current Conditions
Sunrise: 6:28 am | Sunset: 6:36 pm
63%
6.3 m/s
33.590 atm
Forecast

Sat

Low: 24 °C
High: 27 °C

Sun

Low: 25 °C
High: 27 °C

Mon

Low: 23 °C
High: 26 °C

Tue

Low: 25 °C
High: 26 °C

Wed

Low: 25 °C
High: 26 °C

Thu

Low: 22 °C
High: 27 °C

Fri

Low: 23 °C
High: 28 °C

Sat

Low: 25 °C
High: 27 °C

Sun

Low: 26 °C
High: 27 °C

Mon

Low: 24 °C
High: 27 °C