Dan Panorama hotel in Tel-Aviv was the venue of the "get together party" produced by DATA (Diplomatic Association Tel-Aviv) organization at Saturday, September 4th.
The event was a cocktail party to mark the new Jewish year (Rosh Hashanah) and to farewell to members of the Diplomatic community who were leaving Israel as well as welcoming new colleagues posted in Israel.
At the event were present many members from the Diplomatic community and journalists as well as other interest owners.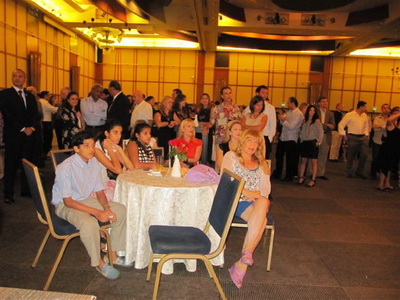 Cindy Levy, a relocation coach, was the first speaker.
She illustrated, in humor, lines of the Israeli mentality and habits through a presentation that showed the Italian mentality in the same manner.
After Ms. Levy's speech, Mr. Diaa Hammad, 1st secretary of the Egyptian Embassy, took the stage.
Mr. Hammad spoke of the importance of the relations between countries as he mentioned that it is important to bring the Diplomatic community closer.
Mr. Hammad said that his ambition is to make the connections between the individuals in the Diplomatic community stronger so that many bonds can grow from this activity.
After the speeches, the guests enjoyed a dancing segment which included Arab and Latin styles of dancing. The dancers were graceful and professional as they entertained the crowd with acrobatic moves.
Following the dancing part, arrived the highlight of the evening. DATA organization held a ruffle among the guests and gave away precious prizes as flight tickets to Egypt and Jordan, beautiful crystal pyramid, coupons of purchase in the Diplomatic duty-free shop and two season tickets to the Cinematek.

All the winners were thrilled and the ruffle created a pleasant atmosphere.
Photo Silvia Golan