At the 28th of July Peru celebrated its 189th independence day. In Israel the Peruvian Embassy marked the occasion in a beautiful event.

The event took place in Hertzliya Pituah, at the house of Yossi Maiman, honorary Consul of Peru in Tel-Aviv.


The Ambassador of Peru, Mr. Jose Luis Salinas Montes greeted the guests, as well as other member of the Peruvian entourage, among them military men, consuls and their wives.

The guests enjoyed a performance of typical Peruvian music from different parts of Peru. The variety of music genres gave the people a true Peruvian experience.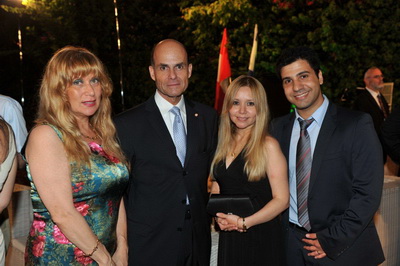 Honorary consul of Peru in Israel, Mr. Maiman, spoke first and welcomed all the guests.

Mr. Maiman talked about the special connection between Israel and Peru as he mentioned the vast cooperation between the two states. Mr. Maiman talked about his life and memories from Peru and said that both countries will always make him feel at home.


After the words of Mr. Maiman, his Excellency the Ambassador Mr. Salinas took the stage.

After greeting all the present and welcomed them to the 189th Peru Independence Day event, he spoke of the privilege to be the Ambassador of Peru in the Holy Land.


Mr. Salinas spoke of the similarities that the Israeli people and the Peruvian people share and said that he already feels here at home.

Mr. Salinas said that there are many parallels in the history of both countries and briefly mentioned landmarks from the past.


Ambassador Salinas finished his speech with a hope for prosperity, cooperation and wealth to both states.

The representative of the Israeli Government in this event was Mr. Benny Begin.


Mr. Begin spoke of the courageous bond between Israel and Peru and mentioned a special cooperation in water, ecological and agriculture technologies.

Mr. Begin's speech was warm and full with expressions of friendship. At the end of his speech, he even said couple of sentences in Spanish, to the joy of the crowd.


After the speeches both of the anthems were played and afterwards the guests were free to enjoy the delicious food and the fine music.
Photo Daniel Schwarz