The Embassy of Spain in Israel in Israel celebrated its national day -- Columbus Day, Hispanic Heritage Day -- at a reception held October 17, 2017, at the residence of Spain's newly appointed ambassador to Israel, Manuel Gómez-Acebo and Mrs. Maria Jose Gomez-Acebo. The grounds of the residence were festooned with flowers the color of Spain's flag, as well as decorative textiles.
The evening's program commenced with the playing of the national anthems of Israel and Spain. The government of Israel was represented by the Minister of Health, Ya'akov Litzman.
Ambassador Gómez-Acebo then addressed the gathering. Following are the ambassador's remarks:
"Dear Minister,
"Distinguished Members of the Knesset and the Supreme Court, Ambassadors and members of diplomatic missions in Israel,
"Dear friends,
"Haverim iekarim,
"Queridos compatriotas,
"Ladies and gentlemen.
"I am extremely honored to welcome you for the first time as ambassador of Spain to Israel on occasion of the celebration of our National Day.
"Spain is a free and open society, a vibrant democracy, the fifth largest economy in the European Union, and a proactive partner in world affairs. Spain has overcome the international financial crisis and is now growing at the fastest rate in an EU that is showing again that it can come together in the face of economic and institutional challenges.
"Spain is one of the oldest nations in Europe, and Catalonia is an essential part of our nation since its very inception more than 500 years ago. At the present moment, Catalonia is witnessing tension, spurred by the unconstitutional initiative to proclaim independence unilaterally, with complete disregard for the democratic rule of law and for the most fundamental laws of Spain and Catalonia. This challenge does not have the support of a majority of the population and is rejected by the EU as well as by many other countries.
"The government together with opposition parties representing an ample majority of more than 75% of the Parliament is facing up to this challenge through the use of the instruments within our Constitution. An offer of dialogue has been made and reiterated, a dialogue that can only take place with respect to the rule of law and the values that underpin our political and legal system: freedom, equality, justice and political pluralism.
"King Felipe VI, in a public address on October 3rd, conveyed a message of serenity, confidence and of hope to all Spaniards, especially those living in Catalonia. 'We will keep moving forward,' he said, 'because we believe in our country and we feel proud of what we are. Because our democratic principles are strong, and they are solid. And this is so, because they are based on the desire of millions and millions of Spaniards to live together in peace and freedom.'
"Dear friends,
"My mission in Israel has a clear goal: to foster a better understanding and tighter cooperation between our two countries, between its governments and institutions, their civil societies, companies and private citizens.
"My task is made easier by the great interest and affection that so many Israelis show for Spain. More than 300,000 Israelis go to Spain every year. Many visit cities like Barcelona or Madrid for their food, monuments, culture and football. Many others go to Spain to enjoy nature and wildlife.
"I want to acknowledge here the many heartfelt expressions by our many friends in Israel of solidarity and condolences for those killed and wounded in the terrorists attacks in Barcelona in August. Spain and Israel stand side by side against terrorist violence, which knows no boundaries and has no respect for human life.
"In the face of the many challenges that we are confronting in a region subjected to conflict Spain admires the tenacity and resilience of democratic Israel. We look forward to a time when Israel can live in security and harmony with its neighbours, and where the already very strong ties to the European Union can be further developed and strengthened.
"Spain and Israel have many shared values based on democracy, the respect for human rights and the rule of law. We strive to see the day when peace in the region will mean that the legitimate aspirations of Israel and of the Palestinians will be met. In that vision Spain, together with the rest of the EU, will continue to support the goal of a permanent negotiated solution based on two states, in keeping with the principles agreed at the Madrid Conference of 1991.
"Dear friends,
Israel is a young State with an ancient cultural identity that has become increasingly respected and admired worldwide. Last year Spain and Israel commemorated thirty years of diplomatic relations. Next year this country will celebrate seventy years since the creation of the State of Israel.
"In order to promote country to country relations, even in this age of instant communication and travel, it is still very important to exchange visits of authorities. We look forward to the great opportunity provided by President Reuven Rivlin's State visit to Spain. The visit responds to the invitation of H.M. King Felipe VI made on his last visit to Israel. On that occasion, when the King of Spain attended the funeral of Shimon Peres in September 2016, he underlined His close ties with the people and the State of Israel.
"President Rivlin will visit a Spain that is proud of the shared legacy of ancient Sepharad, a Golden Age of Jewish culture that has been lovingly kept for centuries in the language and customs of so many Sephardic Jews. Names like Maimonides, Yehuda Ha-Levi or Ibn-Gabirol are precious reminders of this shared past, and so are words in the Spanish language such as "sábado" or "edén".
"In recent years there has been a growing awareness and greater institutional support for this reawakening. Just to give one example. Centro Sefarad-Israel, a Spanish public institution devoted to fostering the legacy of Sephardic Jewish communities and our common heritage, has created in Spain a network of cities with medieval Jewish Quarters. Centro Sefarad-Israel also plays an important role in the constant efforts of the Spanish Government to fight anti-Semitism and to spread the knowledge about the Holocaust, including through the school curriculum.
"The Spain that President Rivlin will visit is a Spain that is a shining mosaic of regions with different personalities that make up a rich and diverse country, with one of the most advanced systems of devolution and autonomous governance in the world. Spain is the fifth economy in the EU, and after a very difficult period following the financial markets crisis, our economy is fully back on track. Our economy is growing at the fastest pace of any large economy in the EU. Unemployment figures are going down, investment and trade up. We want to use these potentialities to do business with Israel and to cooperate with this country in all sectors.
"Spain and Israel have intense and growing economic relations based on proximity and complementarity. Bilateral trade is robust and increasing. Spanish exports of cars, food, retail, industrial technology and services are growing. Spanish companies participate with technology and know-how in the infrastructure development of this country. Israel has one of the most dynamic start-up environments in the world for investment in innovation and technology, fields that are especially attractive to Spanish firms.
"Culture and education also offer excellent venues for mutual benefit. This year's Goya Exhibit at the Museum of Israel was a resounding success. There is also a wide scope for collaboration in education, especially among universities and business schools.
"All of this offers us, Israelis and Spaniards, a tremendous potential. We are at opposite ends of the Mediterranean sea, a 'Mare Nostrum' that must be used as a bridge to better and fuller relations. This is our will and our mission.
"Finally, I would like to thank all of our colleagues at the Embassy who have worked hard to prepare this event. My sincere gratitude as well to our sponsors that have helped us organize this National Day celebration: The Spanish Ministry of Defense, SEAT, Air Europa, INECO, Inspiralia, Freixenet, Beronia, Tío Pepe, San Miguel, Gabía Kadin and Cardumen Capital."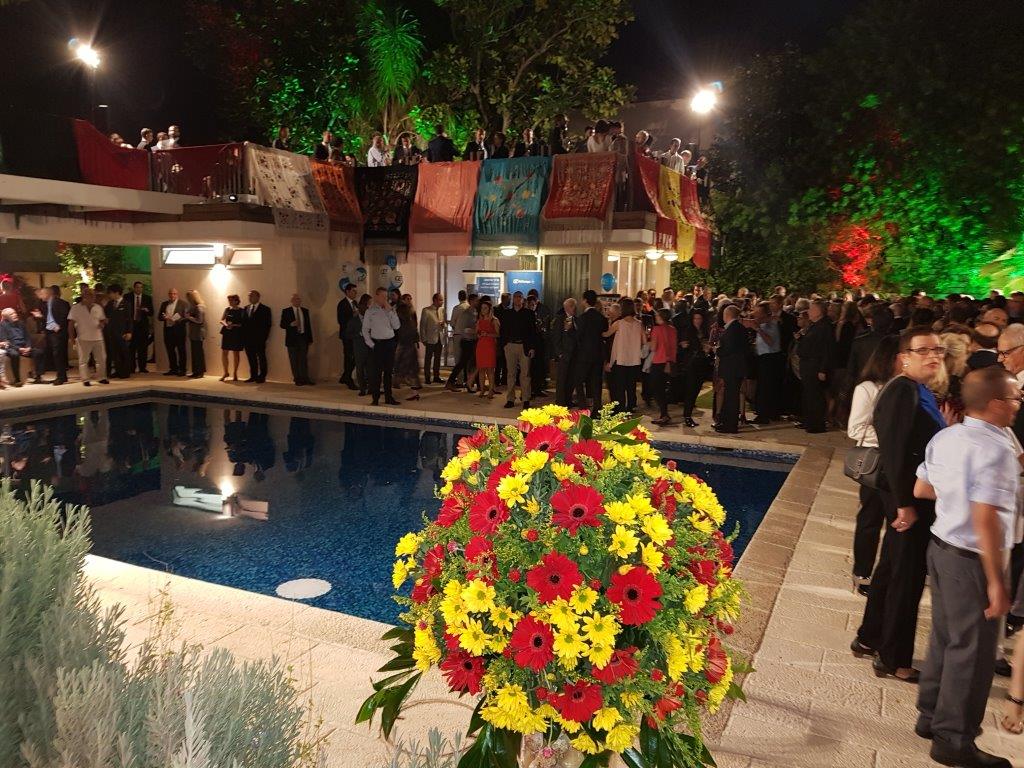 Minister Litzman then delivered the following remarks:
"Your Excellency,
"Mr. Ambassador Manuel Gómez-Acebo and Mrs. Maria Jose Gómez-Acebo
"Distinguished Ambassadors and Members of the Diplomatic Missions in Israel,
"Honored Guests,
"Ladies and Gentlemen,
"It is an honor and my pleasure to represent the Government and the people of Israel this evening in celebrating the Kingdom of Spain's Independence Day.
"The relationship between Spain and Israel was established on the 17th of January, 1986 by our then state leaders, Felipe González and Shimon Peres. And now we are on the eve of a historic visit as our president, Reuven Rivlin, will travel to Spain at the beginning of next month, November.
"The history of the Jewish people and Sefarad is long, going back hundreds of years.
"Last year, the Spanish Congress adopted "The Law of Spaniards" that allows for the descendants of Jews expelled in the Inquisition to have their citizenship renewed. This is a very important step.
"Israel is striving to expand cooperation with Spain in many areas, especially in the context of a diplomatic dialogue with the European Community and the U.N. concerning the fight against terrorism, cyber security, health system, and of course, the promotion of innovation.
"Last year, we were also happy to see an exchange of parliamentary delegations between the two countries.
"Over the past couple of years, we have witnessed a significant rise in the number of embargos against Israel. These are political campaigns and we support the Spanish government and encourage it to continue to stand against these embargos. We are of course very happy to hear statements on the part of the Spanish courts declaring these embargos contrary to Spanish law. Many other countries, even in Europe itself, have much to learn from such a position.
"I would like to express my appreciation to Ambassador Gómez-Acebo and the entire staff of the Spanish Embassy in Israel. The Embassy, led by its Ambassador, has made, and I am sure will continue to make, a very important contribution to the deepening of the relations between our two countries.
"Your Excellency the Ambassador, again, please convey the best wishes of the Government and the people of Israel to the government and the people of the Kingdom of Spain on your Independence Day."
Following the addresses, the ambassador and the minister jointly toasted the King of Spain, the president of Israel, and relations between Spain and Israel.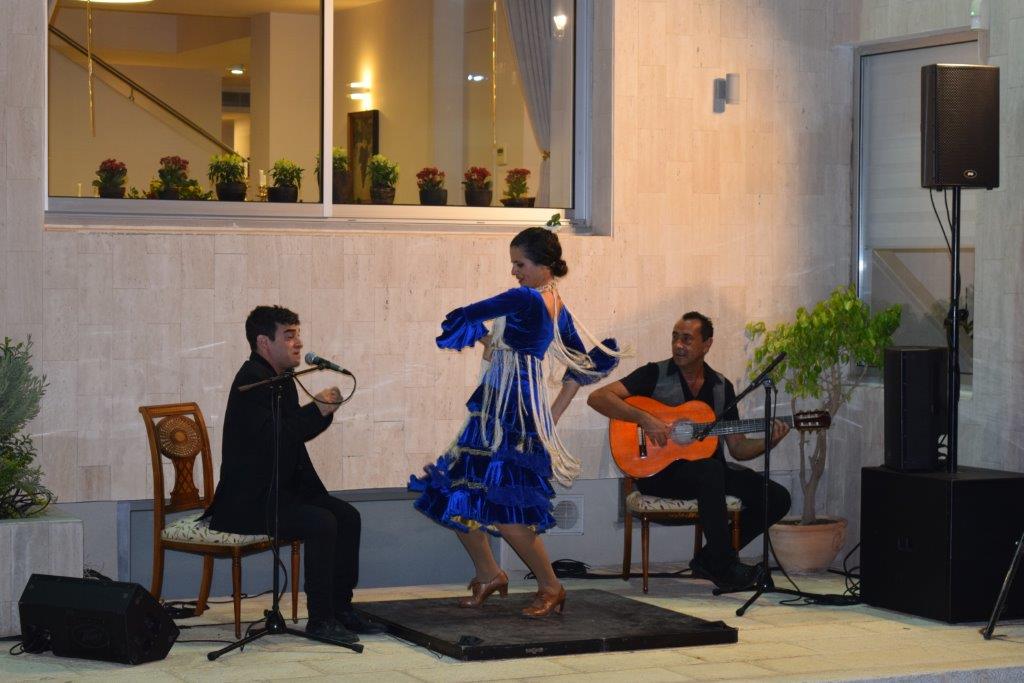 Following the toast, guests enjoyed a concert of flamenco music and dance performed by an Israeli trio, while partaking of Spanish tapas.
Among the distinguished guests attending the function were representatives of the Israel-Spain Chamber of Commerce Micha Harish, Moshe Shoham, Adv. Miko Menahem, Nora Davidovich and Silvia Golan; Ms. Viviane Epstein of the International Raoul Wallenberg Foundation; Prof. Raanan Rein, rector of Tel Aviv University;
Ms. Marcela Friszler and Ms. Einat Talmon of the Cervantes Institute; military attaches and members of the diplomatic corps stationed in Israel.

The staff of www diplomacy.co.il wish Spain a Happy Columbus Day.
Photos Silvia G. Golan