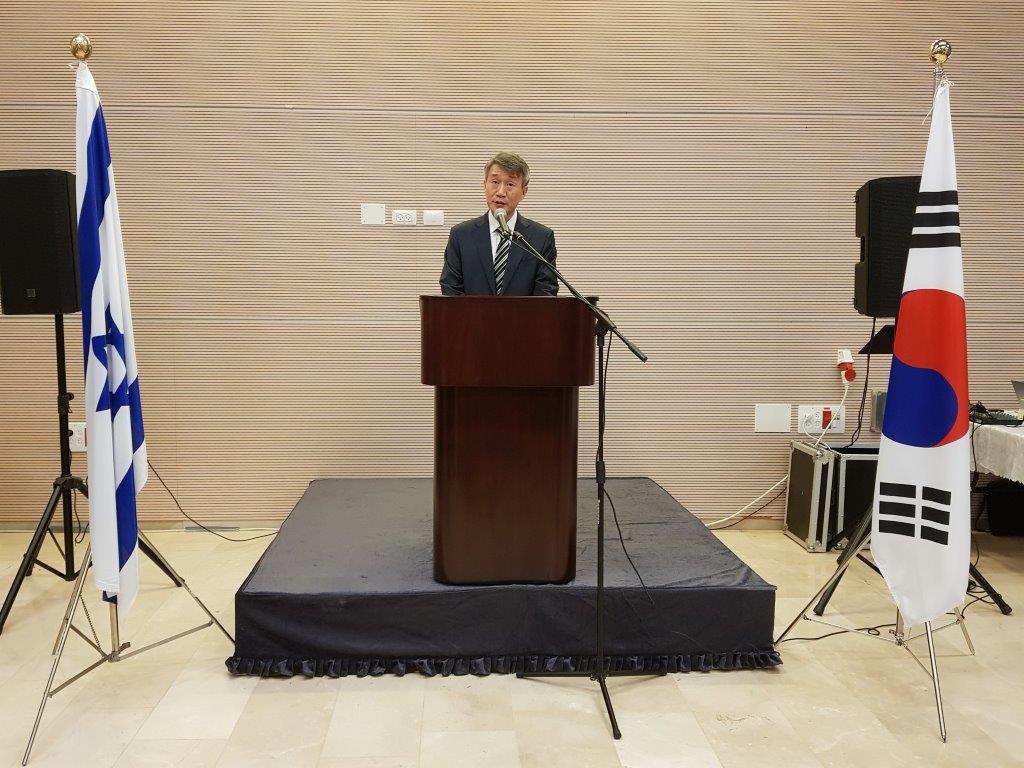 On Monday evening October 30th, the Embassy of the Republic of Korea in Israel held its National Day celebration. Diplomats, politicians, business and civil society leaders gathered at the Korean Embassy in Herzliya, where they enjoyed Korean food and music in honor of the occasion.
Ambassador H.E. Mr. Lee Gun-tae, his wife Won-Ock Youn, and the embassy staff greeted the many guests as they arrived. Many of the women wore traditional Korean clothing, and the cuisine, catered by the Sheraton Hotel, featured the finest Korean dishes prepared specially for the event. The guests took advantage of the beautiful weather as they wandered around the Embassy garden sampling different dishes.
A Korean singer led the singing of the Korean and Israeli national anthems. Then Ambassador Gun-tae spoke, welcoming the guests to the new embassy building, and to the national day celebration. The ambassador began by describing the paradoxical reality for South Korea, in which life continues with relative calm, and the economy has been particularly robust, despite heightened tensions with North Korean military provocations.
Moving to the Israeli-Korean relationship, the ambassador highlighted the extent to which both countries benefit from cooperation and exchanges of ideas and technologies. Listing Hyundai and Kia as Israel's most popular car brands and Samsung and LG as the dominant cell phones, Ambassador Gun-tae noted that Israeli technological innovations were also used in many Korean products.
Other indicators of a vibrant relationship include strong numbers of visitors from each country, a regular array of well-attended Korean language and culture classes as well as academic studies, the popularity of the annual K-pop festival, and a free-trade agreement currently under negotiation between the two countries. In closing his remarks, the ambassador thanked the many friends he's made during the three years of his service in Israel.
Minister of Science, Technology and Space Ofir Akunis spoke as the Israeli government representative. Minister Akunis noted that both nations have successfully overcome the challenges of limited natural resources by utilizing innovation and human capital. He mentioned the successful Israeli-Korean trade and cooperation, describing a complementary relationship in which Israeli science and technological innovation is wedded to the strong Korean manufacturing and marketing.
The distinguished guests at the celebration included Professor Tamar Safra from Tel Aviv Sourasky Medical Center (Ichilov hospital); Dan Catarivas, Director of the division of Foreign Trade and International Relations at the Manufacturers' Association of Israel; Asher Ben Artzi, former chief superintendent of the Israeli Police; Shelly Hoshen, President and founder of Yad B'Yad (a non-profit serving underprivileged youth); Sheraton Hotels Public Relations manager Jane Yacoubzadi, as well as ambassadors, military attaches, Israeli business leaders and Korean expats in Israel.
Diplomacy.co.il congratulates the Republic of Korea and the Embassy of Korea in Israel and wishes them a year of blessing and success.
Photos Silvia G . Golan