On Monday evening November 27, the Romanian Embassy in Tel Aviv hosted its annual Unification Celebration at the Tel Aviv Museum of Art, with the attendance of diplomats, business leaders, and Romanian expatriates and friends. This year's celebration was particularly noteworthy, as it ushers in the 100th year since the unification of Romania in 1918.
To open the evening, singer Monica Schwartz performed both the Romanian and Israeli anthems. Mr. Ovidiu Ierulescu, the Charge d'affaires of the Romanian embassy welcomed the guests, and noted the evening's themes of tolerance and mutual respect. Mr. Ierulescu discussed Romania's commitment to rule of law and playing a positive rule in the international system, including participation in the United Nations, European Union, NATO, and other organizations.
Mr. Ierulescu also mentioned the contributions of Romania expatriates around the world. In Israel, he noted that Romanian immigrants constituted one of the more significant groups of Jewish immigrants to the state, with an even disproportionately larger impact, including founding the cities of Rosh Pina and Zichron Yaakov.
Moving to more recent history, Ierulesco cited recent high-level visits from the Prime Minister and foreign minister of Romania to Israel, as well as corresponding visits by Israeli leaders to Romania, as evidence of the strong Israel-Romania relationship.
Ambassador Meron Reuven, chief of protocol for the Israeli Ministry of Foreign Affairs, spoke on behalf of the Israeli government, and in particular in place of Minister of Science, Technology and Space Ofir Akunis, and Knesset member Yossi Yona. Reuven noted that Romania's centennial coincided with the 70 year anniversary of Israel-Romania diplomatic relations, pointing out that Romania was the only Soviet linked country to maintain relations with Israel from its inception.
Reuven stressed the importance of Romanian immigrants in Israel in serving as bridges between the two countries, which he said enjoyed a special relationship of friendship. Among the many areas of cooperation between the two countries, Reuven cited security, academia, trade, agriculture, investment, and culture as some of the areas in which the two countries have partnered together.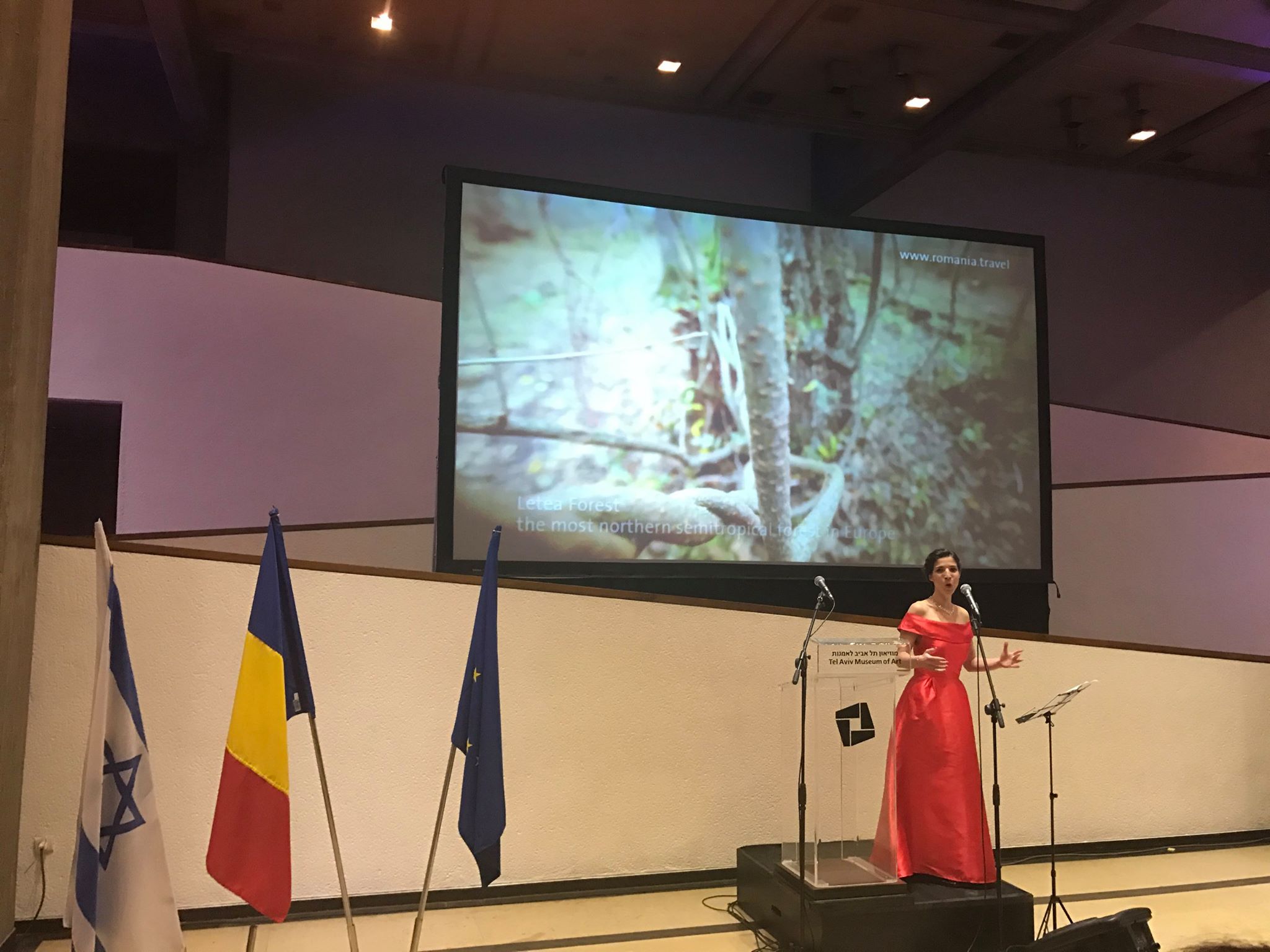 In keeping with the theme of cultural bridges, Monica Schwartz was then called back to the stage to continue performing traditional Romania songs and music. In addition to the catered dinner, guests were encouraged to try some of the original Romanian wines served special for the occasion. In addition to the various diplomats and official representatives, guests included Anat Kaufman, Projects Director for the Federation of Local Authorities in Israel, and Stephen Abrahams, from the Ministry of National Infrastructures Energy and Water Resources.
Diplomacy.co.il wishes congratulations to the Embassy of Romania in Tel Aviv on the occasion of their national unification day.
Photos provided by Romanian Embassy in Tel Aviv and by Steven Aiello
Steven Aiello
Founder--DebateforPeace