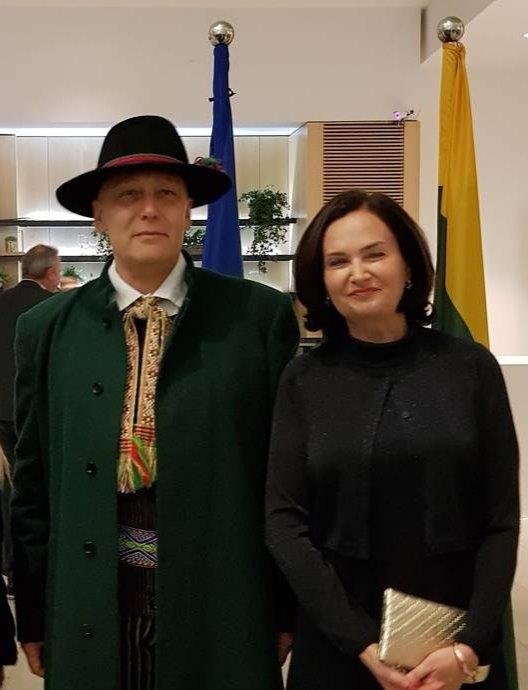 The Lithuanian embassy celebrated 100 years of restored historical Lithuania in style with a concert and reception at the Tel Aviv Museum of Art on Wednesday evening. The evening kicked off a lineup of celebratory events that will last all year and include discussions, art and photo exhibitions, concerts, and dance and theater performances.
The ambassador of Lithuania to Israel, H.E. Mr. Edminas Bagdonas, opened the evening. Ambassador Bagdonas pointed out that although they were celebrating a centennial, historica Lithuania was actually much older, dating to the 13th century. Wearing a traditional Lithuanian outfit himself, the ambassador described national pride in Lithuania, in the form of its national language, clothing and customs, or accomplishments.
Ambassador Bagdonas highlighted the success of Lithuanian Jews, including several prominent statesmen, and courageous Jewish soldiers who fought for Lithuanian independence. He also mentioned the horrors of the Holocaust, and the need to acknowledge the historical injustices committed by individuals and nations during those dark days. In that regard the ambassador mentioned the public apology of the president of Lithuania at the Israeli Knesset in 1995 for Nazi collaboration by Lithuanians during World War II.
Speaking on behalf of the Israeli government, Deputy Foreign Minister Tzipi Hotoveli cited the commonalities between Israel and Lithuania as relatively young democracies who fought for their independence. Minister Hotoveli discussed the rich heritage of the Lithuanian Jewish community, and expressed appreciation for efforts by the Lithuanian government to preserve and rehabilitate Jewish heritage sites, as well as educating about the community, which was largely destroyed during World War II. Hotoveli finished by congratulating Lithuania on its centennial celebration, and offering blessings for a successful and prosperous future.
Singer Nika Zundelovitch performed the national anthems of both Lithuania and Israel. After the anthems, award-winning accordionist Martynas Levickis took the stage. His concert, titled "Woodspirit," included pieces from Sweden, Finland, Italy, Latvia, and of course Lithuania, and ranged from the classical to the contemporary. Levickis also included several of his own compositions, and included explanations of the music and their composers in his performance.
Following the concert, guests enjoyed a delicious reception, including imported Lithuanian specialties. Among the many distinguished at the evening were Ambassador Meron Reuven, chief of protocol for the Israeli Ministry of Foreign Affairs, Vered Swid, Director of the Authority for Advancing Women's Rights, and Stephen Abrahams, from the Ministry of National Infrastructures Energy and Water Resources.
Diplomacy.co.il wishes congratulations to the Embassy of Lithuania in Tel Aviv on the occasion of the centennial of restored Lithuania.
More information about the celebrations is available here: http://www.lietuva.lt/100/en/lithuania-celebrates-100
Photos Silvia Golan
Steven Aiello
Founder--DebateforPeace