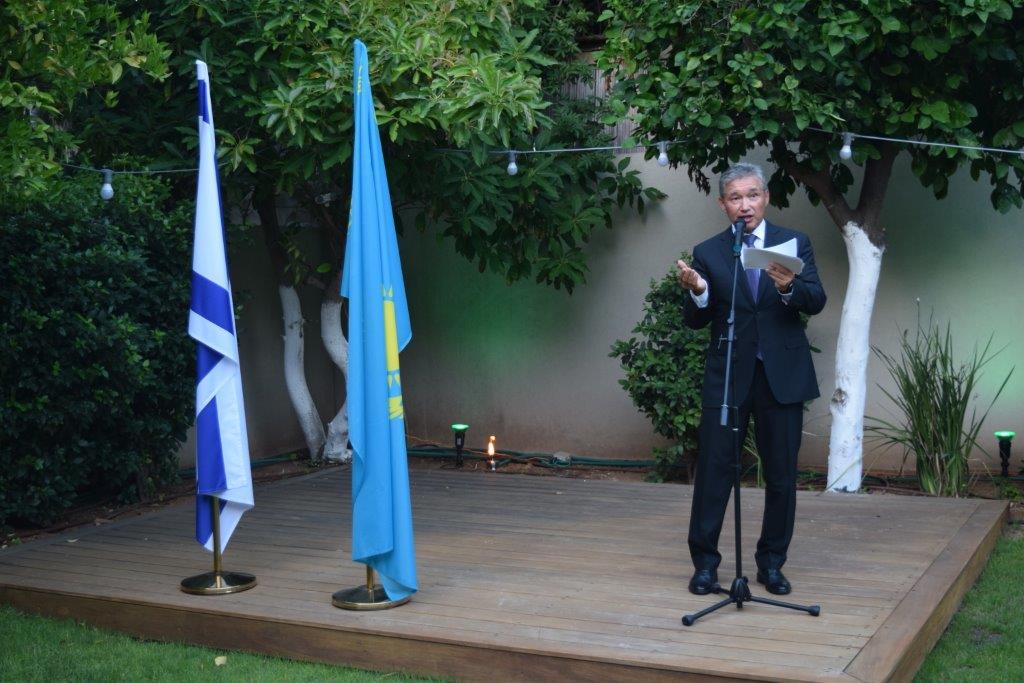 Capital Day came early in Tel Aviv, as the Embassy of Kazakhstan to Israel held a reception at the residence of Ambassador Doulat Kuanyshev in Herzliya. Capital City Day is an annual celebration of the establishment of the status of Astana as the new capital city of Kazakhstan. For the last decade, the occasion has been celebrated as a national holiday in Kazakhstan and among Kazakhstan nationals and friends abroad. This year was a milestone anniversary, marking 20 years since the capital first from moved from Almaty.
Diplomats, political and civil society leaders, and others with close ties to Kazakhstan enjoyed a relaxed evening with music, a buffet including traditional Kazakstani dishes like Samsa and Palot, along with top Israeli products.
H.E. Ambassador Kuanyshev spoke about the initial struggles to move the capital city in the 1990s, and about Astana's success as representative of Kazakhstan's innovation, growth, and success other the last two decades. The ambassador promised that this growth would continue, citing as an example the Astana International Finance Center as a potential regional hub.
Ambassador Kuanyshev also cited the role that Astana has already played in promoting global peace and prosperity. Astana has hosted a number of historic conferences: OSCE summit; Shanghai Cooperation Organization summit, the first summit of the Organization of Islamic Cooperation on Science and Technologies, and the World Expo-2017, as well as the signing of the Treaty on establishing the Eurasian Economic Union.
Among the distinguished guests at the reception were Walter Bingham, Guiness World Record-holding Israel National Radio host; Alexander Ben Zvi- Deputy Director General, Head of the Euro-Asia Division at the Israeli Ministry of Foreign Affairs; former Israeli Prime Minister Ehud Olmert, Yair Stern, General Director of the Jerusalem Symphony Orchestra, and his wife Dassie, who was born in Kazakhstan.
Diplomacy.co.il congratulates the Embassy of Kazakhstan and the people of Kazakhstan on the milestone anniversary and offers best wishes for many years of success, growth, and strong bilateral relations.
Ambassador Kuanyshev's full remarks:
Excellencies,
Ladies and Gentlemen,
Dear Friends!
Thank you for honoring us with your gracious presence. We are here to mark the 20th anniversary of the Сapital city of Kazakhstan – Astana.
In 1995, when Kazakhstan was under IMF program, IMF mission was pressing President Nazarbayev to postpone all the plans of moving the capital citing huge economic burden. I was present at those highly confidential and heated negotiations in my capacity of the press-secretary to the President who stood firm.
Over these two decades, extensive efforts have been done to build a new capital almost from scratch. Nowadays, Astana is the symbol of Kazakhstan and the flagship of its development.
Astana's become an urbanization of over a million of people, a model of modern architecture and design, center of healthcare, education and innovations. Moreover, it aims to become the Dubai of Central Asia by creating Astana International Financial Center.
It is our hope, and Astana hosts a lot of hope: from large-scale development initiatives: the Silk Road Economic Belt was announced by Chinese leader Xi Jinping's on his state visit to Astana in 2013, to world peace and accord – through the religious leaders (including Chief Rabbis of Israel) regularly meeting in Astana to promote inter-confessional dialogue, to a hope of mediating Syrian talks.
During these years Astana hosted the Summit of the OSCE, the historic Summit of the Shanghai Cooperation Organization, which culminated with the accession of India and Pakistan into this influential organization, the first summit of the Organization of Islamic Cooperation on Science and Technologies. The Treaty on establishing the Eurasian Economic Union was also signed in Astana.
In 2017, Astana hosted World EXPO-2017 exhibition, with high-profile Israeli presence.
As you may know, Israelis as well as citizens of 66 other countries can visit Kazakhstan without visas. We hope to sign the same regime for Kazakh tourists to Israel by the end of this year. I am confident it will imminently call for direct flights between our countries to boost reciprocal tourism and exchanges. So, taking this opportunity, I would like to invite you all to our country to taste our hospitality and kindness, and join the large-scale celebration events to be held in Astana on July 6.
Steven Aiello
Founder--DebateforPeace
Photos by Silvia G. Golan