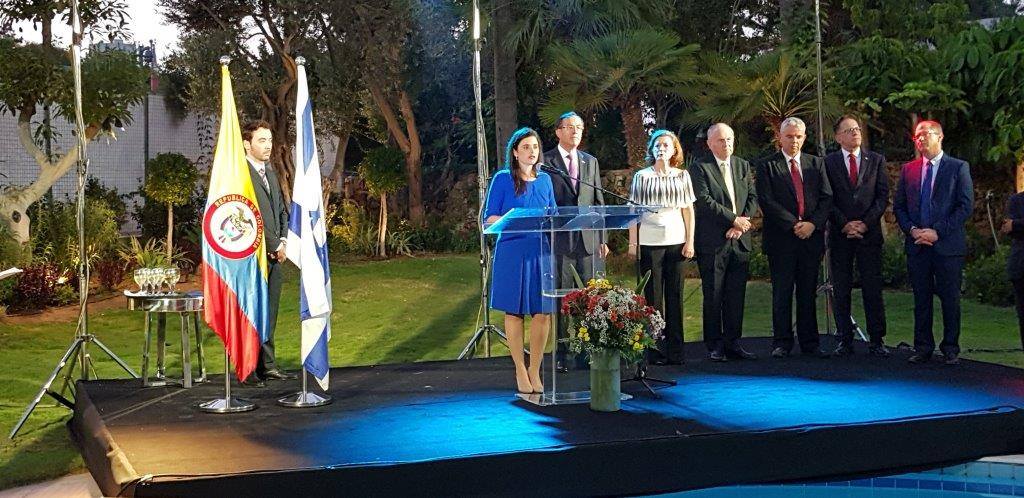 The embassy of Colombia held a gala evening on July 24, 2018, at the Kfar Shmaryahu residence of Ambassador Carlos Morales and Mrs. Betty Morales , to mark the occasion of 208 years of the country's independence.
The event celebrating Colombia's national day was attended by Justice Minister Ayelet Shaked representing the State of Israel, Members of Knesset, ambassadors and members of Israel's diplomatic and business communities, and many Colombian nationals residing in Israel.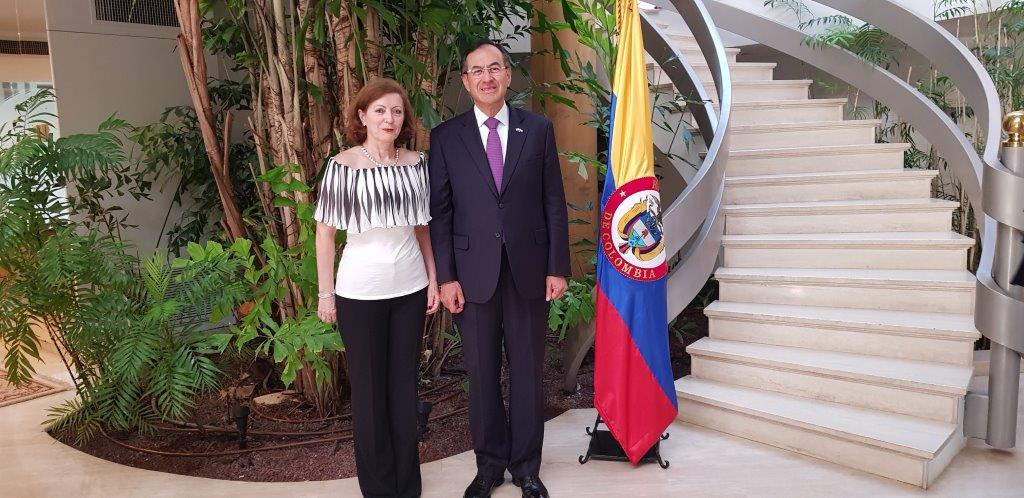 Following the playing of the national anthems of Colombia and Israel, and a toast in honor of the South American nation, Ambassador Morales delivered the following remarks:
"Her Excellency Ms. Ayelet Shaked, Minister of Justice of the State of Israel; the Honorable Oded Forer, Member of the Knesset and President of the Parliamentary Friendship Association Israel-Colombia; His Excellency Ambassador Meron Reuven, Chief of State Protocol; His Excellency Ambassador Modi Eprahim, Deputy Director General for Latin America and the Caribbean; their Excellencies Ambassadors and Members of the Diplomatic Corps; Mr Tzahi Braverman, Secretary of Government of the Office of the Prime Minister; Ambassador Jaime Aron, Honorary Consul of Colombia and Mrs. Maria Aron; distinguished representatives of the Government of the State of Israel; Mr. Dor Aloni, Intendant of Kfar Shmaryahu; Presidents of the Chambers of Commerce of Jerusalem and Tel Aviv; Colombian Military Attaché and Air Attaché; CEOs of Companies, members of the group "Salsa Viva" and Adi, which will perform tonight, special guests, fellow Colombians, Ladies and Gentlemen.
"On behalf of my wife Betty and I, we would like to thank the presence of Her Excellency Mrs. Ayelet Shaked, Minister of Justice of the State of Israel and all of you in the celebration of the 208th anniversary of National
Independence, which we understand as a genuine demonstration of your appreciation for Colombia and for our diplomatic mission in Israel.
"As it is the first time that I've had the honor to be the host of this significant event, allow me to thank through Your Excellency, Mrs. Shaked to the Israeli Nation and its Government for the warm welcoming that has been
dispensed since my arrival to this country.
"In particular, I want to commend Ambassador Jaime Aron, Honorary Consul of Colombia and his wife Maria for their valuable support and advice. They are not only a wonderful Israelis but also great Colombians.
"Since 1957, our countries have maintained relations that are characterized by friendship, mutual agreement, and a remarkable cooperation in all ambits.
"The State visit of President Santos to Israel in June 2013 and of Prime Minister Netanyahu to Colombia in September of last year, are a clear demonstration of the high-level achievement of bilateral relations.
In the commercial field, we have before us a promissory future to strengthen investment and the exchange of goods and services.
We aspire that this year, the Free Trade Agreement is further enforced, facilitating and diversifying imports and exports.
"We have worked and will continue to, with our maximum efforts to increase cooperation in security and defense; in education, agriculture; technology,
innovation, cultural exchanges and of course in tourism, which numbers show an annual increase of 10%. We wish for more Israelis to visit
Colombia and for more Colombians to fulfill their dream of visiting the Holy Land.
"A few weeks ago, we peacefully celebrated in our country free elections, selecting a new Congress and President of the Republic for the constitutional period of 2018-2022.
"The elected President Ivan Duque, who will initiate his term August 7th, in a ceremony which will be attended by Prime Minister Benjamin Netanyahu, will continue to strengthen the bonds of friendship and cooperation
between our two nations.
"But It is also true that our countries' relations would not be able to fortify without the contribution of many of you that are present here today.
Businessmen, scholars, students, and the thousands of Colombians that have come to Israel and contríbuted to the progress of this country, in the same way, as Israel has received them with solidarity and generosity,
providing them with opportunities both professionally and personally, which has allowed the construction of a better future for them and their families.
"On behalf of everyone, thank you.
"I would also like to thank all of those who have made today's celebration possible, especially to Gaby Danziger who kindly donated the flowers that decorate the residence tonight and every one of my colleagues from the embassy for their enthusiasm and dedication.
"Colombia and Israel are countries although geographically distant, are united by history, the sharing values of democracy and freedom, and the varying challenges that we still face today.
"Israel has been and will continue to be an inspiration and a reference not only for Colombia but for many countries for its perseverance, tenaciousness and unbreakable longing of a country, that despite its difficulties has overcome them and has put itself along with the developed nations in the modern world.
"Thank you."
Speaking on behalf of the State of Israel, Minister Shaked delivered the following remarks:
"Your Excellency, Mr. Ambassador Carlos Morales; distinguished ambassadors and members of the diplomatic missions in Israel; honored guests, Ladies, and Gentlemen.
"Good evening and Buenas Noches. it is an honor and my pleasure to represent the Government and the people of Israel in celebrating Colombia's 208th independence day, and 69 years since the establishment of diplomatic relations between our two countries.
"To begin with, I would like to congratulate the Colombian government and people on having recently conducted free democratic national elections and to thank the outgoing president, Juan Manuel Santos, for the great friendship and amity that he showed Israel.
"At the same time, I would like to wish the newly elected president, Ivan Duque, great success in leading Colombia towards national peace, justice and prosperity.
"The relations between our two countries and peoples have, over the years, been given expression through rich and creative cooperation in many areas. It is important to note that Colombia and Israel share an important strategic relationship that grows by the year. Colombia and Israel enjoy relations of warm friendship between its leaders, and widespread cooperation in the areas of business, culture, tourism and academics, sister cities and many other areas.
"The first visit of a sitting Israeli Prime Minister took place just in September last year. Mutual visits by government ministers and parliamentarians have become common practice. Israel is proud to have had the opportunity to have delivered aid in Colombia's times of crisis. Areas of cooperation between the two countries are many and continue to expand, and Israel is very happy for the positive development in the relations between us.
"Colombia and Israel are also partners in the relentless struggle against the agents of terror that threaten the security and stability of both our countries. And in our immediate neighborhood, Colombia is one of the donor nations to the Multinational Force and Observers (MFO) in the Sinai Peninsula, contributing its soldiers that help in maintaining the calm and stability between Israel and Egypt according to their peace agreement.
"Furthermore, Israel wishes Colombia much success in implementing a comprehensive domestic peace agreement after 52 years of civil strife in which hundreds of thousands of citizens lost their lives. This will lead to great development in Colombia, and Israel is interested in being part of the community of nations that will take part in supporting and nurturing this new era of peace in Colombia.
"Israel is proud of the years of cooperation with Colombia, as a result of which thousands of Colombians have received professional training. I will just mention the joint activities involved in the creation of milk production facilities in the city of Baranquilla and in other regions of the country that aid in advancing the economy as well as contributing to reducing the gap in services received by different sectors in Colombian society. We celebrate the participation of Israeli companies in Colombian national projects such as infrastructure, public transportation and telecommunications, as well as in every other area from agriculture to innovation.
"Israel imports from Colombia, among other things, coffee, and much coal for our energy needs, an initiative taken by our then ambassador Haim Aharon, who is today Colombia's Honorary Consul in Israel.
"Your Excellency the Ambassador, respected guests: on this evening, when Israel and Colombia celebrate together in this wonderful Latin atmosphere, after a very impressive performance in the Mundial, and just before the appearance of the famous pop performer "Vives", I invite everyone to join me in raising a glass in congratulating both the outgoing and incoming Colombian presidents, in celebrating the warm relations between our two countries and wishing Colombia a future of peace, stability, security and prosperity. L'haim! Salud!"
Following the speeches, attendees enjoyed a Show of folk dances by the troupe Salsa Viva Tango Vivo, which is in Israel to perform at a dance festival at the Suzanne Dallal Center in Tel Aviv. Additional music was provided by DJ Adi.
The evening concluded with a buffet prepared by the Argentinian-Israeli caterer Mabel Jaitt.
In addition to the personalities mentioned by Ambassador Morales in his remarks, other distinguished guests attending the event included Shmulik Bass, Director, Department of South America, Ministry of Foreign Affairs; Mr. and Mrs. David de la Rosa, former ambassador of Colombia to Israel and Mrs Grace de la Rosa; Professor Shimon Shitrit, former cabinet minister;
Roberto Spindel, President, and Gabriel Hayon, CEO, of the Israel-Latin American Chamber of Commerce; Leon Amiras, Esq., President of the OLEI; Superintendent Moti Meiry, representative of the Israel Police; and prominent members of the South American community in Israel.
The editorial staff of Diplomacy Israel extends their best wishes to Colombia on the occasion of its national day.
Photos by Silvia G. Golan
More pics at Facebook Israel Diplo