On Thursday evening July 26, a farewell reception was held to honor the Ambassador of Japan to Israel, H.E. Koji Tomita and his wife Mrs. Noriko Tomita, who are returning to Tokyo. Hosted at the Ambassador's Residence, the affair offered the opportunity for friends and colleagues to celebrate the Japanese-Israel relationship and Ambassador Tomita's role in promoting those ties.
Ambassador Tomita opened the evening on a lighter note, reassuring guests that although he was leaving, his well-appreciated chef would be staying on. He also stressed that he was leaving the embassy in qualified hands, with the new ambassador set to arrive shortly. Ambassador Tomita stressed that the occasion was a bittersweet one for him, as he would be moving on to a new position in Japan, but would miss his friends in Israel.
Ambassador Tomita has been in the Japanese foreign service for almost 40 years. Prior to being stationed in Israel, he headed the North American Affair Bureau and served as Deputy Chief of Mission at the Embassy of Japan in Washington DC.
Following Ambassador Tomita's remarks, guests were invited to enjoy dinner, with traditional foods such as Shimeji mushrooms, cucumber and seaweed salad, tempura, yakitori, tomatoes in yuzu miso, and of course sushi and other fresh fish.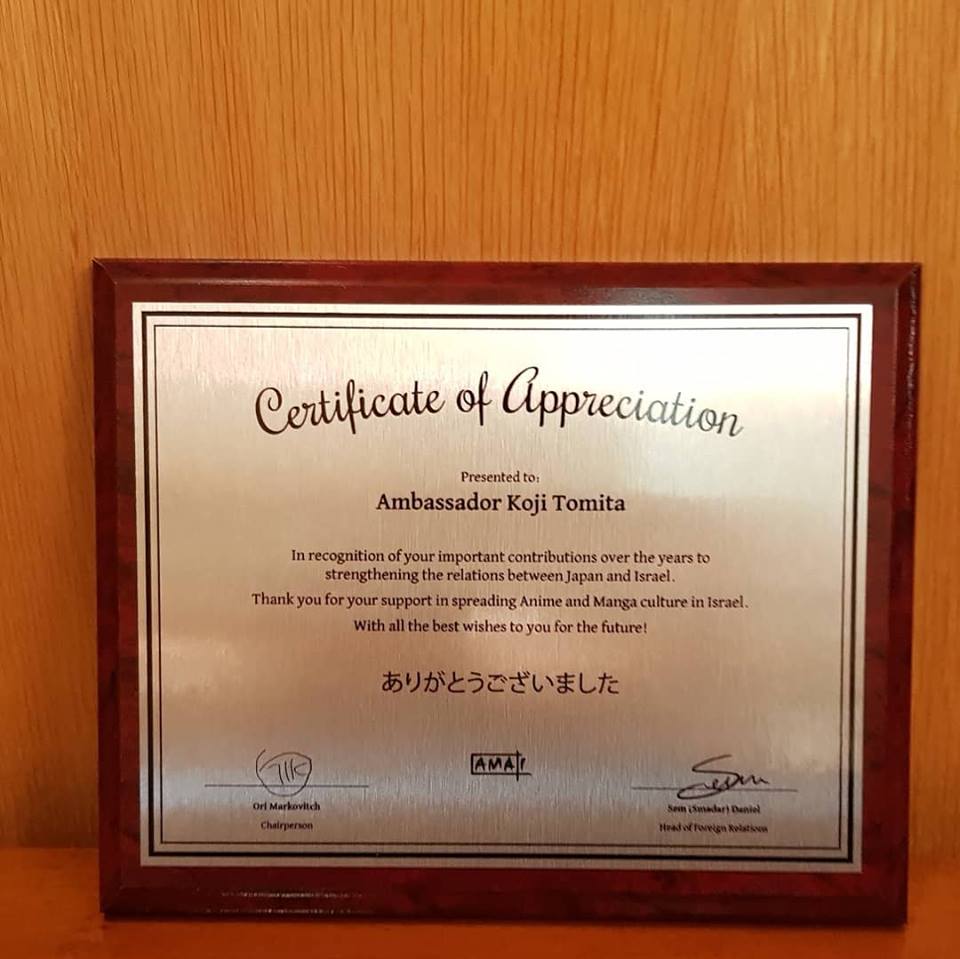 Ambassador Tomita was presented with a plaque thanking him for his efforts to strengthen bilateral diplomacy. Guests also left personal gifts, and signed a guestbook with messages of appreciation and best wishes for the ambassador and his family.
Among the guests were Karnit Flug, Governor of the Bank of Israel; Ambassador Meron Reuben, chief of state protocol in the Israeli Ministry of Foreign Affairs; Dan Catarivas, Director General – Foreign Trade and International Relations at the Manufacturers' Association of Israel head of International Relations at the Federation of Israeli Economic Organizations (FIEO); Adv. Ze'ev Weiss, Chairman of the Israel Japan Chamber of Commerce and Friendship Society; Yossi Katribas, owner and CEO of Yoka Global; Dror Vered, founder of Gateast International Trading, and Nina Admoni, one of the thousands of Jewish refugees saved by Japanese Consul Sempo Sugihara during World War II.
Diplomacy.co.il thanks Ambassador Tomita for his contributions to strengthening ties between Israel and Japan, and wishes him and his family much success in their future endeavors and travels.
Photos by Silvia Golan
Steven Aiello
Founder--DebateforPeace