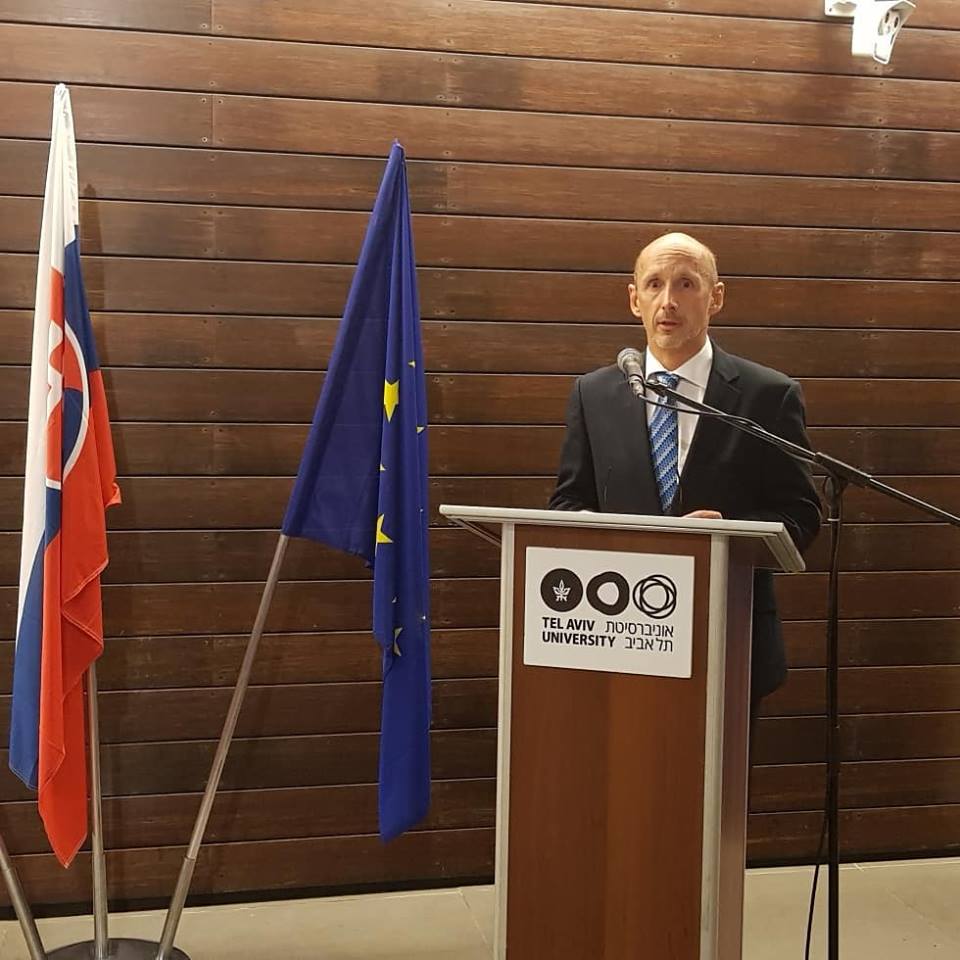 Celebrating 25 years of Slovakian independence and strong Israel-Slovakia bilateral relations at Tel Aviv University
Tel Aviv University's Porter School Building played host on Thursday evening September 6th to a celebration of the 25th anniversary of Slovakian independence. H.E. Ambassador Peter Hulenyi and his wife Tatiana were joined by dignitaries from various countries in marking the 25th anniversary of the establishment of the Slovak Republic and Day of the Armed Forces. Guests enjoyed a festive reception, including wines, beer, and liquors imported from Slovakia.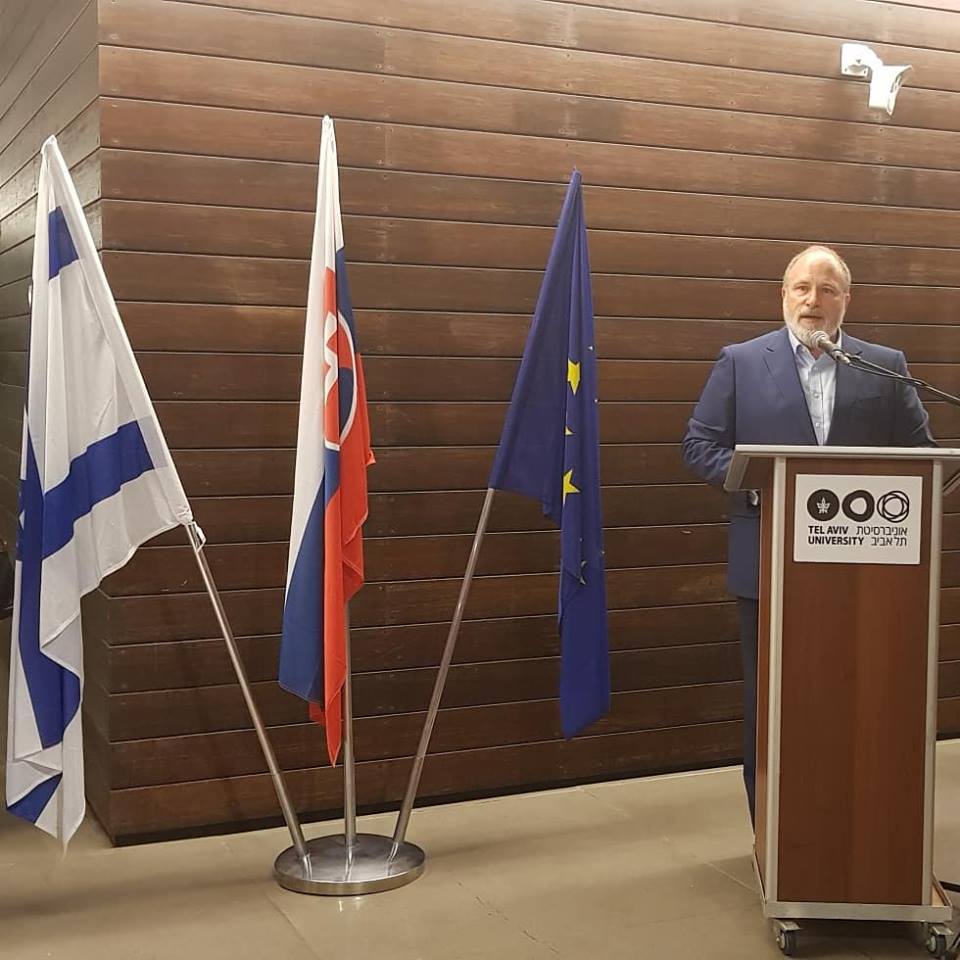 Ambassador Meron Reuven spoke on behalf of the Israeli government and in place of Minister of Social Equality Gila Gamliel. He preceded the formal remarks by noting that he had been impressed on a personal level with the warmth and down to earth nature of Slovakians that he has met while serving as an Israeli diplomat.
Reading Gamliel's formal statement, Reuven noted that Israel was one of the first nations to establish diplomatic relations with the Slovak Republic and the growth in bilateral cooperation since then. He cited visits to Israel by the President of the Slovak Republic, its Speaker of the Parliament, Foreign Minister, ministers of justice, culture, education and others, and members of parliament, as well as visits to Slovakia by Israel's Speaker of the Knesset; ministers, and other Knesset members. Reuven said that although the bilateral cooperation is already strong, there is nonetheless great potential for further deepening that cooperation. He mentioned the growing Slovakian economy, pointing out that despite its young age Slovakia has already proved its potential with its many accomplishments. The ambassador concluded by offering congratulations on behalf of the government and people of Israel on this momentous anniversary.
Ambassador Hulenyi agreed with Ambassador Reuven that the Israeli-Slovakian relationship is a strong and vibrant one. He listed some of the accomplishments achieved in recent years, beginning with one that had taken place at Tel Aviv University in the last year - the establishment of the Slovak-Israel Scientific and Innovation in the presence of Slovak President Adrej Kiska and Tel Aviv University president Professor Yossi Klafter. The ambassador noted that Professor Klafter would be receiving an honorary doctorate in a few weeks at a Slovak-Israel scientific conference in Slovakia. He also cited a pilot scholarship program for Slovak PhD students at Tel Aviv University; a 2 million Euro budget allocated for bilateral projects in industrial innovation; another million euro call for bilateral R & D projects, and tens of thousands of Israeli tourists in Slovakia annually. The ambassador joked that if he wanted to know the popular vacation spots in Slovakia he need only ask Israelis.
Ambassador Hulenyi noted that in addition to the 25th anniversary of the Slovak Republic, this year was also the 100th anniversary of the establishment of Czechoslovakia. Slovakia also recently assumed the presidency of the Visegrad 4 (Slovakia; Czech Republic; Hungary and Poland). He concluded his remarks by wishing all the guests a happy Jewish new year.
Among with foreign dignitaries, the distinguished guests at the celebration included Israel's first ambassador to Slovakia, along with Ambassador Meron Reuven, Chief of Protocol for the Israeli Ministry of Foreign Affairs, Dr. Rodica Radian-Gordon, head of the Europe Division at the Ministry of Foreign Affairs, Ambassador Yitzhak Eldan, head of the Israeli Center for Young Leaders; Professor Raanan Rein, rector of Tel Aviv University; and Boaz Waksman, owner of Ophir Tours.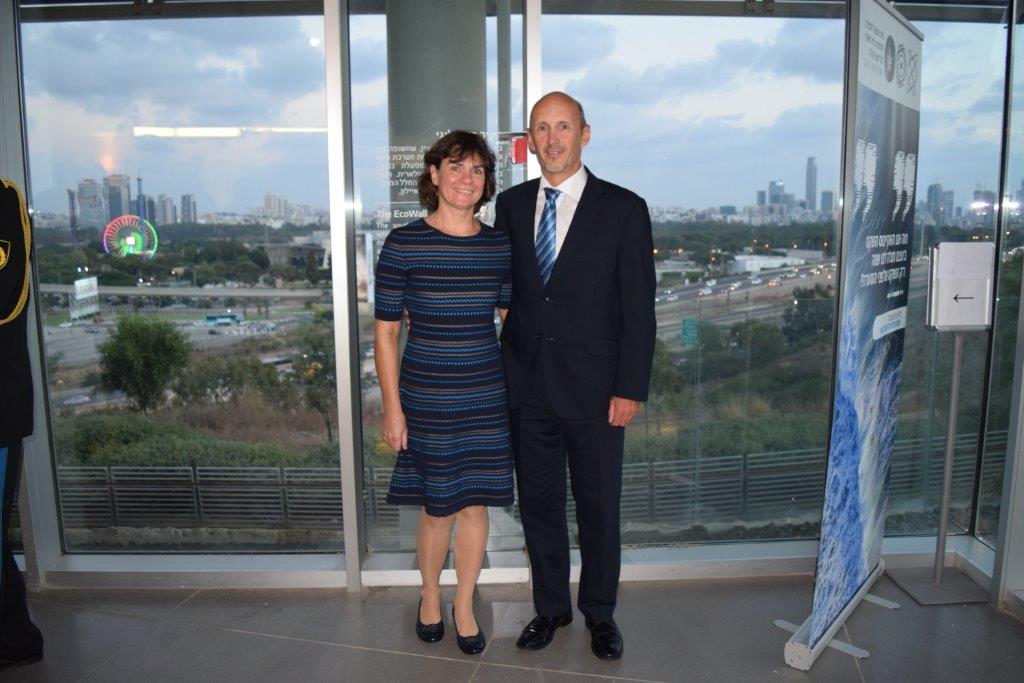 Diplomacy.co.il offers congratulations to the Embassy of the Sovak Republic on the momentous anniversaries and best wishes for continued growth in bilateral cooperation.
Photos Silvia Golan