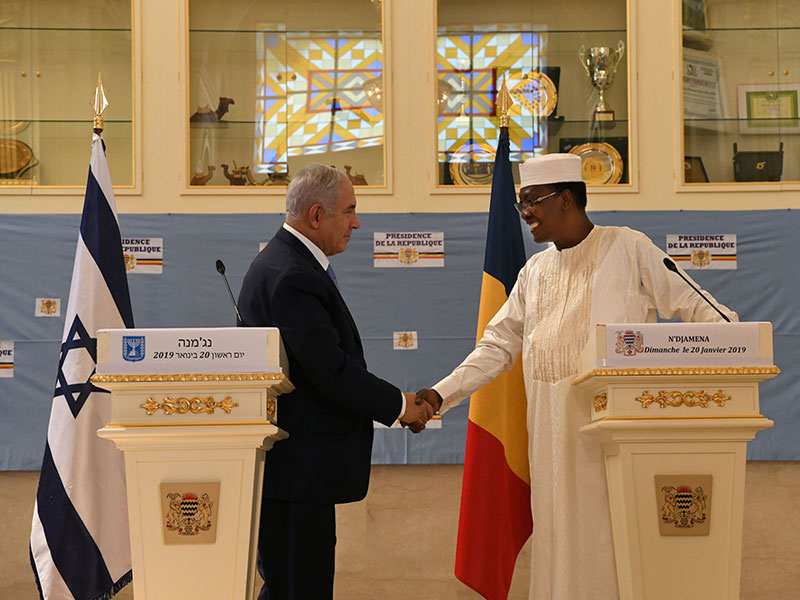 PM Netanyahu: Israel is making inroads into the Islamic world. This is the result of considerable effort in recent years. We are making history and we are turning Israel into a rising global power.
Prime Minister Benjamin Netanyahu and Chad President Idriss Deby, today (Sunday, 20 January 2019), at the Presidential Palace in Ndjamena, the capital of Chad, announced the resumption of diplomatic relations between Chad and Israel. The two sides will presently sign an official memorandum on the resumption of relations between the two countries.
The announcement was made in the framework of Prime Minister Netanyahu's historic visit to Chad.
The two sides view the resumption of relations as the key to future cooperation for the benefit of both countries.
Following are Prime Minister Netanyahu's remarks at the joint statements:
"The first and most important thing is to thank you for your warm welcome to me and my delegation. I'm honored to be the first Israeli Prime Minister to visit your beautiful country.
This is a historic visit that follows another historic visit: your visit two months ago to Israel. Now I'm visiting Chad for the first time. I'm here to formally re-establish our diplomatic relations. Chad is a very important country and a very important country for Israel.
The future of Africa depends on the future of the Sahel. What happens here could affect the entire world. We understand, you understand. We have to make sure that critical allies understand this. And so we have a partnership in trying to forge a prosperous and secure future for our countries and in a larger sense for Africa and beyond.
This is what we discussed today in great detail. There is a lot that we can do together and we discussed how to deepen our cooperation in every field beginning with security, but also agriculture, food, water, energy, health and many more. And I believe that this cooperation will build a better, safer and more prosperous future for both our peoples.
President Déby, you have a vision, of how to raise the possibilities for your people, for your country and for your region and I'm your partner in that. It's significant for us that Chad is a country with a Muslim majority that seeks the friendship of Israel. There are many such countries, but in Africa this is particularly significant. And we seek the friendship of other countries in Africa and I'm glad to see that this process that others are following in your footsteps.
My visit to Africa comes after a horrendous terror attack in Kenya, and there have been terrorist attacks of Boko Haram in this region as well. I agree with you, Mr. President, that we have to band together to fight this evil and we are ready to do so in full cooperation with you as we cooperate with other countries that want to stamp out terrorism.
I believe that the battle is far from being lost, that we can defeat these forces if we join hands.
And we believe in the future of Chad and the future of Africa. This is my fourth visit to Africa in four years. I think it says something, and indeed, we are committed to making every effort to help alongside with the United States with the program Power Africa to help light up African countries. And thanks to a recent government resolution, more Israeli countries will soon join development efforts in Africa. In March, we're going to have a special delegation of Israeli companies come to Chad to see the various possibilities that the President and the Government of Chad are opening up for Israeli companies and I think the opportunities are vast.
So I believe in your future, I believe in our future, I believe in the future of our friendship. But let me add something else that I discovered today: President Déby likes to read history. I like to read history. We were talking about that you cannot have a vision of the future if you don't understand the past. We were talking about WWII. President Déby told me about the deep impression that his visit in Yad Vashem and previous contacts with the Holocaust made on him. But I learned today about the fate of African fighters, soldiers, in WWII, prisoners of war who were murdered by the Nazis, specifically because they were black. This is a story that has to be told. You suffered because you were black; we suffered because we were Jews. We refuse to accept this fate and we raised ourselves from defeat to create a new future for ourselves and for each other. This is a triumph of the human spirit and this is what we seek to accomplish in these historic visits.
We are making history, and indeed, thank you for this visit and thank you for enabling us to do historic things for our peoples."
​
Video: Itai Beit-On, GPO
Sound: Nir Sherf, GPO
Photo PM Netanyahu and Chad President Idriss Deby at the Presidential Palace in Ndjamena . Photo: GPO/Kobi Gideon.