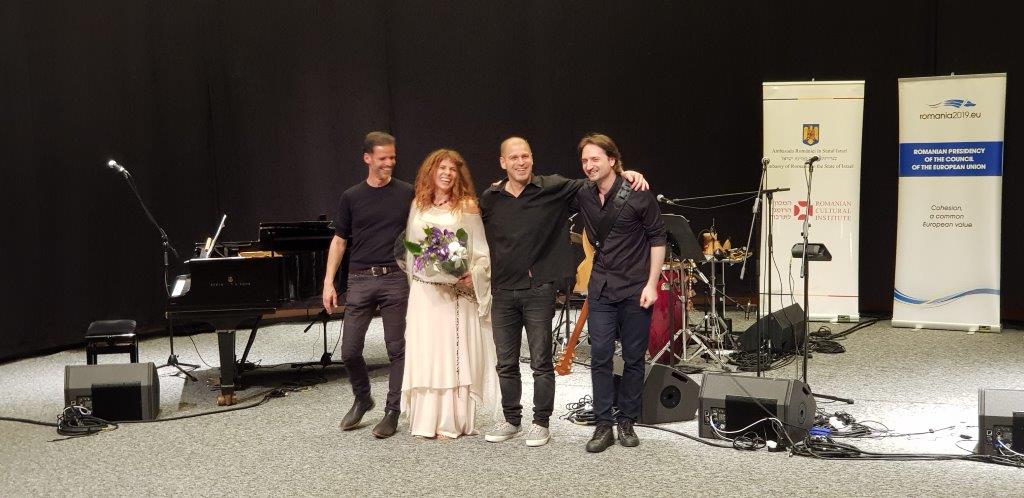 On Wednesday evening, March 6th, the Embassy of Romania in Israel together with the Romanian Cultural Institute in Tel Aviv celebrated Romania's Presidency of the European Union Council with a multicultural concert held at the Enav Cultural Center. Romanian Jazz vocalist Teodora Enache dazzled the audience with a rich repertoire of songs in different languages.
Enache is a world-class singer, familiar with fusing different genres. The concert in Tel Aviv, titled "Roots-Shorashim", featured Romanian and American jazz, Israeli, traditional Romanian and Sephardic songs, as well as unique compositions from Enache herself. Enache was accompanied by Brazilian percussionist Joca Perpignan, Israeli pianist Gil Zohar, and Romanian guitarist Calin Grigoriu, further adding to the intercultural and international theme of the conference.
The concert was built around Enache's belief that "regardless of the place where we are born, and beyond any social, religious or ethnic limitations- we all share the same root." As such, guests included both diplomats and Israeli and Romanian citizens. Following the concert, guests were invited to a reception to continue the celebration.
Romania holds the EU Council Presidency from January 1 to June 30, 2019, in conjunction with Croatia and Finland. This is Romania's first time holding the presidency. Romanian has set as its priorities during this period promoting a Europe of convergence, a safer Europe, Europe as a strong global actor, and a Europe of common values, under the common theme of "cohesion."
Steven Aiello
Founder--DebateforPeace
Photos Silvia Golan