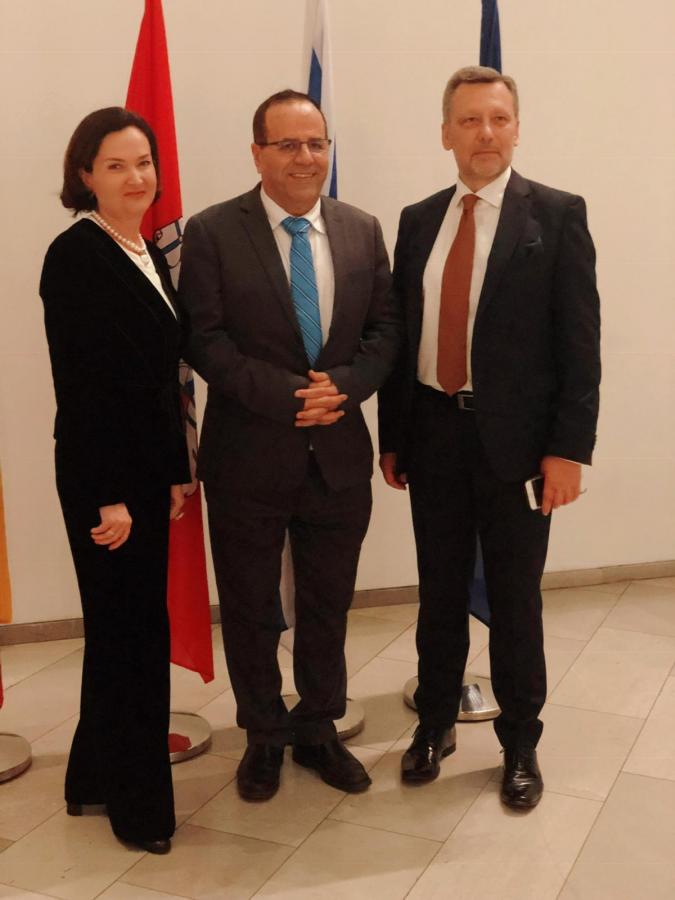 On March 13th the Embassy of the Republic of Lithuania to the State of Israel entertained a celebration event for the Day of Restoration of Independence of Lithuania in the Asia Auditorium of the Tel Aviv Museum of Art. The ambassador of the Republic of Lithuania to the state of Israel, H. E. Edminas Bagdonas, hosted his fellow ambassadors, Israeli-Lithuanian citizens, military personnel and European officials. The Minister of Communications of Israel, Mr. Ayoob Kara, represented the government of Israel.
Ambassador Bagdonas thanked all the guests who showed up and mentioned the achievements of Lithuania since restoring independence from the Soviet Union in 1990. He stated that the relations between Lithuania and Israel are the strongest they have ever been. The ambassador said that "Prime Minister Benjamin Netanyahu was the first Israeli PM to visit Lithuania and the two countries have strong cooperation in fields like technology and trade."
Minister Kara thanked Ambassador Bagdonas for his speech and thanked Lithuania for its fight against Anti-semitism in the last few decades since its independence. "Lithuania and Israel are two young democracies who fought for their independence. Our nations are tied not only by the past but also in the efforts for a better future."
After the speeches and national anthems, the main event started - the concert of the Girls choir "Liepaites" of Vilnius Choir singing school. The girls sang in Lithuanian, Hebrew, and English, and performed alongside classic piano music. The choir has been awarded with more than 10 prestigious international awards and has performed in more than 12 countries.
The evening ended with a glass of wine. To the question, if the event went successfully the ambassador replayed: "Look at the people around us, of course, the event was successful! I believe we succeeded in telling the story of Lithuania to Israel and the world."
DebateforPeace
Photo 1 courtesy of the Lithuanian Embassy in Israel
Photo 2 by Adam Kremer