The Embassy of Nepal in Israel celebrated four years of the new Constitution of Nepal at the Herods Hotel in Tel Aviv, with traditional clothing, cuisine and artifacts.
After hearing the Nepali and Israeli anthems, the Nepali ambassador Dr. Anjan Shakya began her opening speech. She started by explaining how happy she is to be representing Nepal in Israel, thanks to the friendly attitude of people in Israel. The ambassador also praised Israeli democracy following the latest elections. Ambassador Shakya mentioned some interesting points about the history of Israeli-Nepali relations, such as the fact that Nepal was the first country in south Asia to recognize Israel. The ambassador noted that those relations have now existed for 60 years.
Dr. Shakya thanked the Israeli government and Mashav's assistance in training and educating Nepali students and therefore strengthening different sectors of the country. The newly introduced techniques, methods and technologies contribute to Nepal by boosting the agriculture and production. Later on, the ambassador emphasized how progressive Nepal's constitution is. She explained how it addresses ethnic diversity and promotes gender balance. Thanks to legislation, around 40% of the members of the parliament are women and the president and vice president of Nepal should represent different communities of Nepali society.
Ambassador Shakya added that Nepal HAS marked the year 2020 as "Visit Nepal Year"- the Nepali government will put extra effort in enhancing tourism in Nepal in order to reach the 2 million tourists mark. Tourism is growing and successfully boosting the Nepali economy according to the ambassador, by contributing 7.9% to the national GDP. Dr. Shakya finished her remarks by noting the vast tourism possibilities in Nepal.
Gilad Cohen., deputy director general for Asia and the Pacific in the Foreign Ministry , spoke next. Mr. Cohen. started by recalling the history of diplomatic relations between Nepal and Israel. From the first visit of Prime Minister B. P. Koirala in Israel who met Israel's first prime minister, David Ben Gurion, to the terrible earthquake that occurred in April 2015 when an Israeli delegation consisting of hundreds of professionals assisted the Nepalese authorities in their rescue operations and medical needs.
Gilad Cohen then explained MASHAV's contribution to the people of Nepal by noting the passage of knowledge through courses in Israel and abroad. He praised the "Learn and Earn" agricultural training program for successfully training 3000 students in farming technology. These students then returned to Nepal with knowledge and experience that has "opened for them a world of entrepreneurial opportunities that will guarantee progress and modernizations of the farming community in Nepal". According to the ambassador, this will improve the agriculture-based economy of Nepal.Mr. Cohen finished by thanking the government of Nepal for sending troops to UN peacekeeping forces UNIFIL and UNDOF to ensure stability in the region.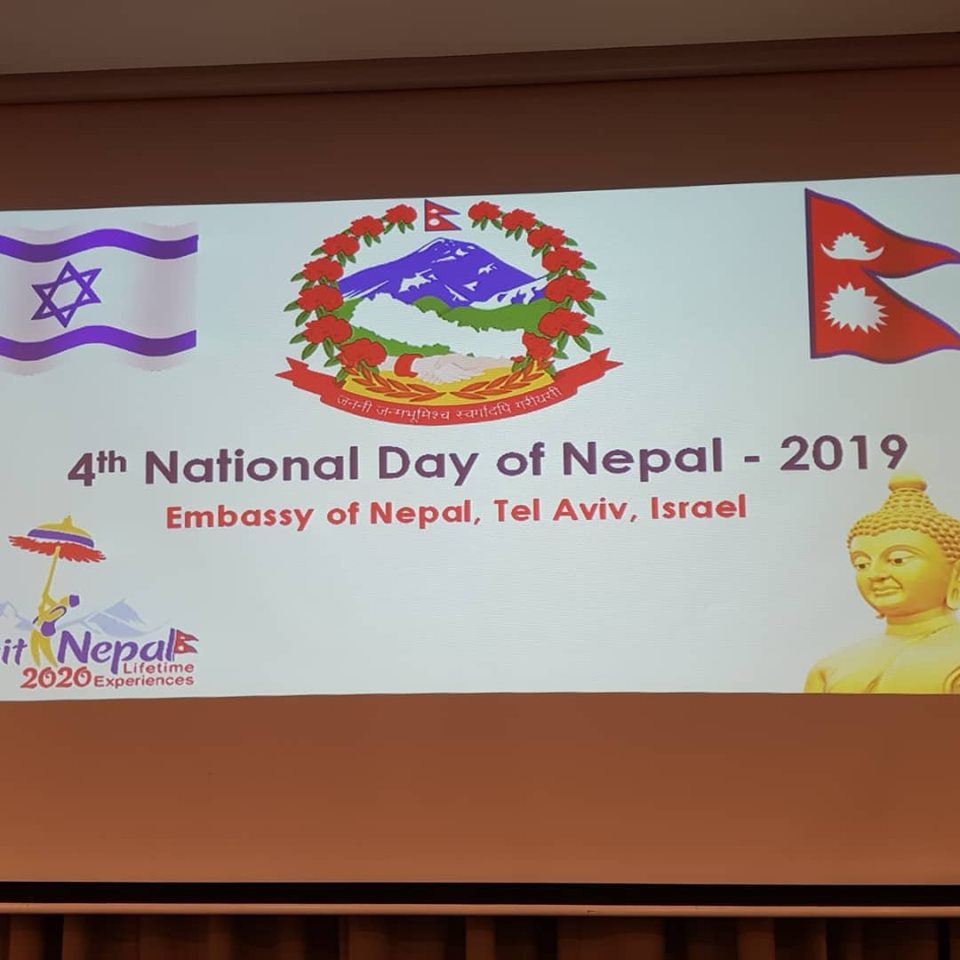 www.diplomacy.co.il congratulates the embassy of Nepal on this important day.
Omri Weinstock is a member of Debate for Peace
Photos Silvia Golan