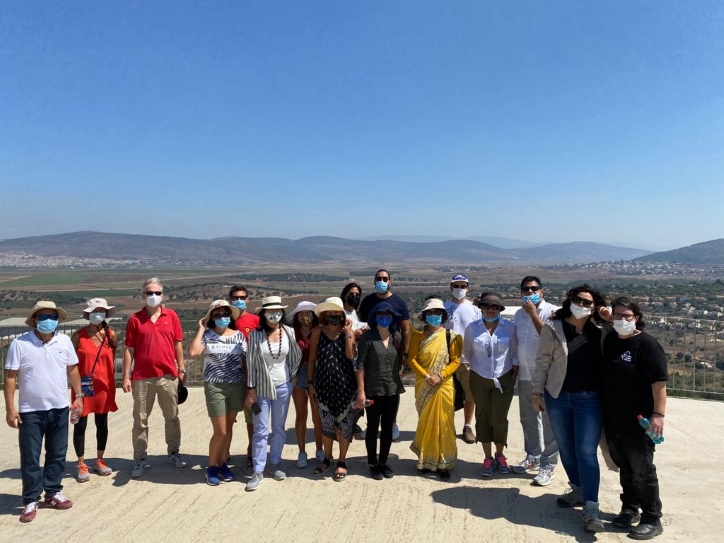 About twenty ambassadors and diplomats from foreign countries enjoyed a joint tour in the Tzippori National Park and the region earlier this week. This, as part of a special initiative by the Ministry of Tourism and the Israel Nature and Parks Authority (INPA), designed to allow them to experience, close up, Israel's unique beauty and heritage.
Among the ambassadors who took part in the tour of Tzippori National Park were the ambassadors of the countries: Sri Lanka, Colombia, Thailand, Nepal and Vietnam, as well as senior diplomats from El Salvador, Austria, Uruguay and Ukraine.
The tour was initiated by the Director General of the Ministry of Tourism, Amir Halevi, and guided by Tzipori-born Etti Koriat Aharon, a longtime INPA employee in charge of information and community in the northern district and an expert in Tzipori's archeology. The group visited, among others, the Nile Festival House, the Roman villa with the beautiful mosaic floor of the Galilee, the Crusader castle and the remains of a synagogue from the Byzantine period. The diplomats ended the day with wine-tasting and lunch at the Kitron winery.
This tour was the first in a series of special tours organized by the Ministry of Tourism and the Israel Nature and Parks Authority for ambassadors. Subsequent tours are expected to take place in Caesarea National Park, the INPA Sea Turtle Rescue Center and the Apollonia National Park, with the participation, among others, of the ambassadors of Panama and Ireland and senior diplomats from Russia, Britain, Estonia, Latvia, the Netherlands and Canada.
According to Tourism Ministry Director-General Amir Halevi: "Having run a successful cycling project in which dozens of ambassadors from foreign countries enjoyed breath-taking routes around Israel, we decided to offer ambassadors to take advantage of this corona period and visit the national parks, in joint cooperation with the Israel Nature and Parks Authority. To our delight, registration immediately filled up and the ambassadors were enthusiastic about discovering another piece of archaeology and history in the Galilee. Given the absence of advertising and marketing campaigns overseas featuring Israel's unique sites as a result of the corona crisis, these ambassador tours provide another type of exposure to Israel among the diplomatic corps living in Israel."
According to Raya Shuraki, Director, INPA Public and Community Division: "The corona crisis is still ongoing and the tourism industry is currently based solely on domestic tourism. At the same time, it is important to look ahead and establish and cultivate contacts with key figures in other countries, such as ambassadors, with a view to leveraging incoming tourism when it will become possible. These tours are part of a welcome initiative designed to establish a fruitful relationship with the representatives of the various countries. They also serve to expose them to both the beauty and uniqueness of our nature and heritage sites as well as the tourist and recreation sites located near Israel Nature and Parks Authority sites."
Photo Ministry of Tourism