Diplomatic Events
Details

Written by

Silvia G Golan
Photo H.E. Ms. Vivian Bercovici, presented her nomination form to the President of Israel
The President Shimon Peres told the New Ambassadors:
"The State of Israel and its citizens appreciate you very much - Please feel at home"
The new Ambassadors from Canada, Macedonia, Montenegro and Uganda presented their Letters of Credence to the President of Israel Mr. Shimon Peres, when starting their roles as Ambassadors of their respective countries in Israel, in an official ceremony at the President's residence. In their meetings with the President, the Ambassadors expressed their hopes for the strengthening of the mutual relations and the broadening of the mutual cooperation between the countries.
The new Ambassador from Canada, H.E. Ms. Vivian Bercovici, presented her Letter of Credence to the President of Israel with great excitement, thanked the President, and said: "I am very moved to be here, and I am ready to the challenges involved in the fulfillment of this service. We have very good relations and common values. We will be glad to work and strengthen the commercial and scientific relations between Israel and Canada. There are very good relations between the Jewish community in Canada and Canadian citizens, and I, as a Jewish Canadian citizen, can testify this". President Peres shook her hand warmly and said: "Canada is close to our hearts and one of our most important allies. Our mutual relations are at their top flourishing".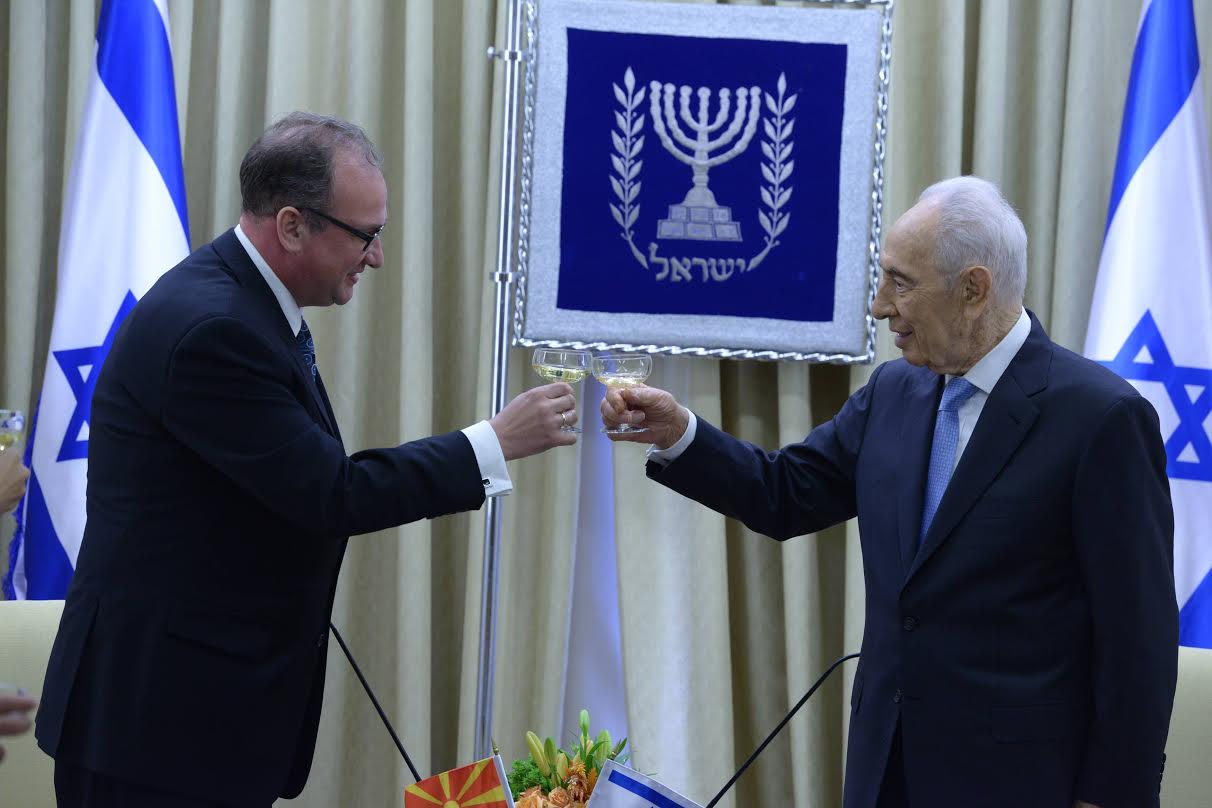 Photo The new Macedonia's Ambassador H.E. Mr. Pajo Avirovikj and the president Peres
The new Ambassador from Macedonia, H.E. Mr. Pajo Avirovikj, presented his Letter of Credence to President Peres and said: "I am very proud to have received the privilege of representing my country in Israel for the second time, and of continuing to work for the enhancement of the relations between our countries. Macedonia attributes great importance to its relations with Israel and the dialog between our countries."
The new Ambassador from Montenegro, H.E. Ms. Tamara Mugos, presented also her Letter of Credence to President Peres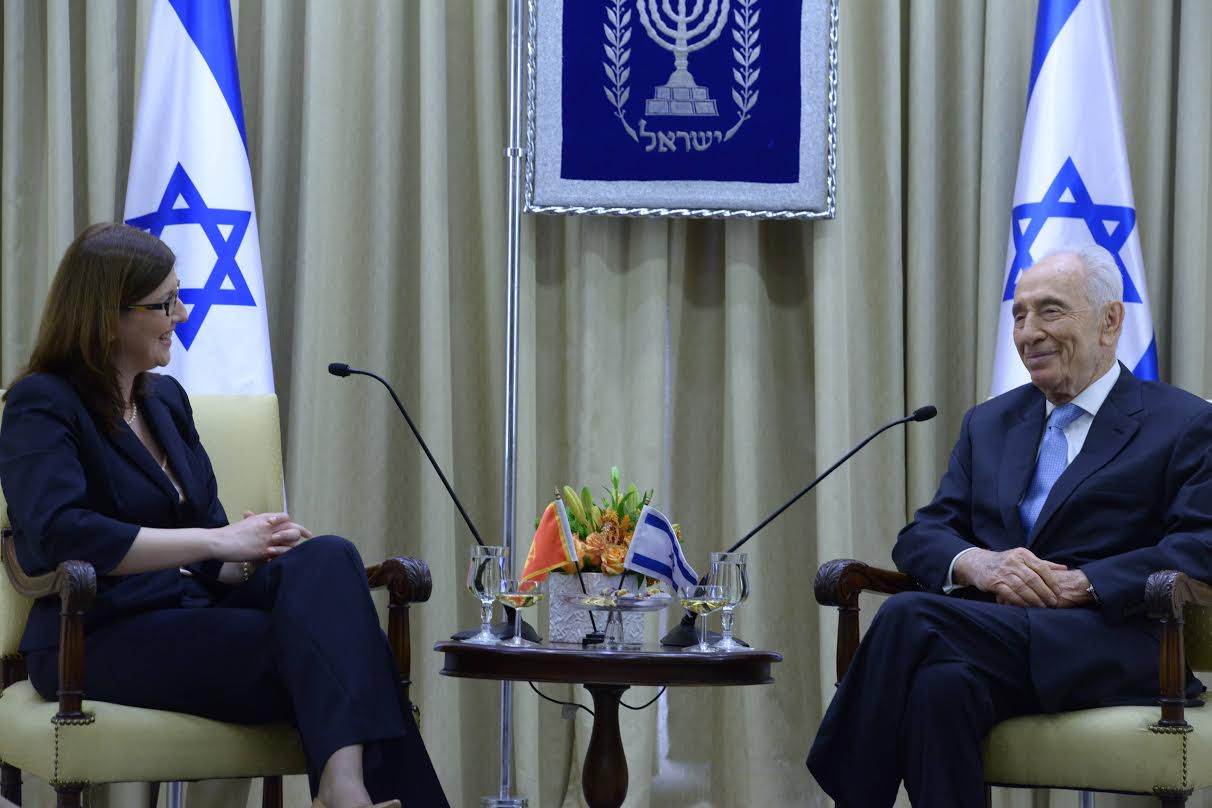 Photo The new Ambassador from Montenegro, H.E. Ms. Tamara Mugos, presented her nomination form to the President.
The new Ambassador from Uganda, H.E. Mr. Angualia Laus Richard, presented his Letters of Credence to President Peres , thanked him and said: "Uganda and Israel have enjoyed very good relations for many years, and we expect to strengthen them in the coming years. We thank you, Mr. President, for your important role in these relations. I wish to congratulate you for the democratic elections for the presidency, which brought great honor to the State of Israel, and it is a privilege for me to have experienced the election process".
Photo The new Ambassador from Uganda, H.E. Mr. Angualia Laus Richard and the President Shimon Peres
President Peres welcomed the new Ambassadors, stressed that the State of Israel will help them broaden the mutual cooperation as much as possible, and said: "This house is open for you - please feel at home. You will discover that the State of Israel and its citizens appreciate you very much. Our relations are very good, and it is important for us to keep them as such and strengthen them. We will help you and stand by you in everything you need."
Photos Mark Neumann GPO
Details

Written by

Office of the President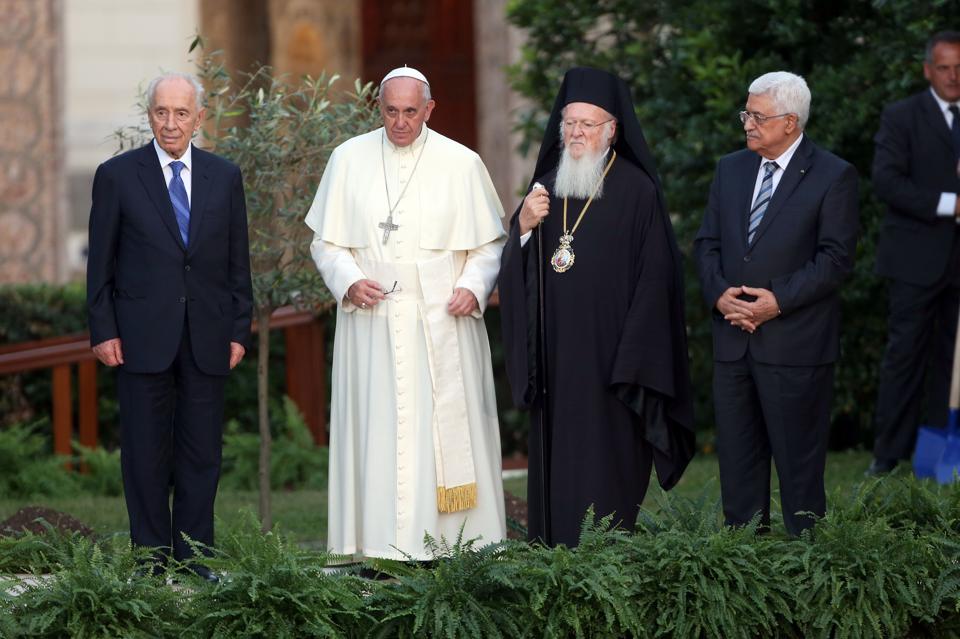 Photo by Franco Origlia/Getty Images
The President of the State of Israel, Shimon Peres, departed for a special visit to the Vatican at the invitation of Pope Francis. At event hosted by Pope Francis with President Peres, Palestinian Authority President Abbas and delegations of Jewish, Christian and Islamic faith leaders, they issued a joint call for peace to people across the world.
Details

Written by

Sima Lahat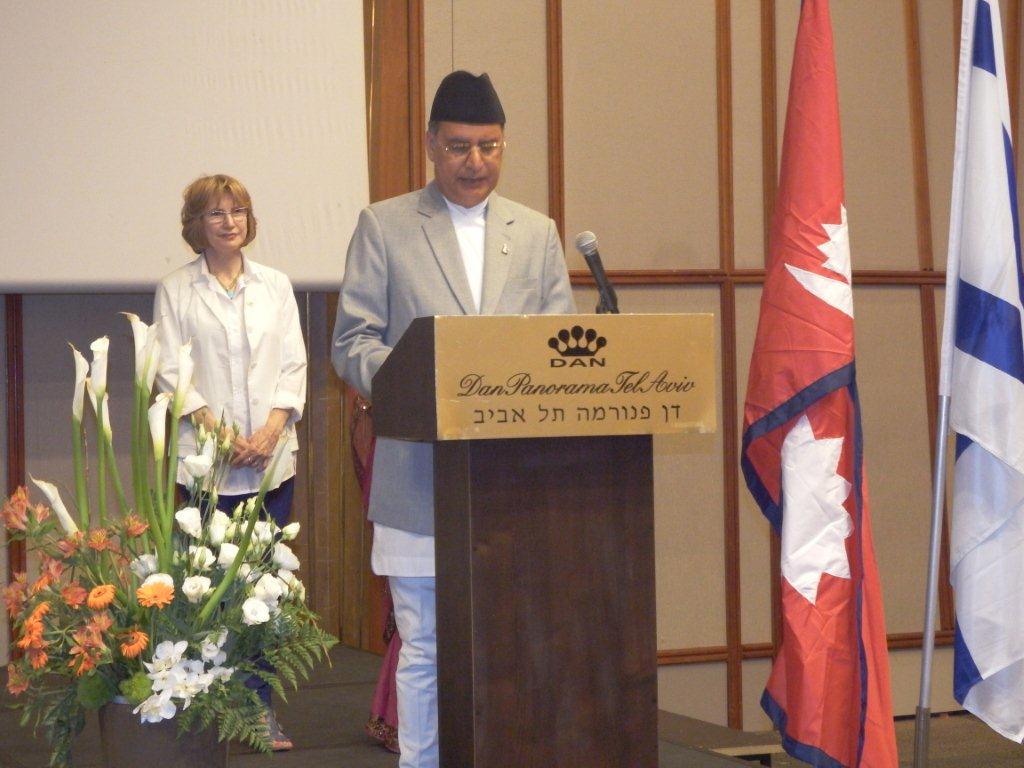 On May 28th, Nepal's National Day was celebrated in the Dan Panorama Hotel, Tel Aviv. In the background were colorful national costumes of the celebrating people, Nepal's music and dances, and plenty of delicious food.

Hosted the celebration was the Ambassador of Nepal, His Excellency Mr. Prahlad Kumar Prasai. Also participated Mrs Yael German, Minister of Health of the State of Israel, MK Ifat Kariv, President of the Israel- Nepal Parliamentary Friendship Group, Members of the Parliament, Mr. Nissim Ben Shetrit, Director General MOFA, Ambassadors, Heads of Missions, Government Officials, Representatives of the Diplomatic Corps, Representatives from UN & other international organizations, Representative from Business Sector/Press & Media.

Nepal is a landlocked country in Southern Asia, between the Tibetautonomous region of China and India. It contains 8 of the world's 10 highest peaks, including Mount Everest - the world's tallest - on the border with Tibet, and Lumbini, the birth place of Gautama Buddha, the founder of Buddhism. A monarchy for hundreds of years, Nepal was declared a republic in June 2008.

Wedged between the high wall of the Himalaya and the steamy jungles of the Indian plains, Nepal is a land of snow peaks and Sherpas, yaks and yetis, monasteries and mantras.
The posters, brochures and puppets that were given to the participants, were showing the magnificent scenery of Nepal.

Addressing the participants, the Ambassador of Nepal, His Excellency Mr. Prahlad Kumar Prasai, said:
I feel deeply honored and privileged to welcome you all, on the occasion of the 7th Republic day (National Day) of Nepal. Nepal established the Republican order on May 28, 2008. On this occasion I would like to take this opportunity to congratulate to all my fellow compatriots in country and abroad.

Since the comprehensive peace agreement in 2006, Nepal is destined to achieve peace and prosperity through the promulgation of a new constitution. After successful completion of 2nd election of constituent Assembly, new Council of Ministers has been formed led by Prime Minister Rt. Hon. Sushil Koirala, President of Nepali Congress Party. The incumbent coalition Government is fully committed to promulgate new constitution at the earliest possible.

The Government has brought out a common minimum program that includes priorities for a peaceful, stable, inclusive, Federal Democratic Republic and prosperous Nepal. It also reinforces the vision of a dignified, respectable, responsible and committed Nepal in international arena.
The progress towards the political stability has instilled a growing confidence at the people and business contributing to the positive economic achievement with a forecast of more than 5% growth in this year. With these positive changes in our socioeconomic condition the Government of Nepal is determined to accelerate the development initiatives and achieve the respectable economic growth that would help alleviating the existing poverty level and achieve the target of graduating from LDC by 2022.

Nepal is a staunch believer in the purpose and principles of the United Nations and committed to maintain world peace. It has been contributing its troops in peace-keeping operations in different parts of the world under the auspices of the United Nations. As one of the largest contributors of peacekeepers, we have responded to the call by the UN even in the most difficult situation and most trouble parts of the world. Nepalese peacekeepers' long association with UN peace support operations began with the deployment of military observers in the Middle East in Lebanon in 1958. So far, Nepal has participated in 39 UN Peacekeeping missions and over 102,000(One Hundred and Two Thousand) personnel have participated. In this region, Nepal's Army personnel are deployed in peace keeping operations in UNIFIL,UNTSO,UNDOF and UNGU II. Currently Nepalese Army has some 3857 soldiers deployed across 13 missions around the world.

Nepal and Israel enjoy historical bond of friendship developed over years which has many dimensions. We established diplomatic ties 54 years ago (in June 1, 1960). Nepal –Israel relations are very cordial, cooperative and we understand each other's aspirations well. When Nepal, an ancient country nestled between two great Asian civilizations and Israel a newly established country in the Middle East with ancient history, decided to establish diplomatic ties that turned out to be a milestone in international relations of both countries and people.
Visionary leaders like B.P. Koirala of Nepal and David Ben Gurion of Israel played crucial role in shaping and nurturing our bilateral relations.
Over the years leaders and people of both the countries have contributed to further develop and strengthen this bond of friendship, cordiality existing between our two countries. As a true friend and well-wisher, Nepal is delighted at the remarkable economic, scientific and technological progress and prosperity achieved by Israel.
Israel has extended valuable cooperation to Nepal in various developmental fields including establishment of the National Construction Company of Nepal and training facilities for the Nepalese Army personnel in parachuting. Israel has also been providing Nepal with short-term scholarships in various subjects particularly in the areas of agriculture, education, rural development, water resources, and tourism through Israeli Agency for International Development cooperation MASHAV. Moreover, Nepali students are getting world class education in reputed Israeli Universities.

Israel's continued support to train and educate Nepali farmers; students and other professionals have greatly contributed in introducing new techniques, technology and methods to boost agriculture production. Israel being a miracle in the region and in the world, their know how has been helping Nepali people to learn and emulate agricultural practices that would be feasible in Nepal. We are very grateful for all cooperation provided by Israel for the development of Nepal.

Nepal & Israel issued joint commemorative postage stamps to mark years of friendly relations between the two countries. The stamps showcase the highest and lowest places in the world which are found in both countries: Israel's Dead Sea which is 422 meters below the sea level and Nepal's Mount Everest at 8848 meters above sea level.
Similarly, a monument of Dead Sea with its stone was established at the gateway of Mount Everest and a monument of Mount Everest with its stone was established in the ecological park of the Tamar Region of Dead Sea. It shows that though geographically distant our two countries are very much closer than imagined or thought.

Nepal has been a favorite destination for Israelis particularly the young ones who love adventure tourism. More than 10,000 Israeli tourists visit Nepal every year. Israel has been an attractive destination for Nepali workers, especially women caregivers. Currently there are around 6,000 Nepali working in Israel .I hope such employment opportunities to Nepali caregivers would grow in the days to come. In addition to this, some Nepalese youths are getting trainings in Israeli Agricultural Institutes as trainee workers which is very important to further develop Nepal's agricultural sector. There remains a tremendous potential for further promotion and expansion of bilateral interactions between our two countries in the fields of trade, tourism, labor, science and technology, education and culture.

Israeli business people could find Nepal as one of the friendliest and secure places where they would not only enjoy natural beauty of the country, but also find a best place to do business. Nepal is in a vantage point from where you can easily link not only 30 million consumers of Nepal but also a vast scope for expansion to about 2.5 billion consumers who are our next door neighbors with whom we have best of relations. Nepal has the best option for Israeli investors to invest in various sectors like Hydropower, Agriculture, Tourism, Science and technology, telecommunication and IT industry among others.

I am confident that in the days ahead our bilateral relations will grow stronger to the mutual satisfaction of both the countries and people.
Finally, I would like to thank Hon. Minister once again for her valuable time and gracious presence as chief guest. I also take this opportunity to thank Honorable members of Knesset, Excellency Ambassadors, Senior Government officials, members of diplomatic corps and other distinguished guests for joining us to celebrate this event with joy and happiness.

To the Ambassador's request, the Minister of Health of the State of Israel, Mrs. Yael German, addressed the function and said:
" It is an honor for me to convey, this evening, on behalf of the Government and the People of Israel, warm congratulations on the occasion of the Federal Democratic Republic of Nepal Republic Day celebration. I am also delighted to take this opportunity to renew the Nepali people the hearty congratulations of the State of Israel on the successful establishment of a new Government in Nepal earlier this year. This political achievement, following the peaceful, orderly and transparent general elections held in November, is a testament to the resilience of Nepal's democracy. We are confident that these achievements will be followed by the successful formulation of a permanent constitution and extend our best wishes to those leading this complex political process. The Government of Israel looks forward to cooperation with the new Government in Kathmandu and to joining hands to take the ties between the two countries ever further.

Nepal is one of Israel's longest-standing friends in Asia and the relationship between the two countries has always been marked by outstanding warmth and affinity. We have the deepest appreciation for the good will between the two countries in the past and are confident that it will serve as a firm basis for even closer ties in the future.
In Particular, an inter-departmental team is making ongoing efforts to establish a government-to-government mechanism for the placement of Nepali caregivers in Israel in a way that is transparent and equitable. We hope these efforts will bear fruit in the near future. Likewise, we look forward to welcoming to Israel 360 Nepali students in the framework of the special agricultural training programmes taking place at Kineret College, in Sdot Negev, in the Arava and in Ramat HaNegev.

Moreover, we look forward to a year of joint Israeli-Nepali activities, including promotion of entrepreneurship and innovation, promotion of awareness of public health issues community development and more. We are also proud of the ongoing good-works undertaken by Israeli and Jewish NGOs in Nepal and are confident of the contribution they make to your bilateral relations.
Mr. Ambassador, Allow me to conclude by personally thanking you for promoting cooperation and building bridges between our two nations. I ask you to convey to His Excellency the President, Dr Ram Baran Yadav and to Rt. Hon'ble Prime Minister, Mr. Sushil Koirala, the best wishes of my Government. May the future bring prosperity for Nepal and a strengthening of the friendship between your country and Israel."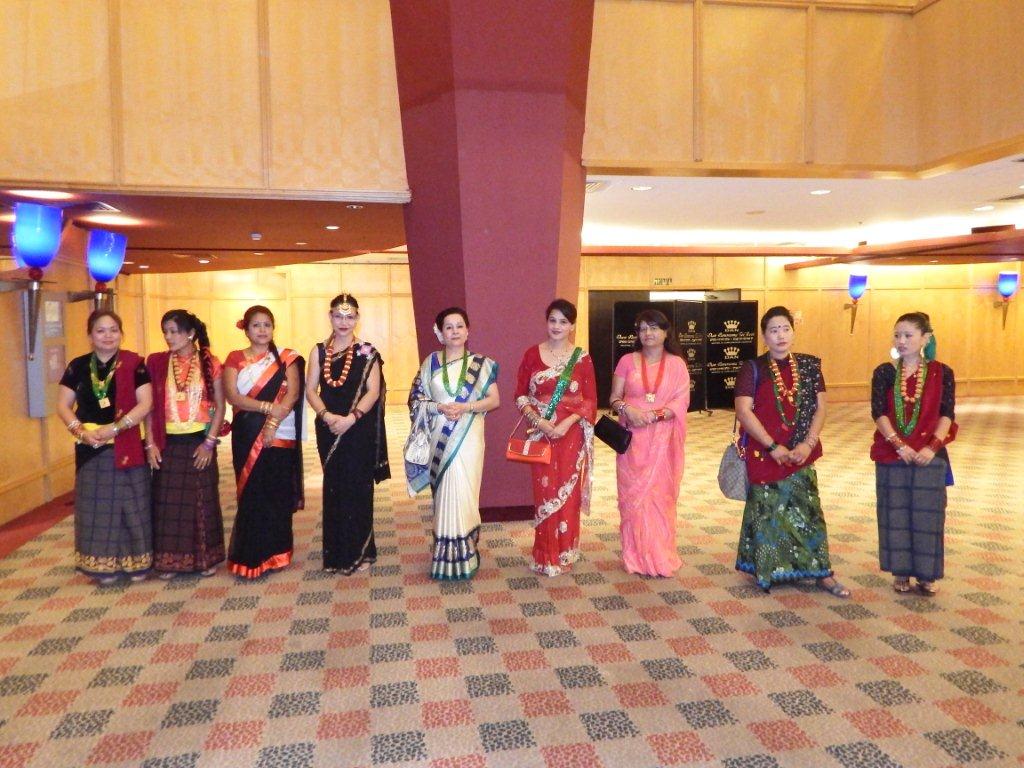 The writer of this report hopes that the magnificent scenery and the pleasant people of Nepal, will continue to attract millions of tourists to this unique country.
Photo Nepal Embassy / Silvia Golan
Details

Written by

Sima Lahat
The Italian Republic day was celebrated on June 2nd 2014. Republic Day, also known as Festa della Repubblica in Italian (Festival of the Republic), is a national holiday in Italy on June 2 each year. It celebrates the day when Italians voted to abolish the monarchy in 1946 so their country could become a republic. Republic Day is a day off work for many people in Italy. Events include: Official ceremonies, Military parades, Laying a wreath at the Tomb of the Unknown Soldier, inside the Altare della Patria in Rome.
Outside Italy, many Italian diplomats in embassies celebrate this day worldwide.
On the wide lawn of the Ambassador's house, Mr. Francesco M. Talo, gathered hundreds of guests to celebrate the occasion. Among them were the diplomatic community members, Minister Silvan Shalom, Mr. Meir Shitrit, Tal Brody, Sheri Harrison and many others.

The official part of the event, started with the announcement of Moran Atias, in both languages: Italian and Hebrew. After the three national anthems were played (Italian, Israeli and the EEU) the Ambassador held a short speech praising the close and strong ties between both countries. His speech was followed by the warm words of the Italian minister of education - Maria Chiara Carrozza, and the Israeli Minister of International Relations and Minister of Strategic Affairs Yuval Steinitz. Then, the Commissioner of the European Union, Giuseppe Sala, promoted Expo Milano 2015 under the title of: "Feeding the Planet, Energy for Life", mentioning the importance of the Israeli pavilion, one of the attractions on the Expo 2015 exhibition.
After several songs by an Israeli youth quire, followed by jazz music, the guests could enjoy the fine tastes of Italian food and wines. The wine and Parmesan cheese were brought from Italy especially for this event. Waiters served hot Pizza and Antipasti. There were counters of Espresso and Italian chocolate and delicious Nutella ice cream.
I would like to congratulate the Italian people on this important and enjoyable celebration.
Photo Silvia Golan
Details

Written by

Office of the President
Your Holiness Pope Francis,
I want to welcome you, on behalf of the State of Israel and all the people of Israel, with a warm "Shalom,"
You have come to Jerusalem which radiates faith and understands suffering. The humility in your nature and the power in your spirit raised a spiritual elation and a thirst for peace. The values which you stand for enrich us and bring righteousness between people. The moral call remains the wisest human judgment. It has no equal. Today, you are greeted here by a distinguished and diverse representation of Israeli society.
A society in which freedom of speech, the right to express oneself and the respect of holy sites are cornerstone values.
With your permission, I shall welcome all those who convened here in your honor – community and religious leaders, city mayors, judges, people of intellect and science. Jews and Arabs, Druse and Circassians, Catholics and Orthodox, young and old, men and women, from the city and from the
They long to hear your words while they are characterized by their fear of God and the love for humanity. They have come to bless you on inspiring by your very nature trust among the fallen and strength among the trodden. A combatant against discrimination, anti-Semitism and racism.
Your Eminence,
The world is shocked by the blood that is shed in city squares, and in the thick of villages. The blood of the clean-handed is crying from the land. The blood of the innocents, the blood of children which had yet to taste the flavor of life.
No one can stand the growing number of widows, orphans, refugees that run with nowhere to go, and foodless. Grief and bereavement calls for true soul-searching, everywhere and at all time.
Your visit, Your Holiness, is a moving event with the power to motivate the religious leaders into joining forces to enable moral ethics and scientific innovations to enable each person to free themselves from despair, poverty and violence.
Faith and science have the power to reveal the hidden strengths within people, the treasures of the land, and the innovation stemming from research centers. All this can bring blessings to our lives.
Sadly, rotten apples are also exposed. Those who plant the seeds of evil today are the terror organizations. They have no pity and spread destruction. They kill without judgment, without distinction, without pity without logic. We must stand together to prevent the menace on the lives of people and on world peace.
In the face of moral corruption we must show moral responsibility. And make clear that there is no greater contradiction than that between faith and murder.
I appeal to all the religious and spiritual leaders of our time: Make your voices clearly heard. With a distinct message. It is our duty that our children, the children of the world, regardless of religion or nationality, may live without fear and grow up in a world free of slaughter, a world which allows each person to live as a human being.
Your Eminence,
I know that you stand as firmly as a rock against any attempt to connect religion to terror. And that you aspire to create a common ground for global, regional and individual peace. We join you with body and soul in the effort to thwart murder and replace it by gates of peace.
Distinguished Guests,
I welcome the encounters between the religious authorities and the political world that can serve to highlight the spiritual, moral and common foundations that connect them.
Their ability to enhance political aspirations with the religious authority necessary to enable the compromises needed to achieve peace. I believe that your visit and call for peace will echo through the region and contribute to revitalizing the efforts to complete the peace process between us and the Palestinians, based on two states living in peace. A Jewish state – Israel. And an Arab state- Palestine.
This solution can be reached by mutual agreement. I believe that the citizens of the region want peace. They pray for peace. They are ready for peace with their neighbors and with all the nations of our region.
The threats of war will not bring peace. The dead will offer no praise. Only constructive perseverance can achieve peace. Only peace has the power to uproot poverty, overcome despair. Only peace can free people from tyranny. To the skeptics we shall say that we achieved peace with Egypt and Jordan, despite the fact that many saw this as a distant dream.
Your Eminence,
We are an ancient people, but our path is new. Because our values are constant, but the road is changing. However, there is no contradiction between the Ten Commandments and scientific innovation. In the words of Rabbi Kook: "We must sanctify the old, and respect the new." Faith and science helped Israel overcome poverty, protect itself, and enabled it to achieve full peace. We will be happy to put our expertise at the disposal of all. And the more this will benefit others, the better it will be for us.
Your Holiness,
Your visit to the Holy Land is an important opportunity for a joint prayer to God in Heaven for peace. We would be honored to offer such a prayer either in our home or yours. In accordance with your kind offer.
A prayer that children will grow without danger to their lives. That a mother will bear her child without hearing a siren. That every man will sit under his vine or his fig tree untroubled. We will work together, Jews, Christians and Muslims to bring an end to the conflicts.
Economic prosperity and social justice for all. I believe that peace is the key to bringing about these changes.
Your Holiness,
Our home is open to every pilgrim. As is said in the Book of Isaiah, "For my house shall be called a house of prayer for all peoples." Israel was born in innocence. It was built by pioneers who volunteered and who toiled to create an Israel worthy of the aspirations of our parents and the expectations of our children.
We are a small nation but with the world. A nation dedicated to Tikkun Olam – Bettering the world. A world which you call, "a world of brotherhood."
My dear friend,
I was young and now I am old. I learnt that dreams do not age and I recommend to all act accordingly.
You walked in pilgrimage and you paved a road.
May you blessed.
Photo Mark Neuman / GPO