Diplomatic Events
Details

Written by

President's Spokesperson's Office
President Reuven (Ruvi) Rivlin hosted a reception today, Thursday 9 May / 4 Iyyar, for the diplomatic and consular corps in honor of Israel's 71st Independence Day. Acting Foreign Minister Yisrael Katz also participated in the event.
"Distinguished members of the diplomatic corps, dear friends. It is a pleasure to welcome you to this celebration of our seventy-first Independence Day, in our three-thousand-year-old capital of Jerusalem," said the president at the beginning of his remarks, noting that in his meetings with world leaders they comment admiringly on Israel's achievements, and said that Israel is indeed a miracle, particularly in the vibrancy of its democracy.
"From the day Israel was born until today, we have faced enemies. Yet despite the severe security threats, we have built a thriving democracy with an independent judiciary, a free press, and religious freedom for all. This is a modern miracle," he said.
"Israel is a small country, but we have big dreams. In fact, we are already becoming a world superpower. Not a superpower of military might -though we will always do what is necessary to defend ourselves - but a superpower of hope. Hope for a better future for all humanity."
"Israeli technologies are already improving the lives of people around the world in the fields of clean water, sustainable farming, green energy, and medical aid. Now imagine how these technologies could improve lives throughout the Middle East," he continued.
"Peaceful relations between Israel and its neighbors, especially our Palestinian neighbors, could bring such tremendous development and prosperity to the region. We continue to dream of peace with all our neighbors because I deeply believe that we are not doomed to live together, we are destined to live together. Together we can build a better future for all the peoples of the region," he concluded.
Acting Foreign Minister Yisrael Katz: "I congratulate the US administration for the sanctions, which they renewed against Iran, in order to bring an end to Iran's evil activity. I call upon the international community to support the American policy and to join the enforcing of the sanctions."
During the day, Beit HaNasi received messages of congratulations for world leaders on Yom Haatzmaut. Among those sending messages was President of the United States of America Donald J Trump, who noted: "shared values are the cornerstone of relations between our two great nations". President of the Russian Federation Vladimir Putin congratulated Israel on its 71stanniversary and noted that today is also Victory Day, marking the end of the war against Nazi Germany and that the sacrifices for the sake victory were enormous. Messages were received from Federal President of the Federal Republic of Germany Frank-Walter Steinmeir and Queen Elizabeth II of the United Kingdom, who sent her best wishes for the good fortune and happiness of the people of Israel. King Felipe VI of Spain, President of Italy Sergio Mattarella and many others also sent wishes.
Photo credit: Haim Zach (GPO)
Details

Written by

Silvia G Golan
For the first time in Israel, Tanzania will hold a special event marking the 55th anniversary, on April 30 at the Dan Panorama Hotel in Tel Aviv
In Tanzania, every 26 April is Union Day to commemorate the creation of Tanzania through the union of Tanganyika and the archipelago nation of Zanzibar on 26 April 1964
Tanzania will also mark the first anniversary of the inauguration of Tanzania's first Embassy in Israel
The event will be attended by diplomats, businessmen, and the Media. Tanzania's Ambassador to Israel, Mr. Job Masima, noted that the two countries share many common values and that he intends to further strengthen cooperation with Israel in tourism, technology, agriculture and more. According to Ambassador Masima: "Though Tanzania and Israel are separated by great distances in geographical terms, our strong bonds of affection, mutual confidence, common interests, and similar outlooks remains inextricably linked".
Ambassador Masima is the first Tanzanian ambassador to Israel. He received the diplomatic credential from President Reuven Rivlin at a moving ceremony last June. Ambassador Masima took his place as Tanzania's first ambassador to Israel a year ago. Until the arrival of Ambassador Masima, the Tanzanian delegation was headed by the Honorary Consul of Tanzania in Israel, Kasbian Nuriel Chirich, who worked intensively to increase cooperation between the two countries in all fields.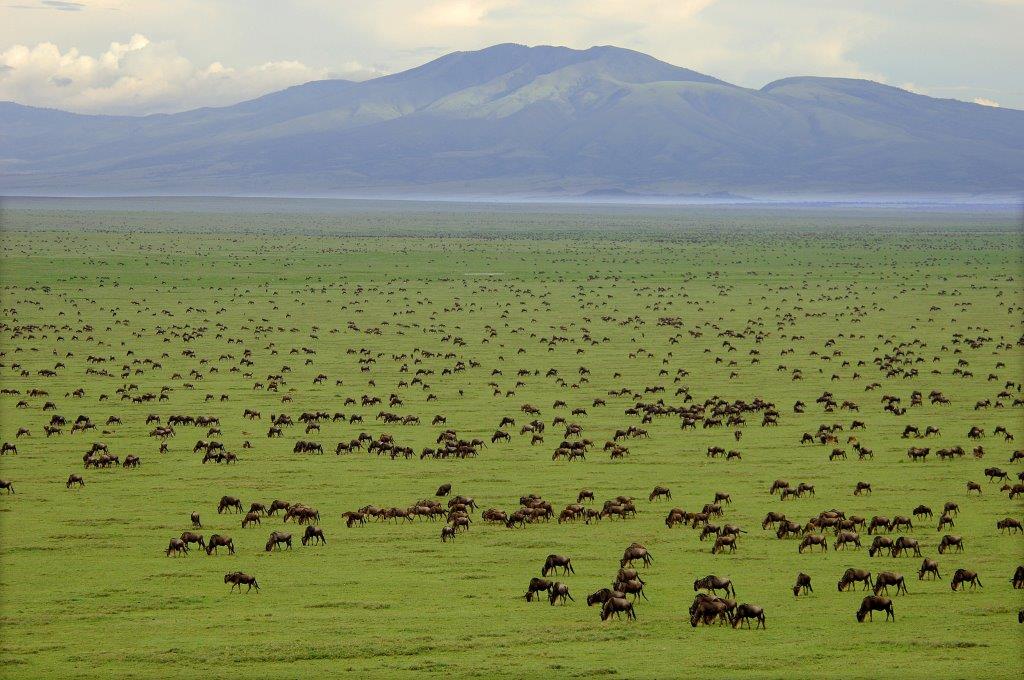 The secret of Tanzania's magic lies in the fact that it is a paradise for nature lovers. The country features a breathtaking array of landscapes, including volcanoes and snow-capped mountains, lakes, savannahs, marshlands, rain forests, and more. Some of the world's largest lakes are located within Tanzania's 945,087 square kilometers. It is not a coincidence that Tanzania has become one of the most popular destinations for Israelis traveling to Africa. It has a unique culture, natural riches, beautiful and exciting nature reserves, and the islands of Zanzibar. More than 4 million wild animals representing over 430 different species make Tanzania their home so that Tanzania has the highest concentration of animals per square kilometer on earth. Mt. Kilimanjaro, the highest mountain in Africa, soaring to a height of 5,895 meters, is located in northern Tanzania.
Israelis who want to visit must be issued a visa. There is a new option of getting Visa by E Visa through the internet. The E - Passport of Tanzania has been voted the best passport in the world. There are daily flights from Israel to both mainland Tanzania and the island of Zanzibar, and chartered flights during holidays.
Pictures Courtesy: Ministry for Natural Resources and Tourism of Tanzania and the Embassy in Israel.
Details

Written by

Buzzy Gordon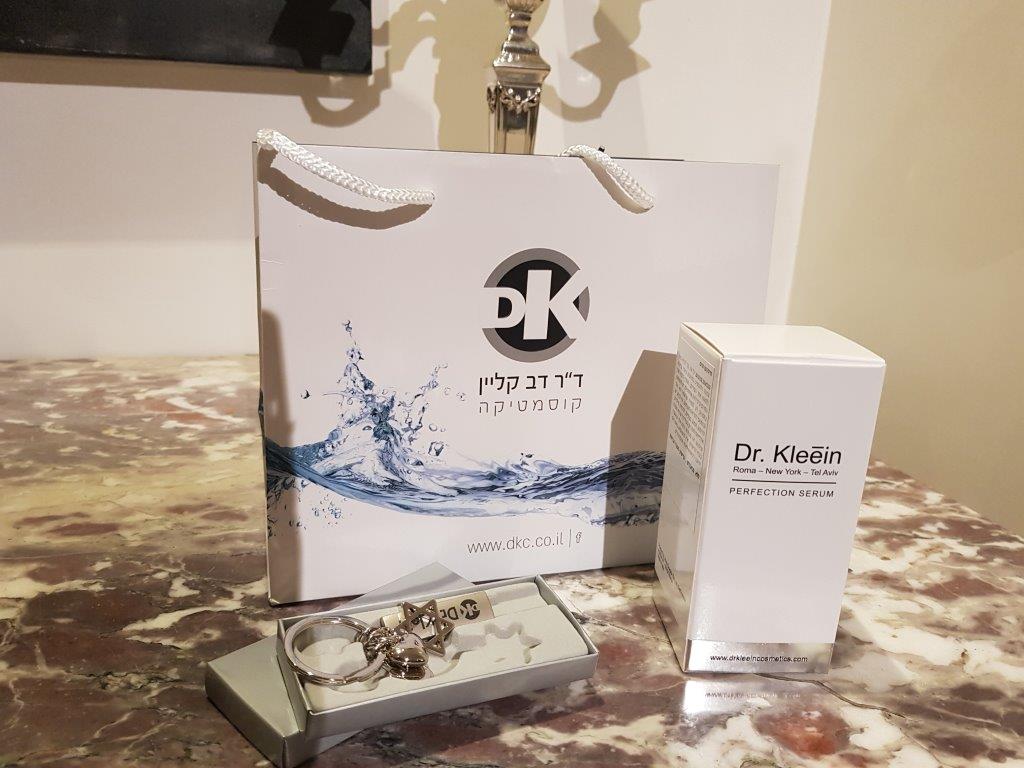 The Italian Ambassador Hosts the Israeli Launch of the new line of Dr. Kleein Cosmetics


Ambassador of Italy to Israel H.E. Gianluigi de Benedetti and his wife Sabina hosted a cocktail party at their residence on Saturday, March 30, 2019, to mark the launch of Dr. Kleein Cosmetics, a new line of exclusive skin care products manufactured in Italy. Formulated by renowned plastic surgeon Dr. Dov Klein, Perfection Serum and Perfection Cream are made from two rare -- and expensive -- natural ingredients: white truffle (Tuber Magnatum) and saffron (Crocus Sativus).

According to Dr. Klein, the white truffle from Alba, Italy, is particularly rich in antioxidants, vitamins and minerals that nourish and rejuvenate the skin. Moreover, the truffle's synergy with saffron yields powerful anti-aging properties, resulting in improved skin tone, youthful elasticity and robust cell renewal.

Dr. Kleein Cosmetics will be available in Israel from select cosmeticians trained in Dr. Klein's methods. Perfection Serum will cost NIS 439, while the price of Perfection Cream will be NIS 409.

The benefits of Dr. Kleein Cosmetics were outlined at the cocktail party in remarks by Dr. Nunzio Prestigiacomo, Director of Dr. Kleein Cosmetics in Italy.
A number of other distinguished guests also flew in especially from Italy for the launch, including Carlotta Maggiorana, Miss Italy (2018), and three leaders of the Italian pharmaceutical industry: Dr. Sergio Serraino, Dr. Maria Vittoria Di Lauro, Monica Chinaglia and Dr Raffaella Roventa.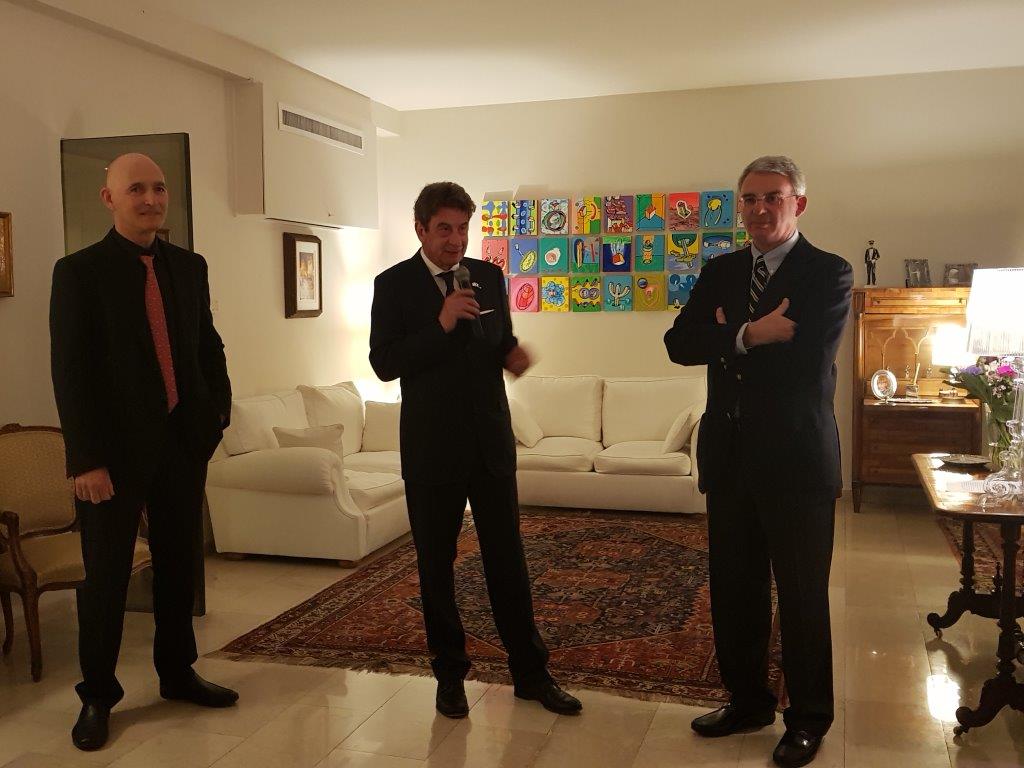 Among the Israeli dignitaries attending the launch were Ambassador and Mrs. Oded Ben Hur, former Israeli ambassador to the Vatican; Yoav Horowitz, chief of the Prime Minister's office; Ambassador Amos Radian; Dr. Sigal Tal, head of Assaf Harofeh's radiology department; radio stations owner David Ben Bassat and Mrs. Ben Bassat; artist Nansy Brandes; and Attorneys Eitan Esrachi and Yab Gialgiuli.

The food served at the cocktail party was prepared by acclaimed Italian chef Emanuela Panke , who flew in to Israel especially for this event. In keeping with the theme of the evening, Panke whipped up an assortment of hors-d'oeuvres and white pizzas containing white truffle and saffron as ingredients, followed by a main course of risotto alla milanesa and an extraordinary dessert -- Sicilian cannoli.

Photos Silvia Golan
Details

Written by

David Goland
Pasta Mia Restaurant and pasta maker was the venue hosting an evening of culinary experience with Accademia Italiana della Cucina – The Italian Academy of Cuisine – the Israeli chapter. The Academy is an international body, with branches in over 70 countries and over 200 chapters in Italy alone. We found out that new members can join the Accademia through a personal acquaintance, but with a restriction on restaurateurs and other dining purveyors, to avoid conflict of interest. The candidate fills an application form and submits it with a curriculum vitae. More about the Accademia is on its website (English version):
https://www.accademiaitalianadellacucina.it/en
As you turn the corner onto Wilson Street in Tel Aviv, the well-lit front of Pasta Mia restaurant, with its large Italian and Israeli flags, comes into full view. Riccardo Hoffman, the public relations manager greeted us with a cordial handshake and a tri-lingual "Good Evening, Buona sera, Shalom". As you walk in, the unassuming entrance with a showcase display of a marvelous variety of home-made pasta made on site turns into an elegant yet home-style, cozy room. The fifteen seats or so, around festive tables, fit well in the friendly, inviting room, decorated in an all-Italian style, with Italian music playing gently in the background. There are some more tables in the front patio, for open-air less formal dining.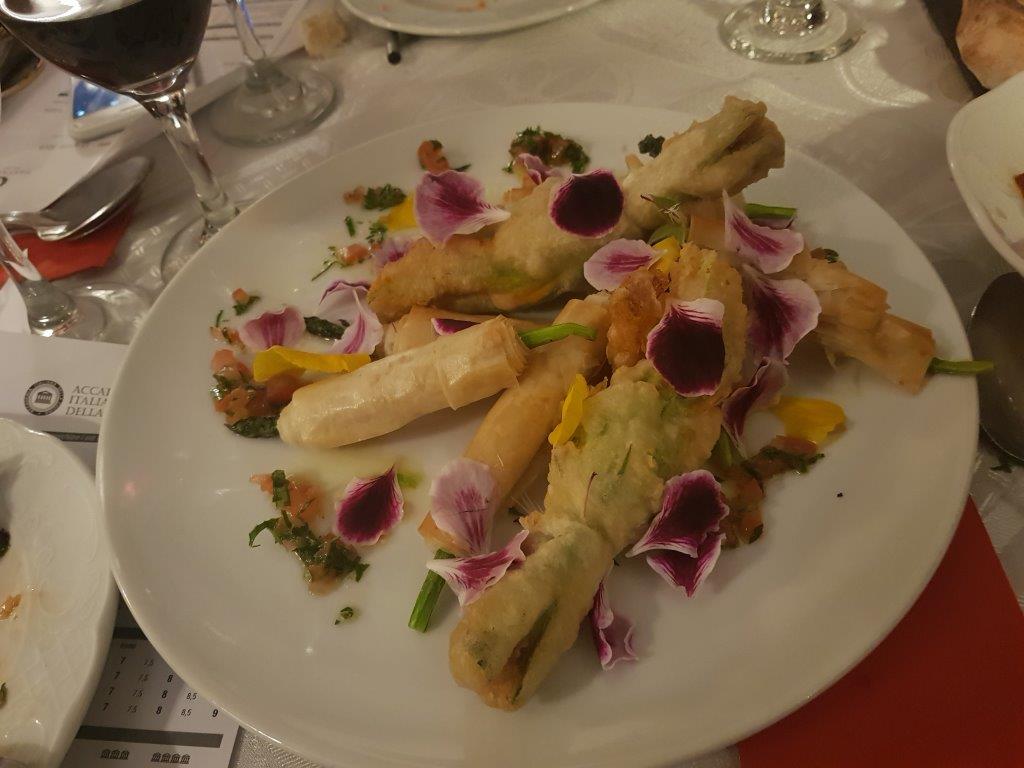 As we sat down, we were graciously welcomed by Dr. Cinzia Klein, Academy Delegate of the Israeli chapter. Also attended Vice-Delegate Sabrina Fadlun as well as businesswoman Mrs. Giordana di Castro, artist Photographer Mrs. Deborah Sinai, business counselor Dr. Claudio Grego with his wife Luisa, architect Arie Sonnino with his wife Ruli, style influencer Mrs. Giustina Rachmanoff, writer and journalist Dr. Nessia Laniado, dietologist Dr. Francesca Torrini, marketing councilor Dr. Joelle Inowlocki and ex-consul of Dominican Republic Mrs. Aliza Radian.
After the short speech, the multi-course dinner was on its way, with remarkably generous portions.
The Antipasti were delicious, as the freshly baked, gently spiced focaccia was followed by fiori di zucca rapieni (pumpkin flowers stuffed with ricotta cheese). An off-menu delectable treat consisted of thin puff pastry (pasta sfoglia) shell "cigars" filled with artichoke. A generous traditional platter of eggplant and red pepper stripes cooked and flavored tastefully was supplemented with the less-traditional sweet-potato and roasted cauliflower. The thick slices of eggplant parmigiana, layered with tomato slices, melted in the mouth.
The Primo (main first) dishes started with gnocchi stuffed with truffle paste, so sumptuous, that we had to limit consumption, so we could enjoy the rest of the meal. The Tricolore ravioli al radicchio filled with pecorino cheese was properly al dente. The penne tasted wonderful, cooked quite al dente, concealed quite well their gluten-free makeup.
The Secondo (main second) dishes were fish and meat. The veal with artichoke heart was sliced thinly, Italian style. The tuna steak was generously portioned and properly underdone.
The Dolce (deserts) were excellent, not overly sweet, and nice on the tongue. The pear pie had a thin crust, letting us enjoy the fruit itself. The cheesecake filling was fluffy, aromatic – not too sweet, delivered on top of an ultra-thin crust.
Throughout the meal, we were pampered with Italian Cavit red and white wines, cabernet sauvignon and pinot grigio. Franelle sparkling water and a lemon-mint sorbet with a touch of proecco cleansed the pallet between courses.
The final toast with prosecco Monetto concluded the meal, as we all cheered and praised chef Ilan Moses and the outstandingly professional and efficient staff.
Facebook Accademia Italiana della Cucina - Delegazione Tel Aviv
Photos Silvia G. Golan
Details

Written by

Jonathan Danilowitz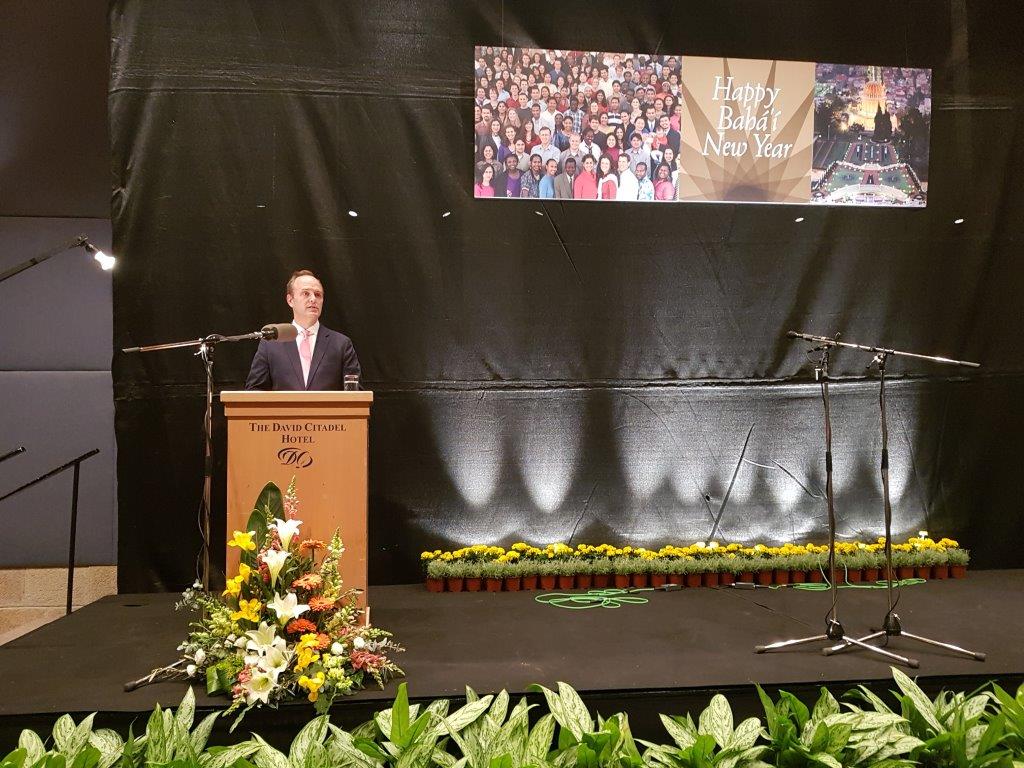 At the David Citadel Hotel, it was a special surprise in this Jerusalem winter to see a replica of part of the beautiful gardens at the Bahá'í Center in Akko. The colorful "welcome mat" set the tone of the annual reception of the community to celebrate the Bahá'í New Year, Naw-Ruz. This New Year celebration is especially important, as October 2019 will mark the 200th anniversary of the birth of the forerunner and herald of the Bahá'í Faith. 2019 is also the 176th year of the religion's founding.
Bahá'í's from around the world were among the extraordinary guests. (Israel – and Haifa in particular – is the center of the world Bahá'í movement. All faithful must come to Israel at least once in their lifetime to live and volunteer to serve). Among the luminaries were Carmel Irandoust (Bahá'í Deputy Secretary-General), David Freeman (representative, Bahá'í International Community), Amir Halevi (Director-General, Israel Tourism Ministry), Ambassador Meron Reuben, (Protocol chief of state, Israel Foreign Ministry), Noga Sher-Greco (Director of Religious Tourism, Israel Tourism Ministry), Shmuel Elgrabi (Israel Government Bahá'í Advisor/Coordinator), patriarchs and leaders of other religious orders, ambassadors and other members of the diplomatic corps, politicians, VIPs and media personalities.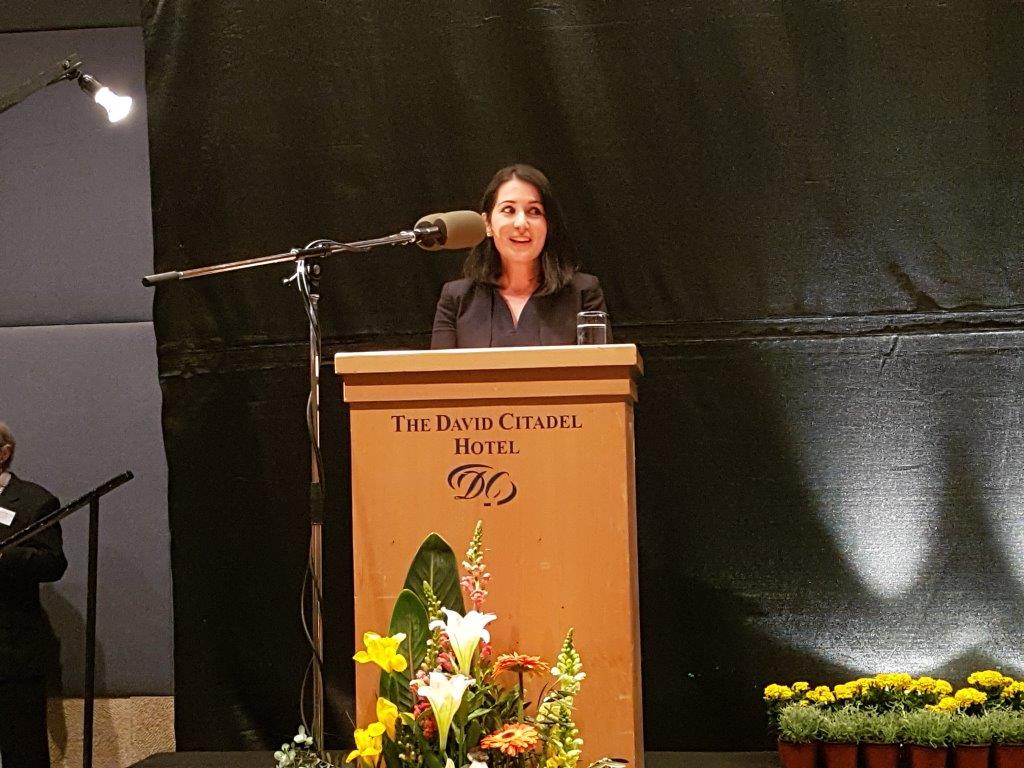 It was impossible not to enjoy the exquisite buffet dinner offered to the guest as they mingled, renewing old acquaintances and making new friends. A five-piece orchestra provided live musical accompaniment, adding to the ambiance of the hotel's grand ballroom. The formal part of the evening began with a short presentation by Ms. Irandoust, who read the greeting from Israel's State President to the Bahá'í community on the occasion of the Naw-Ruz. President Rivlin's charming message ended with wishes of "peace and joy" for all Bahá'í members, worldwide.
Dr. Joshua Lincoln, Secretary General of the World Bahá'í community, then welcomed and addressed the guests. He offered thanks to everyone for attending to help celebrate the New Year, then spoke of the significance of the centennial year; the history of the Bahá'í religion; the joyous transition from winter to spring which coincides with the New Year celebrations; and of Bahá'í successes and expansions around the world, including openings of new temples and the spread of harmony and peace.
Dr. Lincoln's address did not ignore the suffering and persecution of Bahá'í faithful in many parts of the world, still to this day, especially in Iran. (Persia/Iran being the birthplace of the Prophet, and the Persian language is an important factor in the religion).
Responding on behalf of the State of Israel, Amir Halevi of the Ministry of Tourism opened his remarks by wishing the community "Shana Tova" – a happy new year. "The Bahá'ís are a community - a young community by Jewish standards - with a deep history and rich social relations with other communities here in Israel. … I am pleased to say that since the creation of the State of Israel, we have positive, friendly and mutually respectful relations." He added: "The Bahá'ís have contributed not just to the physical beauty of our country, but also to its social fabric." He mentioned that thanks to the injunction to visit Israel, Bahá'í tourists from some unusual countries visit, including from Tonga, Tuvalu, St. Kits and Nevis, Kiribas, Lesotho, the Seychelles and many more.
Some information that might add interest: Bahá'í is a relatively new, independent monotheistic religion. There are about six million faithful, all around the globe, with religious texts translated into hundreds of languages. Bahá'í beliefs include, among many others, the unity of God; faith in fundamental harmony between religion and science; volunteering; equality between men and women; monogamy; non-violence, compulsory education; using a common world language (like Esperanto) and world peace.
The Director and staff of www.diplomacy.co.il send warmest greetings to the world Bahá'í community on this auspicious occasion.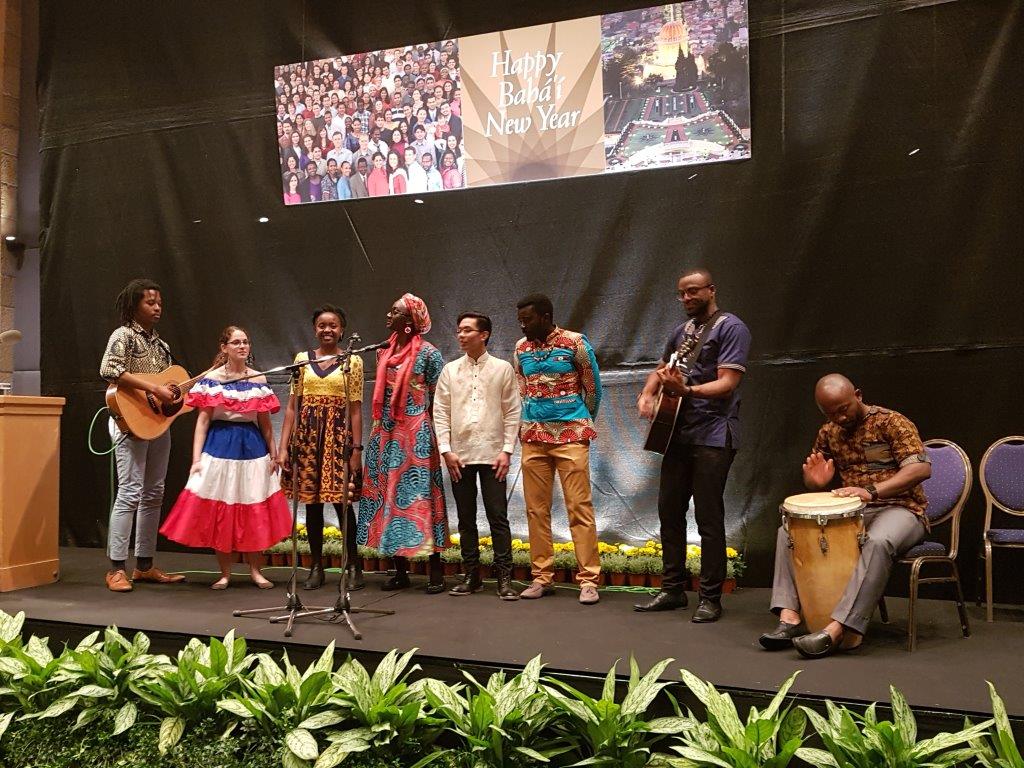 Photos by Silvia G. Golan