Details

Written by

Pride March
Here to Stay The 15th Jerusalem Pride March July 21st
Here to Stay
The 15th Jerusalem Pride March conducted tomorrow, Thursday July 21st, produced by the Jerusalem Open House for Pride and Tolerance (JOH) is the biggest to ever march the city. Officials assess tens of thousands of people to participate in this year's march, dedicated in memory of Shira Banki. The main evet is hosted by award winning actress Gila Almagor, preforming artists include Singer Dikla and popular TV host Assi Azar.
The Jerusalem Pride March will be held in the 15th time this year, produced by the Jerusalem Open House for Pride and Tolerance (JOH), One year after the stabbing attack, resulting in 16 years old Shira Banki's murder and 5 other injuries. In spite of background voices calling for incitement and hatred trying to sabotage preparations, the event will be executed as planned. Officials assess tens of thousands of people to attend. The organizers are calling public to participate and take part at the largest assembly for human rights.
The Gathering starts tomorrow at 16:20 in "Gan HaPaamon" (Bell Garden) the March's starting point. Marching route passes through the streets: Keren Hayesod, King George, Meir Shacham, Rabbi Akiva, Hillel, and Menashe Ben Israel ending at "Gan Haatzmaout" (Liberty Garden).
Opening stage speakers includes LGTBQ community leaders from Haifa and Beer Sheva, Also, a special Gay Wedding ceremony of Yotam & Yochai will take place at the occasion. Haya Biton, JOH chairman, will be announcing march starts.
During the march participants will be invited to lay flowers for Shira at the point where the murder took place, at the corner of King George and Washington streets. Shira's Father, Ori Banki, calls out to all marchers: "Everyone who cares for tolerance in Jerusalem and all of Israel- Will and should find themselves in this year's March. You are invited to bring flowers, we will lay them where a knife once stabbed last year.
At the ending point marchers will gather around the main stage at "Gan Haatzmaout" (Liberty Garden). The main event will be hosted by the Israel prize winner actress Gila Almagor. Numerus speakers from the LGTBQ community will speak to the crowd including JOH volunteers and other significant Jerusalem community members. Singer Dikla will perform few of her songs.
After screening memorial video for Shira Banki, her parents, Ori and Mika, will give speech to the public at 20:10 at the end of their speech the crowd will stand in a minute of silence in her memory. Assi Azar, a known TV host who is a LGTBQ community activist will give speech at the end of the assembly.
"Jerusalem of Love":
As part of the March preparations, JOH launched this morning a special campaign designed to strengthen the LGTBQ community in Jerusalem for the upcoming March. Famous Israeli opinion leaders participating are: TV host Assi Azar, Model Rotem Sela, Actress Ania Bukstein, Actor Roy Bar Natan, Desinger Yuval Kaspin, Actress Michal Tzafir, TV Host Korin Gidon and much more. They all took a photo of themselves holding a sign stating "Jerusalem Of love" "We support Jerusalem Pride March".
Sarah Kala- Meir, CEO of JOH mentioned:
"Attending this year's march is more important than ever. JOH and local LGTBQ community had suffered a lot in the past year since last Pride March's murder. Community member are still suffering daily abuse and discrimination, moving from curses on the street, Rainbow flags burnt and sometimes even physical violence. Unfortunately, we still hear voices of hatred these days, trying to prevent us from executing the Pride march, deny us from our right to march for equality and tolerance. I call all LGTBQ community members from all over the country – come unite with us tomorrow, I call everyone who believe in human rights, regardless their religion, race, sex, or sexual orientation- march with us tomorrow, help us to bring light to Jerusalem, the capital of Israel, against all darkness and evil."
The Jerusalem Open House for Pride and Tolerance (JOH) is a LGTBQ community center of Jerusalem and its surroundings. JOH is a cardinal part of the city's social and cultural infrastructure. Established in 1997, the non-profit organization grew from rising needs of the local community. Over the years, the establishment became the largest services provider for LGTBQ community in Israel. Other than The Gay Pride Parade, the center is devoted to nurture the community, promoting educational projects, striving to make a social change. The JOH also provides health care services for thousands of people every year.
https://www.facebook.com/JLM.Open.House/
Details

Written by

Esteban Penrod Costa Rica Ambassador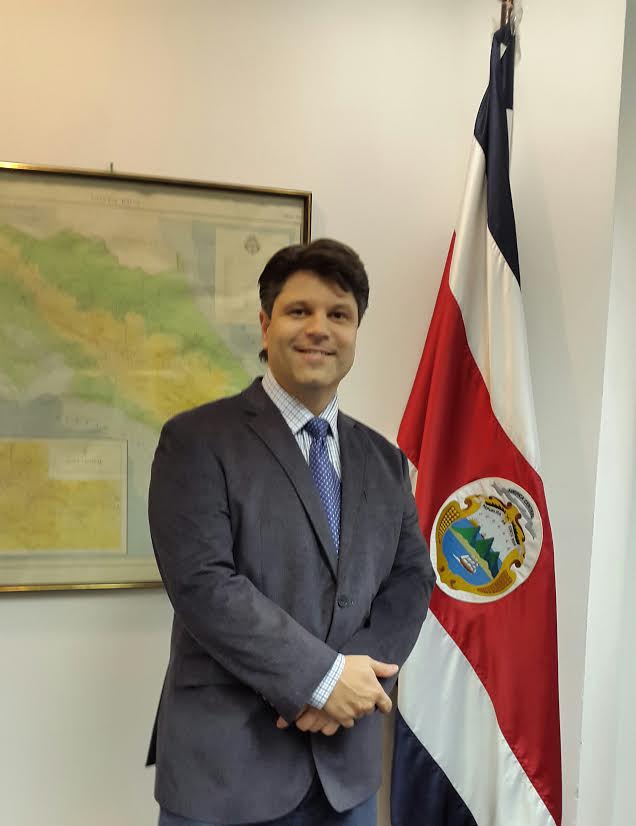 The abolition of the army in Costa Rica

A green, peaceful and unarmed country exists today in the heart of Central America. This is Costa Rica, famous for its beautiful beaches, ecotourism and social tranquility. The truth is that beyond being a democratic country, thanks to a social pact, due to a civil war in 1948, the armed forces were disbanded under the 1949 constitution that still rules the operation and organization of the State.

How could this happen 67 years ago? This coming December 1 will celebrate another year of free life. Yes, free of a distorting element of domestic policy that has been a constant in many countries of Latin America and the world, in different periods of its existence. Looking at history, we see that the easy resort to military force is guaranteed access to political power. It is almost always a constant to take the military bases, declare dissolved the Constitution and simply install a de facto government, which will then be entitled to declare a new Constitution.

Costa Rica was not immune to such situations in its political past. So what could happen that would generate such a radical shift in its structure and let the country be stripped of the forces to defend its territory? Certainly it is something unheard of in Israel at any stage of in its modern history.

A decisive factor was the defeat of the same forces in the civil war that delegitimized their effectiveness. Certainly not few voices would claim that institution was by then far from being at the top of its prestige. Perhaps, more decisive was that in the social consciousness of the time the regular army represented a weapon of repression, a mechanism to implement the abuse of power by what was shaping up as a rise to power of communism in disguise. This, combined with a blatant disregard for the popular will in the 1948 election was the straw that broke the camel's back.

Costa Rica saw bloodshed of brothers against brothers. More than 1,500 people lost their lives during the conflict, which currently does not seem to be an amount of great magnitude. However, the events served to put a stop along the way of despotism and to allow fresh ideas to prevail, hoisted by those who resisted seeing the country deteriorate into a spiral of disrespect to vote, freedom of opinion and fundamental rights.

At the end of the conflict there was a power shift, a realignment of forces that allowed the emergence of a humanist leader and a democratic spirit, who took over the right to govern the destiny of Costa Ricans, in an unusual decision, unilaterally dissolved the forces which he led to a revolutionary triumph. Perhaps he stands alone in this regard in the pages of human history. Immediately he formed a governing board that allowed the national reconciliation of once antagonistic forces, pledging to maintain and even strengthen the great achievements of the 1940s, such as social security and social guarantees. By doing so successfully he achieved to guarantee the rearrangement of influence of political forces without generating an imbalance or immediate reprisals.
Costa Rica saw the emergence of a Second Republic, a Constituent Assembly convened and composed of all groups of thought then proceeded to draft a new constitution, dissolving this time the regular armed forces as a regular institution.
Civic values prevailed over abuse; a new order was conceived creating a higher perspective for the society in its approach to the government, new and strong institutions opened control mechanisms of elections giving even the Supreme Electoral Tribunal a rank of independence never seen before, to the point of being considered today as a fourth power, an element that even Montesquieu would have considered pertinent eventually in his scheme.

Has this model worked for Costa Rica? 67 years and three generations of experience tell us so. Having removed a dissonant element in the nature of access to power has allowed our country to be a world example, a beacon that illuminates even the other side of the globe as a milestone. It is indeed possible to maintain inner peace to a degree of transforming the mentality of a nation, while maintaining soberanity in the coexistence of neighboring countries. Costa Rica is an example of people living in peace who have declared peace to the rest of the planet.

The abolition of the army in Costa Rica has also removed a huge burden on the national budget. What has been saved by not spending on weapons has been invested in health and education, which enabled this country to have higher human development standards than those typical of its region, comparable to those of higher scale economies.

The Costa Rican democratic values have been strengthened and this has created a proactive foreign policy on key issues that, had there been an army, the military pressure could not have allowed to sustain. We have seen how Costa Rica has been champion in matters of neutrality, disarmament, human rights and democracy, not only by having a coherent discourse with political reality, but because over time the experiences, such as the recent border conflict with Nicaragua, we have reaffirmed respect and supremacy of international law by resorting to supra national bodies for the administration of justice between States.

Costa Rica has the challenge to remain an oasis of peace. It is not enough only to maintain the absence of border conflicts and promoting dialogue and communication with neighboring countries. Social peace is the product of a population that has the means to achieve happiness in being and free, based on reliable and stable political structures.

It is no coincidence then that in this Central American country has achieved such a great advance on democratic principles and values, which themselves are the next step, after counting with a guarantee of respect for the suffrage. Realms such as women's political representation, strengthening local governments and openness to minority rights are a reflection of an open, modern and society jealous of her unique experience.

A new challenge to our foreign policy is to export our model to other regions, not only as interesting or distant case study, but as an opportunity to provide other societies with strong structures in their political development, in a world in which order is still maintained based on the balance of military force. It will be our historical challenge to demonstrate that solutions to international conflicts may be achieved through diplomatic without the parties involved to resort to means the parties being forced to resort to military actions.
Details

Written by

Slovenia Embassy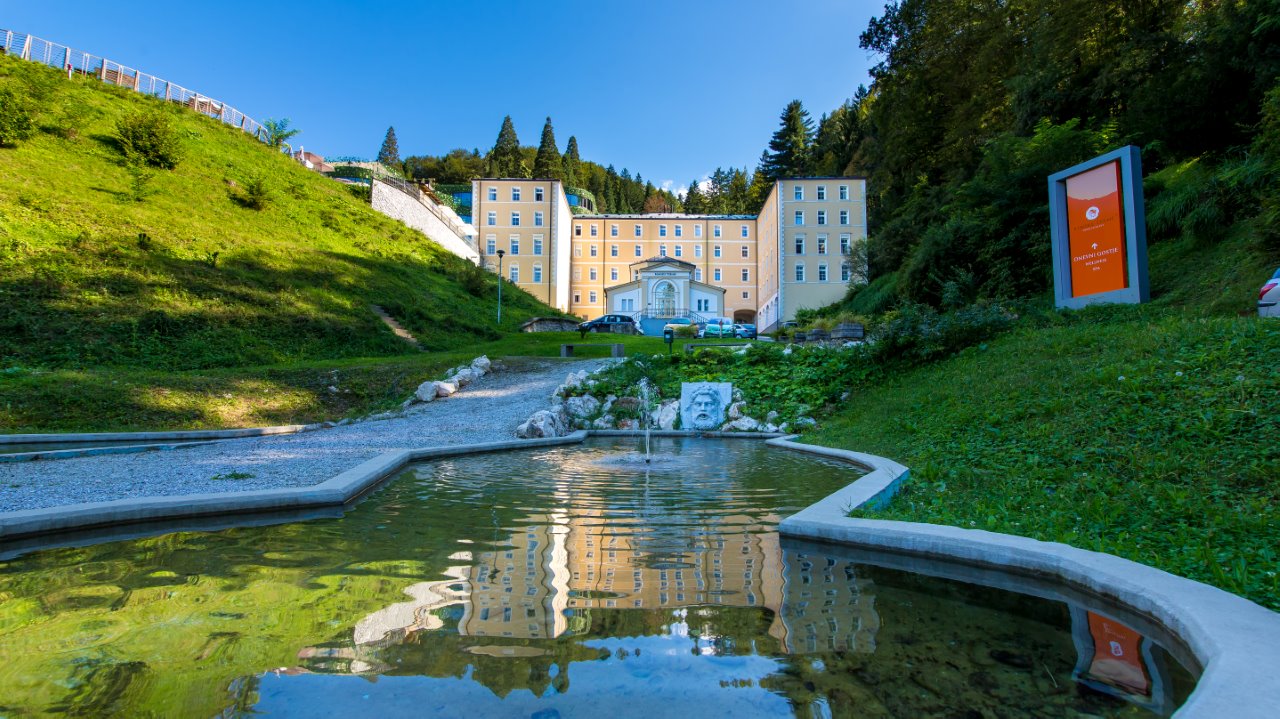 Israelis are discovering a new destination: Rimske Terme – One of Slovenia's most lauded spa resorts

The waters of the unique hot springs located near the resort are known to contain minerals and have healing properties

A special delegation from Slovenian Spa Resort Rimske Terme arrives in Israel to attend the International Mediterranean Tourism Market, the IMTM, in Tel Aviv.


Israel welcomes new guests for the IMTM in Tel Aviv: a special delegation from one of Slovenia's best known spa resorts, Rimske Terme, will arrive in Israel in the coming days to attend a special tourism event.
The Rimske Terme Spa Resort is situated in the ancient town of Rimske Toplice, in the heart of Slovenia; roughly 100 km from Ljubljana, in a magical valley surrounded by hills, basked in greenery and fresh air. The nearby hot springs well up from 1,000 meters underground, at a temperature of 39°C. Rich in minerals, the water of the springs is the reason Rimske Terme has become one of Slovenia's most attractive spa resorts. The water is known for its healing properties and is beneficial for those who suffer from orthopedic conditions, arthritis and other ailments.
The water's reputation goes all the way back to the Roman Empire. Boasting a centuries-old tradition, the resort is expansive and impressive. In its center stands Amalija Wellness Center – a large, well kept place, dedicated to health and the nurturing of the body. The center offers a variety of treatments: different types of massages, a lavish sauna complex, a cosmetic center, a fitness center and a unique, Roman style swimming pool. The site attracts many visitors from around the world, accommodated in the four 4 star hotels of Rimske Toplice.
Performed by reputable specialist doctors, the treatments provided at the Rimske Terme medical center combine classical, traditional knowledge with modern treatment methods, augmented by the properties of excellent all-natural products.
Visitors can also enjoy the rich Slovenian culture and tour a number of destinations, such as the capital Ljubljana and the city of Lasko, the Postojna Cave and other sites, all surrounded by Slovenia's incredible, lush, green scenery. Sports lovers will find a wide selection of activities: tennis courts, a golf center, biking, hot swimming pools and more. The resort also offers its visitors a chance to enjoy rich Slovenian cuisine and the famous restaurant, Sofija.
Photo : att the site Rimske Terme
Details

Written by

Korea Embassy
A special delegation of senior representatives of Korea Tourism organization, headed by Mr Kim Keum-Soo, deputy director of KTO, Istanbul branch - will arrive in Israel in the next few days, to attend The International Mediterranean Tourism Market (IMTM), opening February 10th, 2015 in Tel Aviv, in order to strengthen the ties between the two countries, and encourage tourist traffic
South Korea and Israel mark 53 anniversary of diplomatic relations


A delegation of senior officials Representatives of Korea Tourism Organization, headed by Mr Kim Keum-Soo, deputy director of KTO, Istanbul branch - is due to arrive in Israel in the next few days, to attend The International Mediterranean Tourism Market (IMTM) in Tel Aviv.
This year, Israel and Korea mark the 53 anniversary of the diplomatic relations between them. Founded in the same year, the two countries have much in common. Many Koreans identify with the history of the people of Israel, even so far as to mark The Crossing of the Red Sea, each year, on Jindo Island. The Korean people have a lot of love for Israel, which is why so many Koreans come to visit Israel each year. The tourist traffic from Korea to Israel is the heaviest of all Asian countries (approx. 30 thousand Korean tourists visited Israel in 2014, as opposed to over 12 thousand Israelis who visited Korea that same year) and the number is increasing. The two countries also enjoy fruitful trade relations. There are 3 flights in a week from Tel Aviv to Seoul by Korean Air.
At the IMTM, Korea will be presenting at a pavilion shared with Korean Airlines. In recent years, more and more western tourists have been discovering the charm of South Korea. Its capital, Seoul, is one of the most fascinating cities in the world, combining old and new, tradition and progress. It is home to breathtaking scenery, nature reserves, beaches, rivers, picturesque markers, exotic foods, a rich history and much more. In the spring, Korea is aglow with the delicate pink and white of the cherry blossoms. In the fall, the land is decorated with a spectacular carpet of red and gold. Color is an important part of traditional Korean culture, which embraces the values of harmony and balance. With the developed traffic and IT infrastructure it is easy to go everywhere in Korea. Korea is so safe and Korean people have good feelings of Israel. They do not even know the word 'anti Semitism'.
The capital of South Korea, Seoul is an enormous metropolis, home to more than ten million people. Located in a natural basin surrounded by mountains and hills, and divided in two by the Han River, the city contains gigantic shopping centers, spas skyscrapers, palaces, markets and cultural landmarks, all worth visiting. Seoul's most popular attraction is the remains of the most beautiful of the five palaces within its borders - Gyengbokgung. Built in 1395, to be used as the main palace of the Joseon Dynasty, the complex sprawls over more than 500 thousand square meters filled with fascinating structures, luxurious gates, pools, courtyards, and traditionally uniformed guards.
Jeju-do: Chosen as one of the Wonders of the World in 2011, the isle of Jeju is a volcanic island that has all one really needs: exotic views, amazingly beautiful gulfs, untouched, primal nature and, of course, the ocean. At its center lies Mount Halla, an inactive volcano, the highest mountain in South Korea. One of the country's most important cultural treasures is hidden in the beautiful temple of Haeinsa. Stored at an elevation of over 1,400 meters are 81,258 wooden blocks, on which, 750 years ago, Buddha's perception of the essence and purpose of life was engraved. The 241 kilometer long buffer zone between South and North Korea (parallel north 38) is also open for visitors. Another recommended site is the fortress of Hwaseong. Built between the years 1794 and 1796 and named a World Heritage Site by UNESCO, it is one of the most impressive structures immortalizing the Korean legacy. Yet another must-see site is Hahoe Andong Village, the most well maintained folklore village in South Korea. There, visitors can witness the traditional Korean way of life, as it had been centuries ago.
The north eastern region of South Korea is another great place to visit, because of Seoraksan National Park, the country's most beautiful and well known nature reserve. The park is clustered with high cliffs towering over forests, waterfalls, rivulets, temples and winding paths for travelers. In it, tourists can also find the largest stature of Buddha in South Korea, weighing 108 tons and towering at 14.6 meters. In winter time, the park transforms into a white, snow covered wonderland, and the region's excellent ski resorts open for business. But the season when the part is most impressive is definitely fall, when the breathtaking red, orange and yellow leaves stand in complete contrast to the impressive grey cliffs.
It is best to visit South Korea during transition seasons, namely, in the spring (April – May) or fall (September – October), when the weather is pleasant and the land is painted with the colors of blossoms or fallen leaves.
The harmonious flavors of the Korean kitchen are an important part of Korean culture, reflecting its character. Korean cooking is considered colorful, well seasoned, natural, vigorous and spicy. Rice, fish and vegetables are the main ingredients in Korean dishes. Among the culture's more popular foods are Kimchi – fermented cabbage in red chili sauce, served as a side dish for each and every meal and considered Korea's national food, and ginseng, to which many health benefits are attributed.
Deputy Director of KTO, Istanbul branch, Mr Kim Keun-Soo, has expressed great hope that the IMTM will allow the Israeli public and the tourism industry to deepen their knowledge of Korea and discover that it is not just a source of advanced mobile phones and high end cars, but a country with a rich culture that combines old and new, tradition and progress, alongside nature reserves, peaceful islands, exotic foods and a fascinating history.
Details

Written by

Portugal
A delegation of high-ranking officials in Portugal's tourism industry headed by the Minister of Tourism, Adolfo Mesquita Nunes, will arrive in Israel in the coming days on the occasion of the International Mediterranean Tourism Market (IMTM).
The objective of this first official promotional approach to the Israeli market is twofold: encourage the increase of tourist flows between Portugal and Israel and strengthen the bilateral relations in the field.
According to Portugal's Ministry of Tourism, 35,018 Israeli tourists visited Portugal between January and September of 2013, registering 63,353 lodging arrangements. During 2012, a total of 27,800 Israeli tourists visited Portugal (a 6.3% increase, compared to 2011), registering 53,500 lodging arrangements (a 3.2% increase).
One of the oldest countries in Europe, Portugal has a unique cultural legacy, where tradition and modernity blend together in harmony, an exceptional range of different landscapes just a short distance away, and a wide variety of leisure activities. Its superb cuisine, outstanding wines – among the best in the world – and friendly people, who like to share their table, customs and traditions, turn Portugal into a tourist destination of the highest quality, backed by a state-of-the-art tourism infrastructure.
With a mild climate and over 3,000 hours of sunshine per year and hundreds of kilometers of splendid beaches bathed by the Atlantic Ocean, Portugal is the perfect holiday destination all year round, in each of its seven tourism regions: Porto and the North, Center of Portugal, the Lisbon Region, Alentejo, Algarve, and the archipelagos of Madeira and Azores.
Just a few hours from away from several European capitals, with international airports in Lisbon, Porto, Faro, Funchal (Madeira), and Ponta Delgada (Azores), Portugal attracts visitors from all over the world, who come for short breaks or longer holidays and depart on journeys across the natural and cultural diversity of the different regions.
Come and discover Portugal's culture and traditions, and its network of Jewish heritage routes. Visit the historic villages and castles that defended the nation's borders, its churches, palaces and impressive UNESCO World Heritage sites, and explore its natural parks, rivers and lakes. Enjoy nature, golf, sea and Sun, surfing, rafting, rock climbing and a wide variety of radical sports. And feel the magic of Fado, a World Heritage and one of the most genuine expressions of Portugal.
Israir Airlines and Sund'or International Airlines both operate weekly charter flights between Tel Aviv and Lisbon during the period May - October. Both the Portuguese and the Israeli authorities are working to promote an effective increase of the flight capacity between the two countries and establish regular direct flights all year round.