Appearing before dozens of guests at the IBCA Balfour Dinner, the recently appointed British Ambassador to Israel, Matthew Gould, addressed the question of "loyalty" in regards to to being the United Kingdom's first Jewish ambassador to Tel Aviv.


"I am a Londoner through and through, and my heart beats a litle faster when England gets within striking distance of the World Cup.
My identity as a proud Jew does not detract one iota from my loyalty as a British citizen. These loyalties operate on different levels, and they do not conflict."


The ambassador invoked references of Chaim Weizman and Walter Rothschild in explaining the phenomenon of dual loyalties as he himself shares between his allegiances to Britain as a citizen and representative abroad and his strong ties to the State of Israel.

"There is absolutely nothing incompatible in this with the most thoroughgoing British patriotism," Gould commented, directly quoting Lord Alfred Milner, a member of former British Prime Minister Lloyd George's War Cabinet at the time the Balfour Declaration was created.


In terms of strides being made since assuming his post in Tel Aviv, Ambassador Gould discussed the quick developments being made in further strengthening the economic bonds between Israel and Britain with particular regards to the high-tech sector while also building on the already strong scientific collaboration enjoyed between the two countries.

The ambassador described his agenda as 'long, ambitious and immensely positive'. "This is a country [Israel] of great intensity," commented Gould. "In two months, I have had a crash course in Israeli culture, into Israeli politics, on the Israeli economy. I have made more friends, met more people, visited more places than I ever though possible," he added, saying that his understanding of "the country in which I now live" has expanded greatly.


Among other issues, including the current situation surrounding the Iranian nuclear program, Gould promised the attendees that his country would "amend the legal anomaly" regarding universal jurisdiction so that Israeli politicians would have no doubts on their legal security when visiting the UK.

Many of the guests in attendance were new olim (new Israeli citizens) from England as they themselves must now deal with the issue of "dual loyalties".


Identifying with the new immigrants and their allegiances, Gould stated, "As a British Jew, sent to the State of Israel to represent my country, I am a personification of this issue [dual loyalty]. I am a patriotic and loyal citizen of Britain and a proud Jew. I love Israel and yearn for her security.
I hold these together without shame and without contradiction".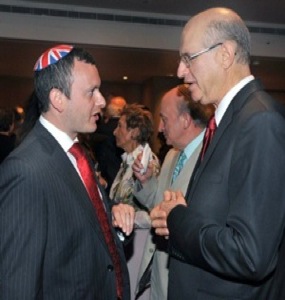 Clearly, Gould's kippah (Jewish skullcap) of the British flag illustrated the entirety of his speech.

(Photo by Andres Lacko)

For a full copy of the speech, click here