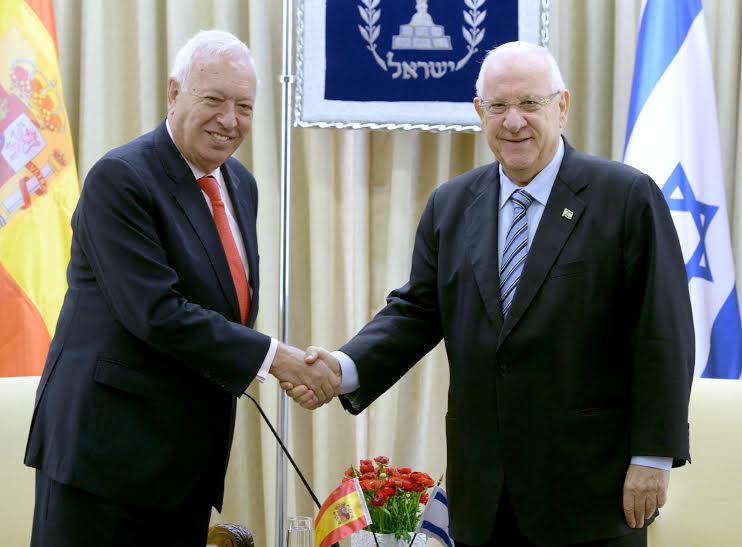 President Reuven Rivlin today (Wednesday) held a working meeting with Spanish Foreign Minister Jose Manuel Garcia-Margallo y Marfil. During the meeting, the Foreign Minister extended an invitation to President Rivlin on behalf of King Felipe VI to make a state visit to Spain.
President Rivlin began by speaking about the good relations between the two states. He said, "We greatly appreciate the efforts of Spain to restart the negotiations between Israel and the Palestinians. Spain is an important friend, and just as between friends, even when there are differences of opinion, our friendship remains."
The President spoke of the importance of rebuilding in Gaza, "The rehabilitation of Gaza is as much an Israeli interest as it is an international interest. Although, we must ensure that the resources are not used by Hamas to rebuild the tunnels and their terrorist infrastructure."
Foreign Minister José Garcia-Mallargo y Marfil spoke of the new role of Spain as members of the UN Security Council. He said, "There is no doubt that the issue of the recognition a Palestinian state will return in the future. We believe that unilateral steps will not lead to an end of the conflict, but that negotiations, with the support of the international community, are the only way forward. We have asked both sides to avoid unilateral steps."
The Foreign Minister also noted the President is known to be a fan of soccer, and said he would be keen to know whether he preferred Real Madrid or Barcelona. The President responded, "My grandchildren are very divided on this. As a soccer fan, I appreciate the way Barcelona play, but I must say, I have been a fan of Real Madrid for many years." Foreign Minister Garcia-Mallargo y Marfil was pleased to hear this and said he was a fan of the club himself.
Photo Mark Neymann GPO