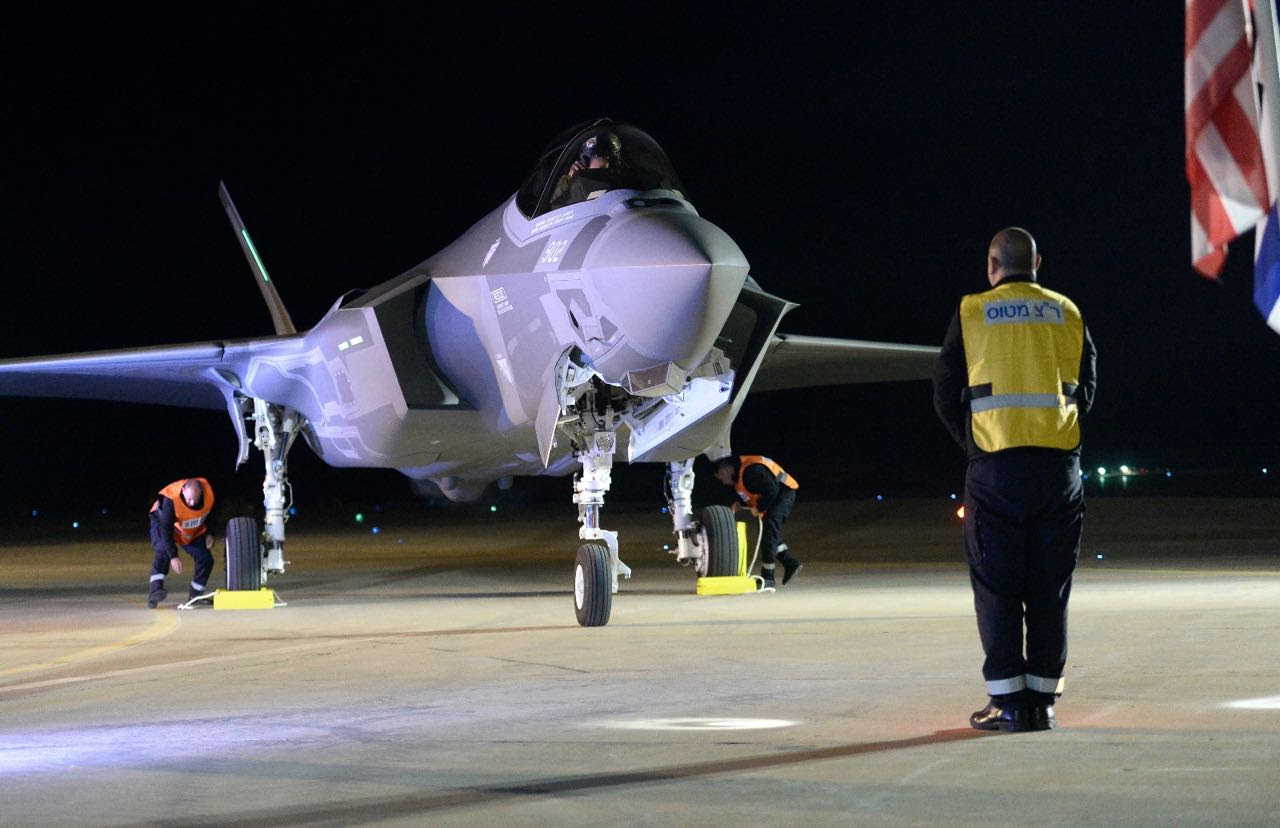 Today, December 12, 2016, the first two Adir (F-35) aircraft landed at Nevatim Airbase.
The aircraft were received in a ceremony attended by the President of Israel, Mr. Reuven (Ruvi) Rivlin, Prime Minister, Mr. Benjamin Netanyahu, Minister of Defense, Mr. Avigdor (Evet) Liberman, United States Secretary of Defense, Mr. Ashton Carter,
IDF Chief of Staff, Lieutenant General Gadi Eizenkot, Israel Air Force Commander, Major General Amir Eshel, and senior Israel Air Force officials.
The Adir is the world's most advanced stealth aircraft with breakthrough operational capabilities which make it an offensive and defensive asset across multiple platforms and fronts.
The incorporation of the Adir into the Israel Air Force is a central component of the long arm operational capabilities of the IDF, enabling action with flexibility in any scenario in order to ensure the continued safety and security of the State of Israel.
President of the state of Israel, Mr. Reuven (Ruvi) Rivlin: "The Adir aircraft redefines Israel's abilities of deterrence. It re-defines the IDF's long arm. It redefines the realm of our ability to operate. Right now all of our many enemies know that they are exposed and vulnerable and that they should not harm Israel. The landing of the Adir completed Israel's long effort that is to build its military power for generations to come looking for the long-term. Over the years, the State of Israel and the Israel Air Force insisted on being one of the best and most advanced forces in the world based on the simple understanding that one cannot be first among equals in this region. A significant, deep, and qualitative strategic gap needs to be created in comparison to the countries that desire our destruction and against the countries that are arming themselves at this very moment and see Israel as their benchmark. From today on, this important task will be placed on the shoulders of the Adir - a task that will have
to be carried out in the foreseeable future."
Prime Minister of the state of Israel, Mr. Benjamin Netanyahu: "Today, our military strength is bolstered with this significant addition. The Adir pilots and the Adir aircraft will be capable of operating in every arena - whether it be from close or from afar. I also want to say this very clearly: Anyone who thinks of attacking us will be attacked. Anyone who thinks to destroy us places themselves in existential danger. This is a prerequisite for ensuring our future. History teaches us a simple lesson: Weak nations do not survive. They invite themselves to attacks and are prone to collapse. The weak are trampled upon and the strong are respected. Only strength creates deterrence; only strength inspires respect; only strength produces alliances - and only
strength brings peace. We will continue to bolster our security and build up our forces."
Air Force Commander, Major General Amir Eshel: "Tonight begins a fascinating encounter between a man and the machine, between our excellent pilots and the maintenance teams, to the technological progress in the field of aviation. This encounter is expected to bring new ideas and great abilities. The aircraft will become more and more blue and white, both operational and by its technological systems. Every Adir will be a powerful offensive machine, information and control center and will operate in the most advanced patterns in a completely different way from what is known. In 2017 the aircraft will be operational and we will operate it in a way that will exceed the expectations of its planners. The Adir will become an accelerator for the
IAF in its whole. We intend to leverage the systematical abilities to new peaks, both in offense and defense. The aerial power will become more lethal, combined and relevant."