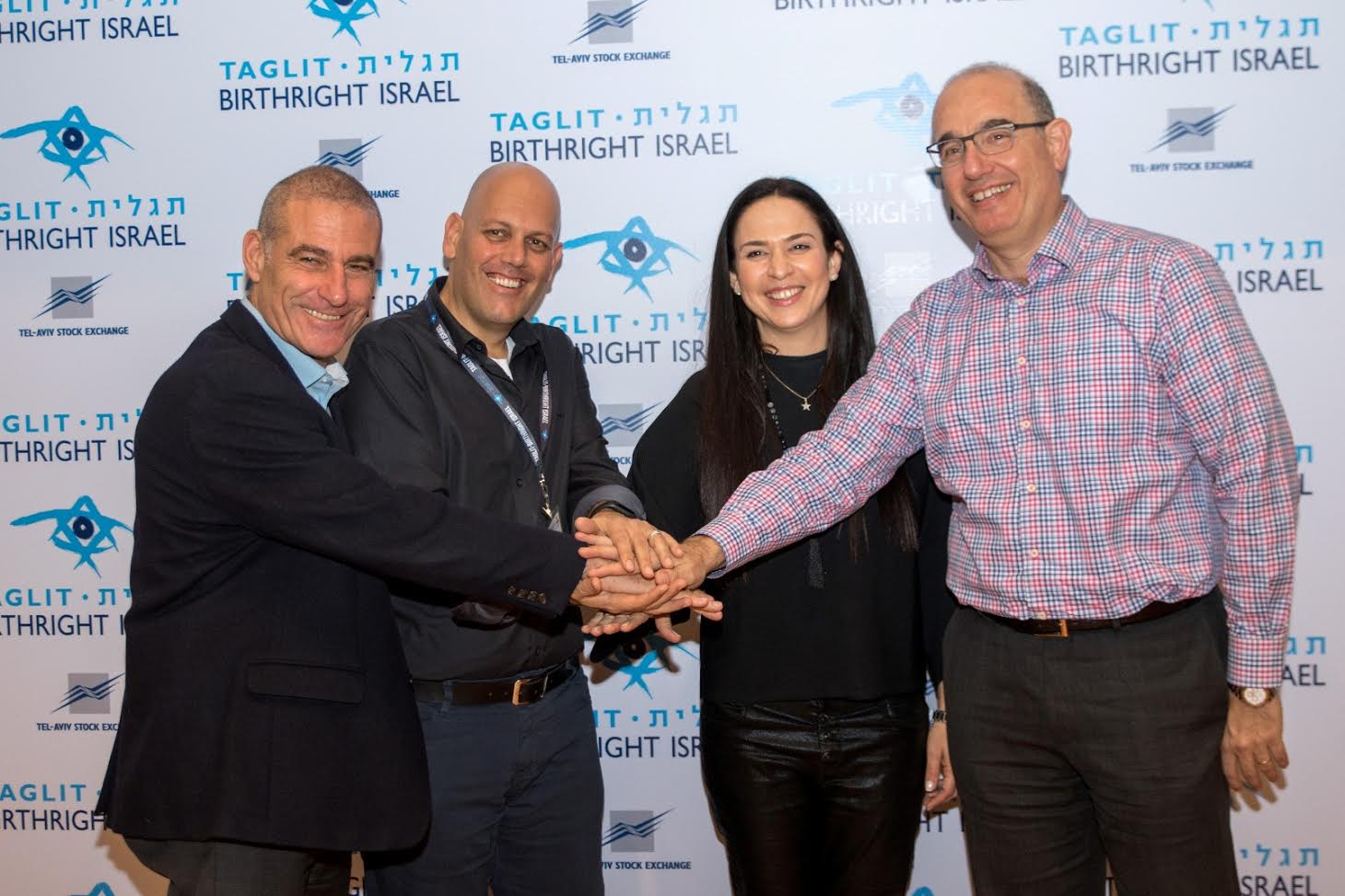 Last night's event marked the 2016-17opening of the Center showcasing Israel's contributions to global entrepreneurship, innovation and technology
Nearly 200 business leaders, entrepreneurs, philanthropists and other supporters, gathered last night in a celebration of the Birthright Israel Innovation Center, which was established in partnership with the Tel Aviv Stock Exchange (TASE). Following a successful summer season, where over 13,000 young Birthright Israel participants and dozens of delegations from Israel and around the world visited the Innovation Center, the opening of the Center to nearly 15,000 future young Birthright Israel participants and distinguished guests was declared.
Gidi Mark, CEO of Birthright Israel, Yoram Tietz- Birthright Israel Excel Chairman and Managing partner of EY Israel, Yifat Oron, CEO of LeumiTech, Simon Litsyn, Engineering Fellow of Sandisk, Igal Bareket, VP of Marketing at Tel Aviv Stock Exchange, Gil Dvora, Entrepreneur, Tova Dorfman Executive Director of the Steinhardt family Foundation & David Gappell, Director of the Schusterman Foundation- Israel, were among those who attended the event.
The Innovation center offers visitors a presentation of Israel's greatest achievements in various fields, related to entrepreneurship, innovation and technology. An interactive exhibition displaying various fields characterizing the contribution of Israel, such as agriculture, medicine, and cyber security, science, transportation, aerospace and more is also on display in addition to lectures by various Israeli entrepreneurs who share their personal success stories.
The Center operates in a multilingual format, with a program in French, English, Spanish, Russian, Chinese, and Hebrew. Group and public tours will be open to the public by appointment.
Gidi Mark, Birthright Israel CEO said at the event that "Birthright Israel is the Start Up of the Nation" in front of dozens of Hi-Tech executives. "Birthright is the greatest Start Up that was established by the State of Israel and the Jewish people, both in terms of quality and quantity. Before Birthright Israel was founded, 17 years ago, 2000 students arrived to Israel each year and through Birthright Israel, nowadays, tens of thousands of young Jews from around the world visit Israel annually. Israel is a platform for new beginnings and we are proud to give our participants the opportunity to experience Israel and the Start Up Nation for themselves."
In 2017, the Center is expected to host over 45,000 visitors who will help spread the word about Israel and the global impact it has had as the Start Up Nation.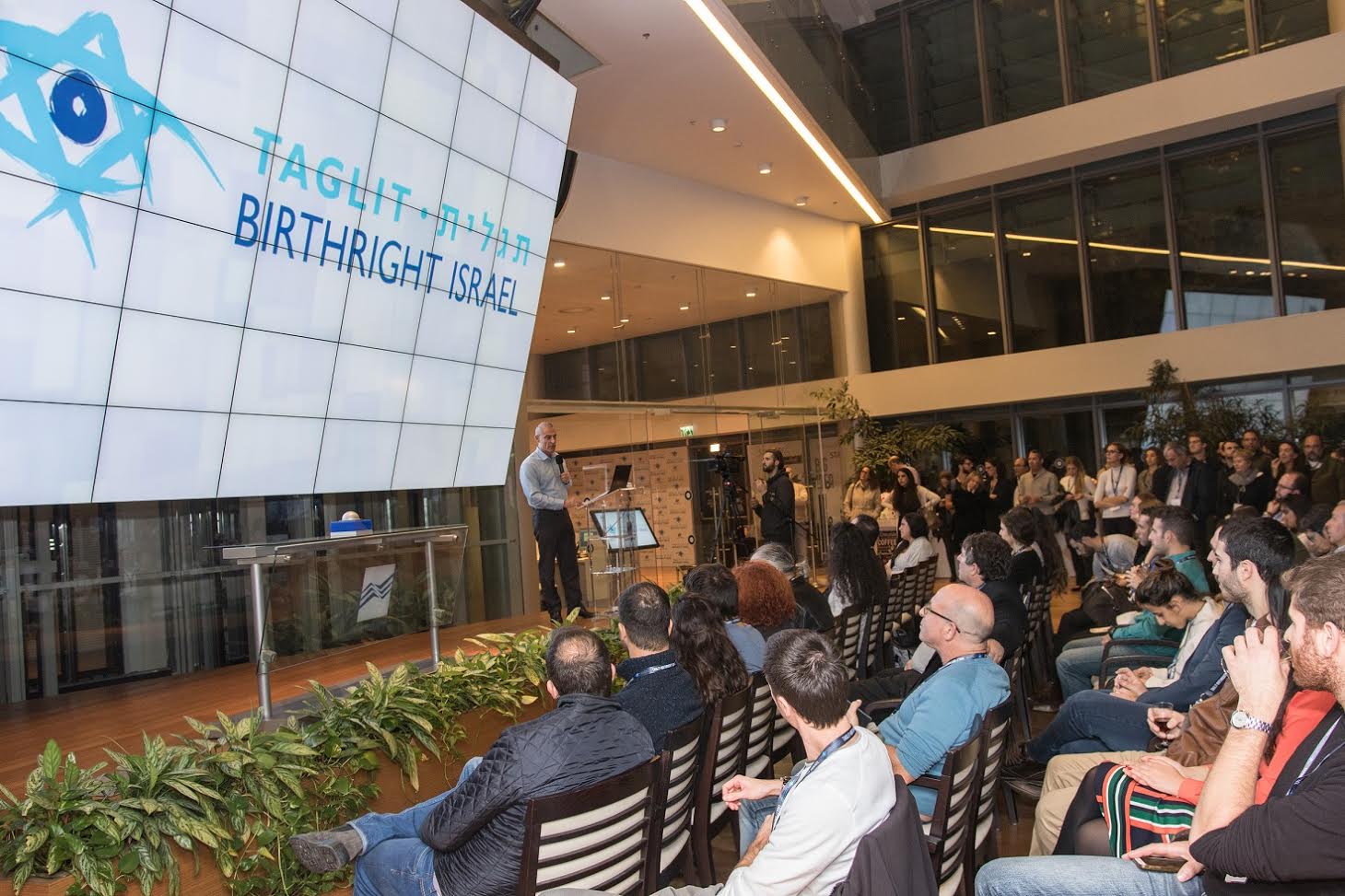 Birthright Israel has a unique, historical and innovative partnership between the Government of Israel, thousands of individual donors and private philanthropists, and Jewish communities around the world through the Jewish Federations of North America, Keren Hayesod and the Jewish Agency for Israel.
Since its inception in 1999, over 500,000 young Jewish adults from over 66 countries have enjoyed their free gift of a free 10-day educational tour of Israel. Over 80,000 young Israeli soldiers and students have joined various groups on their tours.
Over the years, several studies have been conducted by Brandies University, located in the USA, demonstrating the lasting effect on Diaspora Jews when focusing on their Jewish identity and their connection to Israel.
Visit www.BirthrightIsrael.com.
Visit the Birthright Israel Innovation Center's page - http://www.taglitinnovation.com/
Facebook Taglit-Birthright Israel State of Mind Innovation Center
Photos : Jacob Ross