On Friday January 6th, Ms. Julie Fisher, wife of U.S. Ambassador to Israel Daniel B. Shapiro, hosted a reception at their residence as part of the "Art in Embassies" program. The event opened an exhibition designed to foster cultural ties between countries through art.

Mr. Thomas Genton, Counselor for Press and Cultural Affairs at the US Embassy, opened the evening's festivities by welcoming guests and introducing Ms. Fisher. Both Mr. Genton and Ms. Fisher discussed the importance of art as a bridge between nations.
Following these opening remarks, artists were called up to receive certificates of appreciation for their work. Exhibition curator Keren Bar Gil and artists Yair Barak and Ohad Matalon then spoke, describing the role of the art in representing unique artistic expressions while connecting the cultures of Israel and the United States.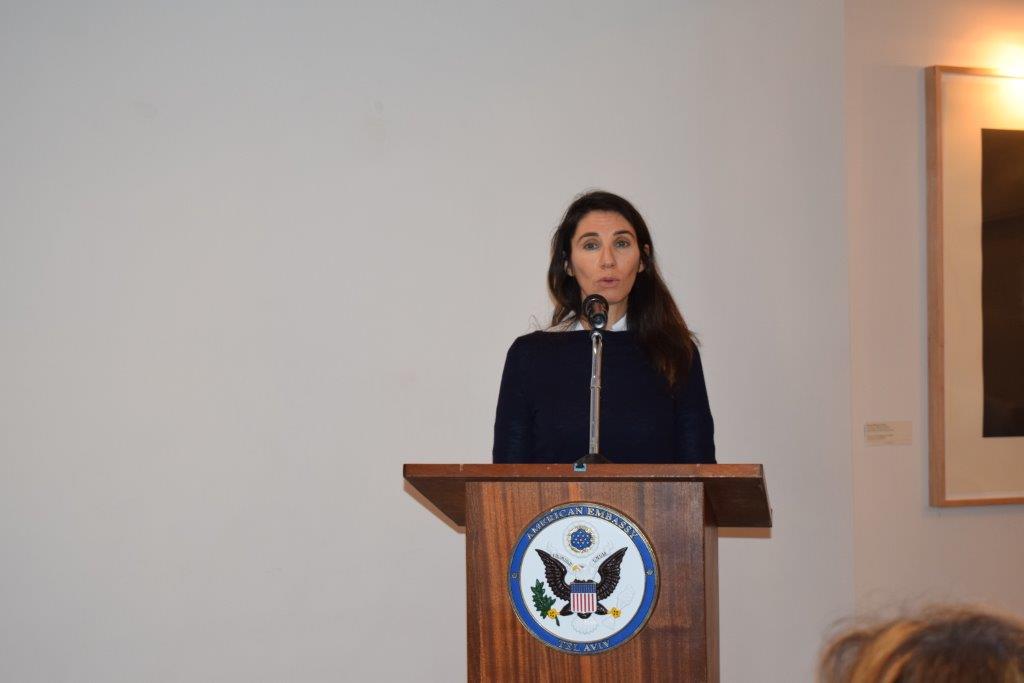 The exhibition was part of the Art in Embassies (AIE) program. The AIE program incorporates art into U.S. public diplomacy, using the visual arts and artist exchanges to facilitate cross-cultural dialogue and increased understanding. The program was started more than a half century ago by the Museum of Modern Art and the U.S. Department of State under President John F. Kennedy. Today, AIE has grown to become a public-private partnership engaging more than 20,000 participants at 200 venues in 189 countries. AIE allows the U.S. State Department to create and bolster relationships of trust, respect and understanding, and to build intercultural bridges of peace.
The exhibition featured the work of leading American and Israeli artists, including Ohad Matalon, Yair Barak, Boaz Aharonovich, Tamir Sher, Sivan Sternbach, Mindy Weisel, Deborah Hamon, Isca Greenfield-Sanders, and Enrique Martínez Celaya. The works focused on the theme of childhood, and the shared importance of children in American and Israeli culture. More information on the exhibition, and the artists and artwork shown, can be found here.


Among the guests who attended the event were Yael "Yuli" Tami, an Israeli academic and former Knesset member; Assaf Pinkus, formerly head of the Art History Department at Tel Aviv University and the chair of the Tel Aviv Israeli Art Foundation; and Kena Shoval, the wife of Zalman Shoval, a former Knesset member and Israeli Ambassador to the United States.
Photos by Silvia Golan