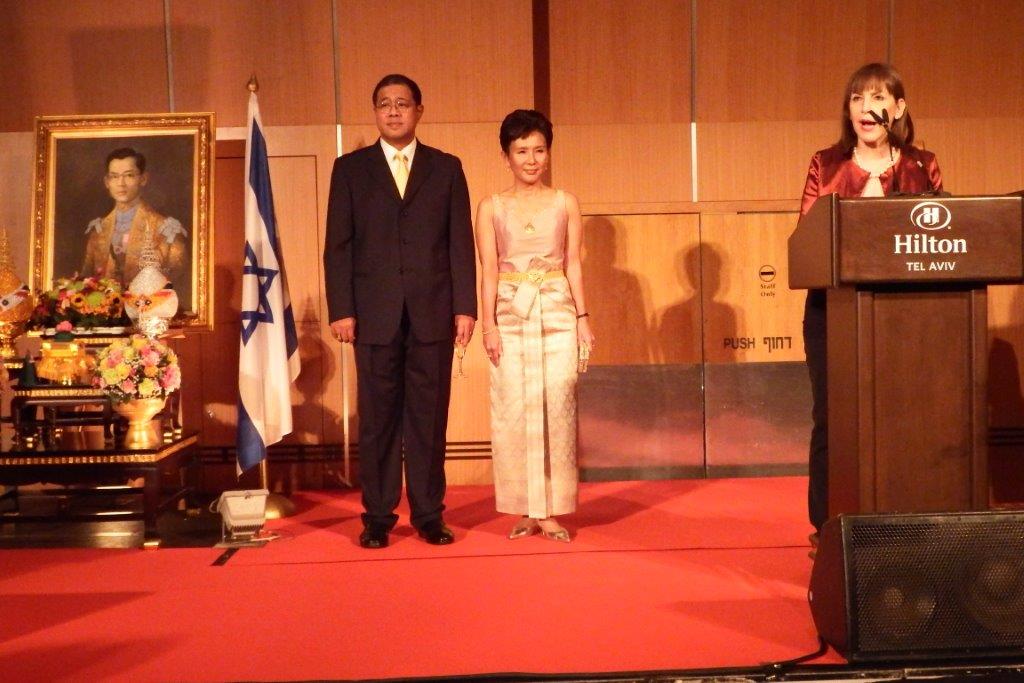 At the Hilton Hotel in Tel Aviv Thai Ambassador Boon-Long, his wife Kamolrat Boon-Long and embassy staff hosted a reception on December 3 celebrating 87th Birthday of His Majesty King Bhumibol Adulyadej and the National Day of the Kingdom of Thailand.
There were beautiful Thai traditions: baskets of flowers and multicolor fruits decorated and sculpted, and Thai musicians brought especially from Thailand welcomed and delighted the guests. Typical Thai food and Thai beer were served, and on display was a collection of traditional Thai women's clothing.
Guest of honor was Ms. Limor Livnat, Minister of Culture and Sport representing the Israeli government. Also present were Professor Yuli Tamir, president of Shenkar College and former Labor Party MK; President of the Diamond Exchange, Mr. Shlomo Eshet; Mayor of Herzliya Mr. Moshe Fadlon; numerous ambassadors and diplomats of foreign countries; representatives of the Israeli army and attachés of various embassies; as well as delegates of the Israeli Ministry of Foreign Affairs, representatives of the Chamber of Commerce and commercial sectors.
The event began with the Thai and Israeli national anthems played by the musicians, followed by Ambassador's warm welcome of the guests.
"Sawasdee krub (in Thai)

Good evening to everyone. I would like to express my deep appreciation for your present this evening.

It means so much to me, my wife and Thailand as we know that we have many dear friends who, despite their busy schedule, kindly join us in celebrating the most important day of our nation.
In Thailand, we celebrate the National Day on the occasion of the Birthday Anniversary of His Majesty King Bhumibol Adulyadej. He is one of the greatest King and the longest reigning monarch in the world. And for Thai people, His Majesty is the sole of the nation and we love him dearly.
During his reign, His Majesty has devoted his time and effort to the development of the country. He has introduced several Royal projects to the Thai people by using his simple know-how techniques, just to help them live happy and prosperous life. These Royal projects touch on the livelihood and well-being of the Thai people such as "the rain making project" in the northeast where draught is always a problem., "the project on crops substitution", in the north for the hill-tribe people to give up producing opium and turn to growing cash crops instead, and "the project on irrigation" (Gam-Ling: Monkey's cheek), for water resource and flood management. These are only parts of the samples of the mentioned Royal projects of more than three thousand (3,000).
In promoting the relation between Thailand and Israel, the Royal Thai Embassy determine to follow His Majesty's footstep by introducing Israelis expertise, experiences and the best practices to the Thai people, so they could improve their way of living and working, particularly in the field of agricultural advanced technology and medical science where we work closely with the Hadassa and Rambam Hospital. We also hope that with the promotion of the exchange business delegations, the investment and trade cooperation between two countries will be flourished in the near future.
Excellencies,
Distinguish Guests,
To let our Israeli friends learn more about Thailand, the Embassy have been promoting exquisite cultures of Thailand in Israel cities such as Jerusalem, Haifa, Beer Sheva, Nazareth and Tel Aviv. These cultures of Thai cuisine, classical dance and music, Muay Thai, will let our friends realize that Thailand has much more to offer to them, than just Samui, Pa-ngan or the famous Full-moon party.
As you can see now, the exhibition of Thai textile displays in this hall as well as at the Shenkar Institute aim at sharing with you our culture through weaving technique and pattern of textile.
This year marks the 60th Anniversary of the establishment of diplomatic relations between Thailand and Israel. Each and every one of you is parts of this auspicious occasion. You have played an active role in promoting the relationships of the two countries and we wish you be a part of this noble task for years to come.
May I now invite all of you to join me in a toast for the good health and happiness of His Majesty King Bhumibol Adulyadej of Thailand and the long lasting friendship between our two countries."

To the King".
Ms. Livnat responded on behalf of the State of Israel:

"Your Excellency the Ambassador of Thailand MR. JUKR and Mrs. Boon-Long,

Distinguished Ambassadors and Members of the Diplomatic Missions in Israel, Honorable Guests, Ladies and Gentlemen,
"SA WAD DEE KA

I am pleased and honored to represent the Government and People of Israel at this joyous celebration of the 87th Birthday of His Majesty King Bhumibol Adulyadej.
This evening is all the more special as it occurs during the year of the 60th anniversary of the establishment of diplomatic ties between the State of Israel and the Kingdom of Thailand. Thailand was among the first countries to both recognize and maintain diplomatic relations with the State of Israel throughout the years, and our two nations have enjoyed an ever-warming friendship since our bilateral relations began.

To mark the occasion of this year's 60th anniversary, there have been numerous events in both Israel and Thailand celebrating Thai-Israeli friendship. We look forward to continuing this momentum and further improving our cooperation in a variety of fields in the coming years.
Thailand is a key member state of the Association of Southeast Asian Nations (ASEAN) and has one of the largest economies in Asia. Thailand will undoubtedly continue to play an increasingly important economic role in the region. Already, thanks to its vitality, Thailand is paving the way for the ASEAN Economic Community, which will enter into effect in 2015. We hope that this will help Israel to promote its own economic presence in Thailand and throughout the entire region.
Trade cooperation between us has already developed into a significant partnership. Last year, Thai-Israeli trade valued more than one billion dollars.
In addition, Israel has developed close collaborations with Thailand in many sectors, such as health-care. Cooperation between the Rambam Medical Center in Haifa, the Hadassah Medical Center in Jerusalem, and the Chulabhorn Research Institute in Bangkok in the field of cancer research is a greatly valued area of partnership. We are deeply appreciative of Princess Chulabhorn's role in personally driving the development of this initiative.
Another significant area of collaboration between our countries is seen in the thousands of Thai citizens who come to Israel every year to work in the agricultural sector. These men and women play a very important role in the Israeli economy, and last year, almost 24,000 of them worked within Israel's borders.
The Thailand-Israel Employment Cooperation (TIC) Agreement, made in partnership with the International Organization of Migration (IOM), has helped fuel the historic agricultural cooperation between our countries. The first of its kind in the world, the Agreement has earned both nations esteem in the international community, and greatly benefits the agricultural workers that travel to Israel every year.
Israel is proud to have trained thousands of Thailand's citizens in agriculture and other areas through MASHAV, and remains committed to the well-being and protection of all Thai citizens working within Israel's borders. I would like to take this moment to express my thanks and appreciation to the thousands of Thai men and women who have shown incredible dedication to their work in Israel, even throughout the recent Operation Protective Edge.

Finally, let us also not forget that Thailand is the leading tourist destination in Asia for Israelis. Every year, tens of thousands of Israelis visit Thailand, and last year was no exception. More than 150,000 Israeli citizens travelled to Thailand last year, and El Al operates daily flights between Tel Aviv and Bangkok. This tourism plays a crucial role in the cultural exchanges between our two nations, in turn building new understanding between Thai and Israeli citizens alike.
Mr. Ambassador, please allow me to conclude by asking you to convey our best wishes to His Majesty the King of Thailand, and the Government and People of Thailand on your National Day. May Thailand continue to flourish, and the friendship between us continue to grow in the coming years.
KOB -KUN-KA
(THANK YOU)"
The warmth of the Ambassador's wife Mrs. Kamolrat and embassy staff added to the beautiful and exquisite celebration.
Photos Silvia G Golan