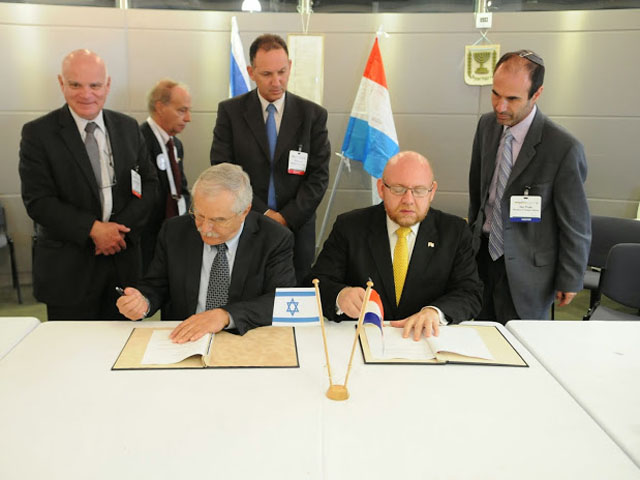 A Declaration of Intent signed by the Ministers of Agriculture of Israel and Paraguay, establishes the framework to expand cooperation in the areas of irrigation, human capacity building, research and development, agricultural innovation, environment and agro-entrepreneurship.
The Joint Declaration was signed during the Agritech 2015 Exhibition by Israel's Minister of Agriculture, Yair Shamir, who signed on behalf of MASHAV; and Paraguay's Minister of Agriculture, Jorge Raul Gattini Ferreira, in the presence of Head of MASHAV, Ambassador Gil Haskel, and Israel's Ministry of Agriculture's Director General, Yitzhak Ben-David (April 28).

This agreement will allow enhancing cooperation within the framework of Private-Public-Partnerships. Within this framework, Israeli companies will offer their services on a commercial basis through the platform of Haigud, a governmental company which serves as MASHAV's executive, financial and administrative arm.

This Declaration of Intent is yet another expression of the good relations existing between Israel and Paraguay, especially in light of the expected re-opening of the Embassy of Israel in Asuncion this coming summer.

Head of MASHAV, Ambassador Gil Haskel: "The re-opening of the Israeli Embassy will contribute to strengthening cooperation between our countries, presenting an opportunity for sharing innovative technologies and knowhow with the aim of promoting Paraguay's agricultural sector."
Photo : Ministers Shamir (left) and Gattini Ferreira (right), sign the joint Declaration. Standing from left to right: Ministry of Agriculture's Director General, Yitzhak Ben-David; Head of MASHAV Ambassador Gil Haskel; Deputy Head of MASHAV, Ilan Fluss
Copyright: MASHAV