The warm Tel Aviv evening was softened and smoothed by the elegance and charm of the celebration's host, His Excellency Mr. Andreas Baum, at the lovely Ramat Gan ambassadorial residence. Guests mingled on the lawns, cooled by the delightful Swiss wines and other refreshments. The Israel diplomatic corps and a large gathering of Swiss nationals and residents of Israel, together with the cream of Israeli society, business people, journalists and friends, made for a "gemütlich" event.
A quartet of musicians, the "Pushkin Music Band" entertained the guests while cocktails and snacks were being served. Before Ambassador Baum addressed the gathering, the musicians gave beautiful renditions, first of the Israeli national anthem, and then that of Switzerland. The event was of course to celebrate the Swiss National Day (German: Schweizer Bundesfeier; French: Fête nationale Suisse; Italian: Festa nazionale svizzera; Romansh: Fiasta naziunala Svizra) of that multi-cultural and multi-lingual democracy, which actually falls on the 1st August. This year marks 724 years on the confederation. Mazal tov.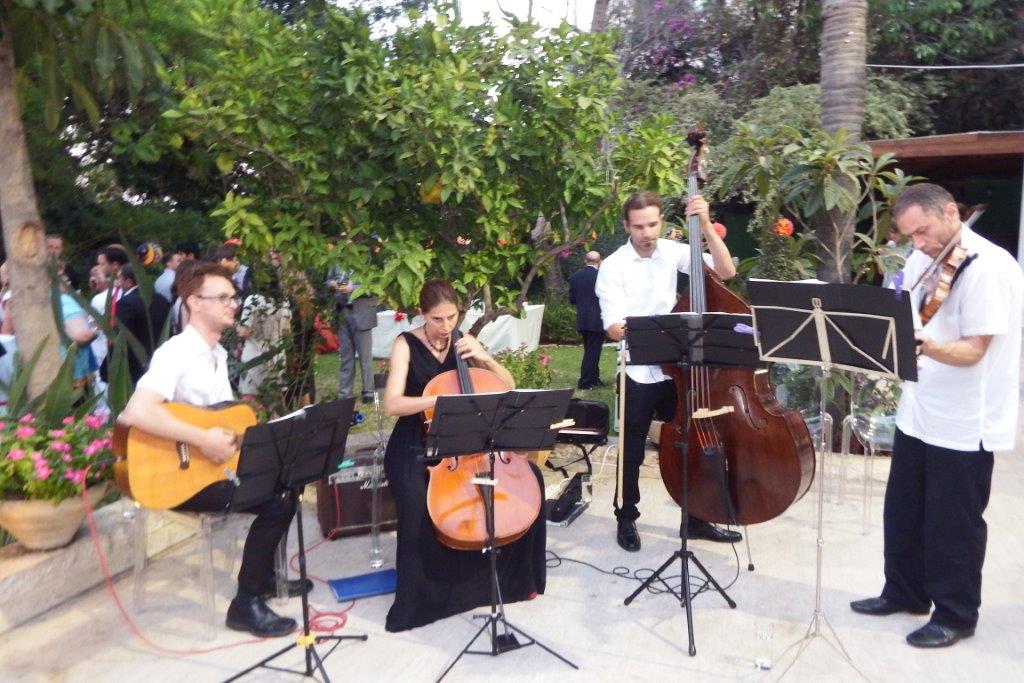 Following the address by His Excellency (copied below in full, for the convenience of www.diplomacy.co.il readers) a delicious buffet meal was offered, with true Swiss raclette taking pride of place.
" Honoured guests, dear friends and colleagues,

Thank you for joining us to celebrate Switzerland's 724th anniversary. We will now hear the national anthem of our host country Israel, followed by the Swiss Psalm.

----

Thank you. I am happy to reaffirm the close ties between Switzerland and Israel. They are broad and diverse, based on common interests and shared values, and not least on the large, vibrant Swiss community, many of whose representatives are here tonight. On the official level, the year was marked by the December visit of a high level official, scientific and business delegation with the aim of learning from the Israeli innovation and startup system. It was followed in May by the visit of the Foreign Affairs Committee of the Swiss Council of States, led by Professor Felix Gutwiller. The official calendar is yet to be completed by the regular political dialogue between the Foreign Ministries planned for November. Together with its Israeli partners, the Embassy is busy organizing a multiplicity of events, such as yesterday's lecture by Dr. Nicolas Wyrsch, who is present among us tonight, on the Solar Impulse technology. Solar Impulse, as you know, is a Swiss airplane, currently in Hawaii on an attempt to complete a pioneering round-the-world trip using solar energy only. A strong orientation towards innovation and creativity is common to both countries and binds them in multiple ways. And I am pleased that this year's Locarno Film Festival will specially highlight Israeli films.

A common attachment to democratic values is another essential ingredient in the relationship. Shared interests and values don't thrive through verbal reaffirmation. They have to be nourished and experienced daily, by both Swiss and Israeli efforts. Because we care, we will sometimes express our worries. We admire and support Israel's vibrant democracy, which currently offers a remarkable degree of democratic space. That NGOs can disagree with government policies and still freely go about their business is a credit to Israeli democracy, and should remain an indispensable ingredient.

Switzerland is firmly opposed to all boycotts, to antisemitism, to all attempts at denying Israel's right to exist. We thus support a negotiated two State solution. And you won't be surprised to hear that all high level official Swiss visitors regularly urge their Israeli interlocutors to end the occupation and the settlement enterprise. We haven't witnessed a war for almost one year. This is not the cruel summer of 2014. For this we can all be grateful. But the lack of perspective is disquieting. Even in an unsafe, rapidly changing, truly frightening geostrategic environment, perspective is necessary, a larger context and opportunities do exist. I still don't believe in zero-sum games, with fear as their main guiding principle. The last three years may have somewhat dampened my optimism. But my message tonight is not one of quiet resignation; it is rather a polite, respectful and unbowed reaffirmation of our principles and our determination.

Speaking of perspectives, I am often asked whether Swiss federalism could serve as a model for Israel. One of the most concrete proposals was put forward by my compatriot and Professor at Tel Aviv University Carlo Strenger. Based on the broad differences of lifestyle and values within Israeli society, he asks whether the creation of Swiss style Cantons with a certain degree of autonomy would not provide answers. Beyond my general skepticism about the applicability of "models", of transplants and advice, I believe that these ideas deserve discussion within Israeli society. But I must remind the audience that the Swiss model consists of a whole political culture, which comes as a package, composed of Cantons, direct democracy, a culture of pragmatism and compromise, a strong orientation towards consensus. Cantonal boundaries often do not coincide with language or religious boundaries, creating a unique patchwork where every citizen is in one way or the other both in the majority and the minority. In our system internal differences are not seen as a threat, but as making us richer. The full model is relatively recent - our last civil war, with a strong religious connotation, goes back to 1847 only - and it currently undergoes its own challenges, such as our relationship towards migration and with the European Union. But I have no doubt that some of our experiences about how to integrate minorities could be of interest to Israel.

I listened with great interest to President Rivlin's words at the recent Herzliya Conference, his description of the challenges and fragmentation currently facing Israel. He even talks of an "inter-tribal zero sum game". His vision of a New Israeli Order, requiring a move to a new concept of partnership between the various population sectors of society, is truly inspiring. Through a sense of security, shared responsibility, equity and equality, the creation of a shared Israeli character, he foresees an "Israeli dream" that can be realized by each and every young person. This, in the humble opinion of this outsider, is true vision and reason for hope.

This National Day celebration marks the last official function in Israel for my deputy Natalie Kohli, my closest adviser for the past years, who put her essential stamp on the embassy's work and became a friend to many of those present tonight. We will miss you and wish you good luck for your next posting as the Deputy Head of the Division for UN Affairs in Berne.

Finally, I wish to thank all of those who have made this evening possible, from the Embassy team to the kitchen and service brigades. A special thank you goes to the musicians of Pushkin, who, after their much appreciated performance last year, are again delighting us with their creative and dynamic renditions of neo-classical music. The buffet should now be open. Cheese can be found on my left side, meat on the right and salads inside. Again, thank you for coming and let's enjoy the evening together."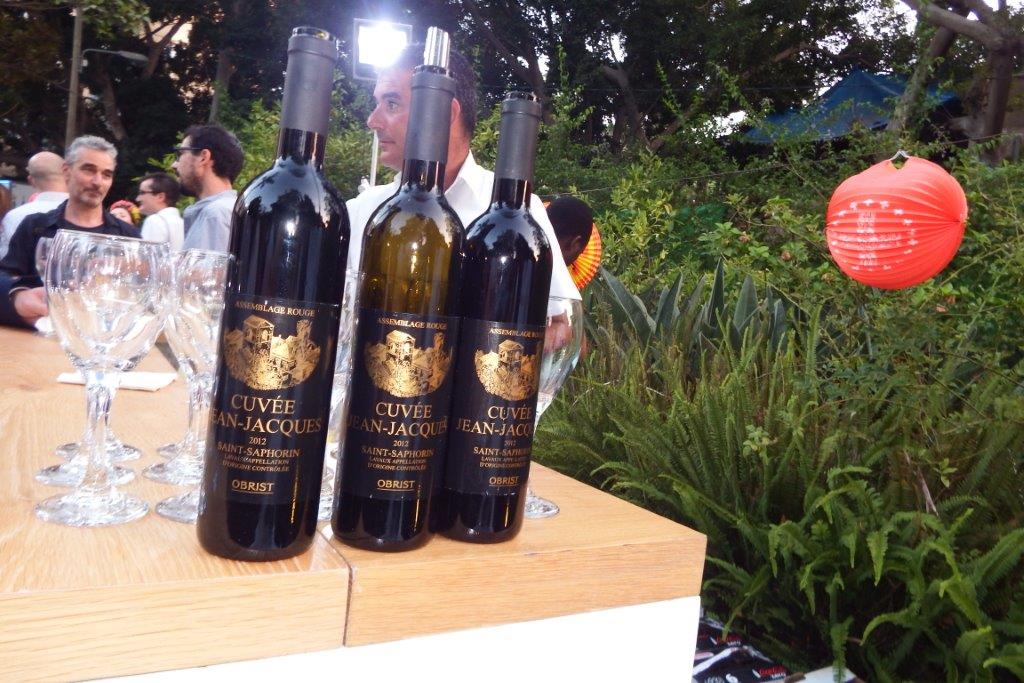 Photos : Silvia G Golan