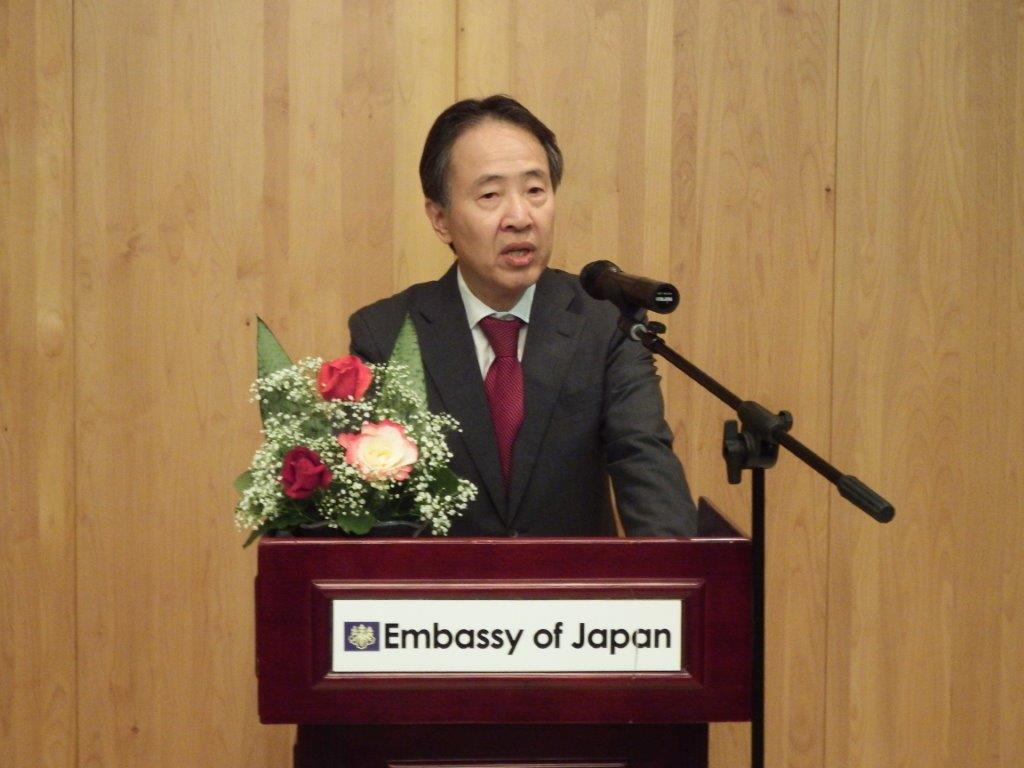 Welcoming Reception for H.E. Ambassador Mr. Koji Tomita and to commemorate the 5th year since the Great East Japan Tōhoku Earthquake and tsunami on 11th March 2011
Last Monday the Japan embassy hosted a Welcoming Reception for H.E. Ambassador Mr. Koji Tomita at the Ambassador's residence in Herzliya Pituach .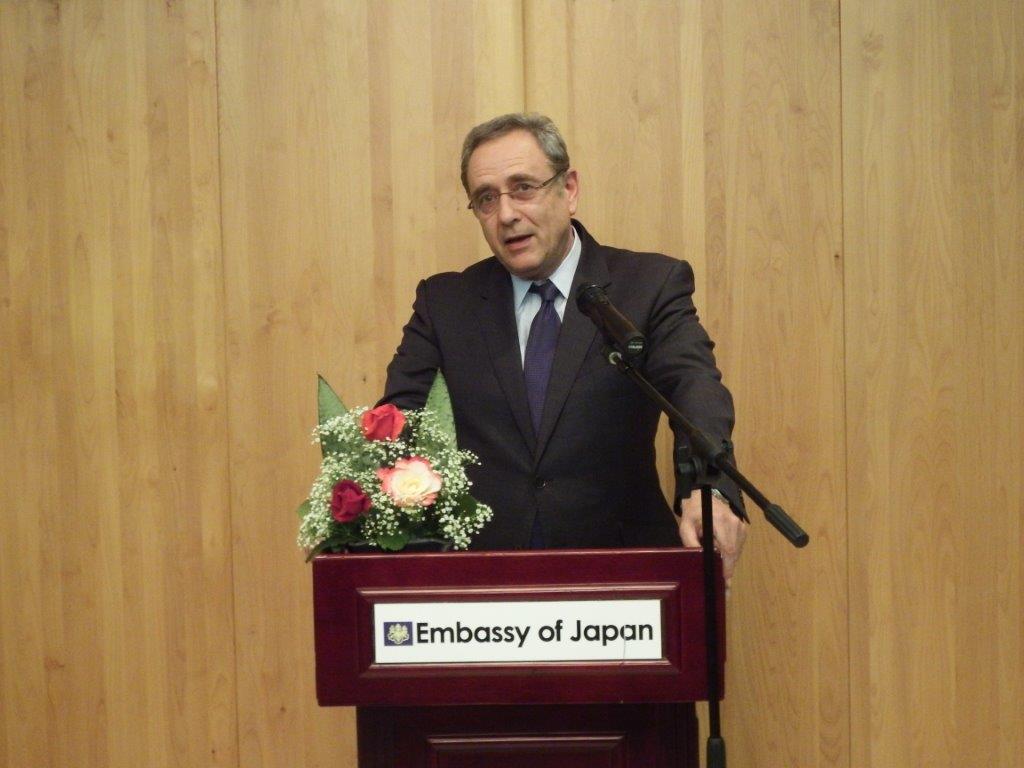 The guests of honor were Mr Mark Sofer, Deputy Director General for Asia and Pacific of Israel Ministry of Foreign Affairs, Maj Gen Rami Ben Efraim , former Israel military attache to Japan who was dispatched to the event as an Israeli Medical team member and Mr Shachar Zahavi, IsraAID founding Director . Among the guests also were the Ambassador of Jordan, H. E. Mr Walid Obeidat and his wife, H.E. Mr Hazem A. Khairat the new ambassador of Egypt to Israel, former Israeli Ambassador to Japan Nissim Ben Shitrit, Ambassador Meron Reuben Israel Ministry Foreign Affairs , Moshe Arens former Defence Minister of Israel, Dr. Yossi Beilin who has served in multiple ministerial and leadership positions in the Israeli government and his wife Daniela, Gil Sheffer Honorary Consul of Japan and his wife , Amir Halevi Director General of the Israel Ministry of Tourism, Murhaf and Taher Abusaleh from the Druze Community in the Golan Heights and Linda Tomer International - Israeli Singer .
Master of Ceremony Mr Takada , Counsellor of the Embassy introduced the new ambassador H.E. Mr. Koji Tomita
Mr Tomita opened the event and expressed his feelings with a heartwarming remark:
" I just like to extend my warm welcome to everyone and express how I feel as I embark on an important mission in this great nation. I have been working in the Foreign Service for 35 years, and I find myself exceedingly fortunate and privileged to come to the State of Israel for my first ambassadorial posting. I am determined to bring all my experience and energy to the task of creating stronger and deeper cooperation between our two countries.
Fortunately, we have a strong momentum going for us to advance our cooperation in all fronts, following the exchange of visits at the highest level of our Governments in recent years: Prime Minister Netanyahu's visit to Japan in 2014 and the return visit by Prime Minister Abe last January. I intend to exploit this momentum to the fullest extent.
At the same time, I need to point out that our friendship has not started just a few years ago. It has been nurtured over many decades, thanks to the efforts of many people dedicated to stronger ties between our two countries. Indeed, there are many, many such people among the guests tonight, but please allow me to single out a few groups of Israelis.
On 11th of March, 2011, the Great East Japan Earthquake struck our country. The triple disasters of the earthquake, tsunami, and the nuclear incident caused the untold damage and misery. But as we went through the darkest period after that fateful day, I cannot put into words how much our pains were alleviated by the outpouring of support and goodwill extended by our friends across the world.
The IDF's Civil Defense Team was the first to operate on the ground among the international medical teams we received during that period. The township where they operated, Minami-sanrikucho, was one of the worst hit areas by the tsunami, with hundreds of people dead or missing and almost of half of the houses destroyed. Their presence made a real difference in preventing a post-disaster health crisis.
Many private Israeli volunteers have also worked tirelessly to help those who suffered. Notable among them are the members of the two organizations: IsraAID-F.I.R.S.T and Zaka. Their selfless devotion made a strong impression on the mind of the victims in Tohoku.
As we commemorate the fifth anniversary of the tragedy, I would like to extend to all those involved the deepest gratitude of our whole nation. Thank you very much.
History has not always been kind to our two nations. But I like to believe that it has made us better peoples, more compassionate, more resilient and more united. Indeed, we are both nations united under shared history. And that is an important basis for our mutual respect and affinity. I am determined to build on this strong foundation an even closer partnership. "
He also mentioned his wife and proudly announced
"Finally, on a personal note, I very much regret that my wife, Noriko, is not with me tonight to greet you. She is still in Tokyo, taking care of my son, who is taking entrance exams to universities. I think that I am not the only one among the fathers in this crowd who feels increasingly marginalized in the family power balance as we get older. But I know that I shouldn't complain.
Anyway, I was informed a few days ago that my son succeeded in getting accepted by the university of his choice. I am happy for my son. I am happy for my wife. And above all, I am happy for myself because my wife can join me in this beautiful city in the near future.
So hoping the next time you come to my residence I can greet you with my wife, I would like to conclude my remarks. Thank you very much."
After the ambassadors' remarks , Mr Takada introduced the guests of honor who emphasized the wonderful relations between the two countries ,especially during the time of the Great East Japan Earthquake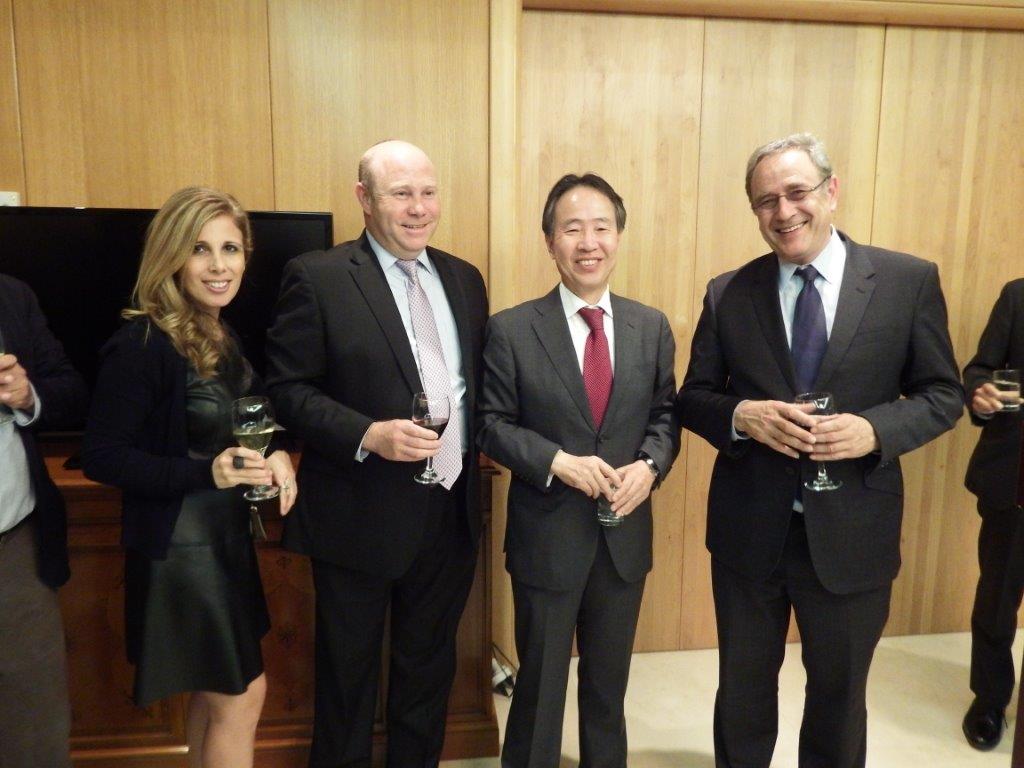 The enjoyable evening continued with a wonderful display of the vast variety of luscious foods, such as the traditional Japanese, Indian, and Israeli cuisine.
All the women of the Japanese Embassy were dressed in the traditional Japanese Kimono attire and made the guests feel welcome and at home.

www.diplomacy.co.il staff wishing
Best of luck to the New Japanese Ambassador to Israel and may they enjoy fruitful relations with Israel and much success to his son.
Photo Silvia G. Golan
More Pics at Facebook : Diplomacy Israel