Switzerland Celebrates 725 Years of the Swiss Confederation
On August 2, the Embassy of Switzerland in Israel marked the occasion of its national day, August 1, commemorating the formation of the Swiss Confederation in 1291. The reception honoring the 725th Anniversary of the Swiss Confederation was also the occasion of the official farewell of the Ambassador of Switzerland to Israel, Dr. Andreas Baum, as he leaves for his next post in India, following four years as envoy to Israel.
The reception, held in the lush green garden of the residence of the Swiss ambassador in Ramat Gan, was attended by ambassadors and
representatives o

f many diplomatic missions, officials of the government of Israel,
Swiss nationals residing in Israel, leaders of the business community, and a cross-section of
Israeli society.
Among the guests were
Ambassador
Meron
Reuben - FM Protocol Chief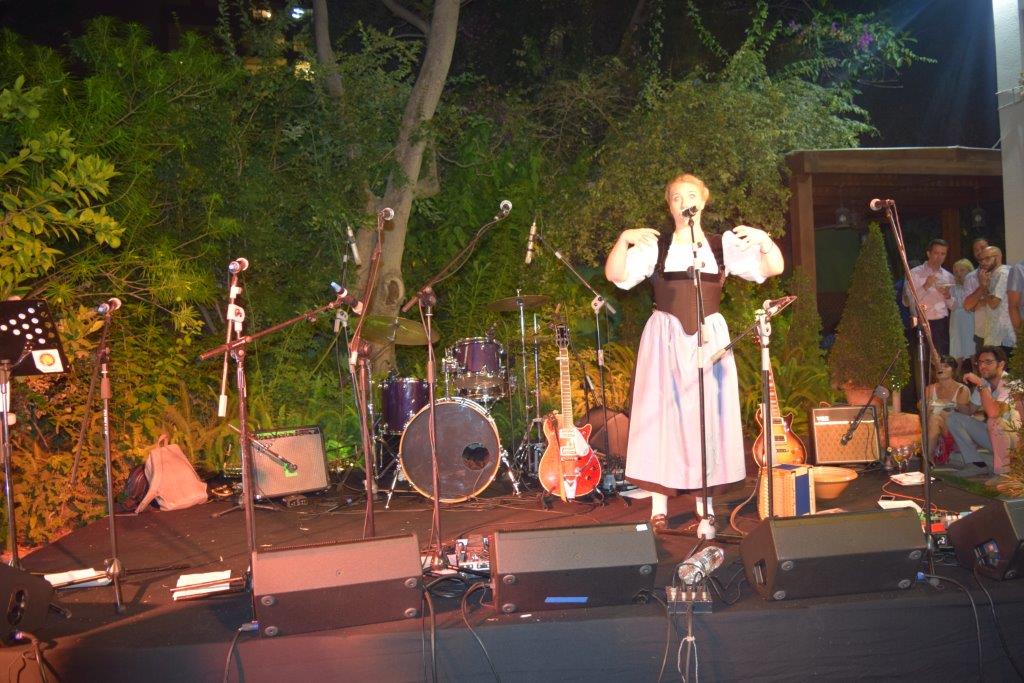 Guests were treated to a variety of traditional Swiss foods, especially raclette, as well as Swiss wines. The musical program of the evening included a yodeling performance by Miss Helvetia, Barbara Klossner and entretainment bu the local band Shmemel
The ambassador himself announced the playing of the national anthems of Switzerland and Israel.
Following is Ambassador Baum's address
Honoured guests, dear friends and colleagues,
Thank you for joining us to celebrate Switzerland's 725th anniversary. We will now hear the national anthem of our host country Israel, interpreted by members of the band Shmemel, followed by the Swiss Psalm, sung by Barbara Klossner.
This is my fourth and last National Day in Israel. Our motto for tonight was: keep some well-established things the same, such as the combination of intense summer heat with warm raclette cheese, while bringing in a few new elements. We are partnering with Swiss International Airlines, a unique bridge builder between Switzerland and Israel. We are also showcasing three charitable projects, Kuchinate, CEC Collection and UNITAF, which the embassy has been supporting. Their collections and books are being sold inside. We are also innovating musically, with the participation of Barbara Klossner, a prominent ambassador of Swiss traditional music, who flew in a few hours ago especially to join us, and the Israeli funk rock band Shmemel, bringing in their own brand of energy. This is planned as an experiment in creative fusion and I hope you'll enjoy it.
What can an ambassador achieve in four years? Our work is so difficult to quantify. Together with our Israeli partners, we have been pushing into new fields, projects and collaborations, such as promoting the Swiss dual vocational training system, which is currently being piloted in several Israeli enterprises, or celebrating, around this country, the avant-garde art movement Dada, born 100 years ago in Zurich. We have intensified and diversified our bilateral political dialogue, to reach into the multilateral, strategic and development aid areas. For all this I wish to thank my wonderful team as well as our many partners, be they Israeli officials, academics, scientists or civil society activists, the members of our vibrant Swiss community, the Chambers of commerce, the Israel-Switzerland Friendship Association. With this mix, everything was possible and even more is to come. I am of course delighted that in these four years, overall trade between the two countries grew by 15 % and that a high birth rate enriched the Swisscommunity in Israel by over 20%, to almost reach the milestone of 20'000 members. But, you'll agree with me, I can claim no responsibility.
I've been cleaning up my office these last few days. How easy it becomes to throw away paper, when you wait long enough! This in no way diminishes the energy and passion that flowed into those papers, always trying to better understand the events of what have been four turbulent years: we witnessed two wars around Gaza, two early elections, the failure of peace efforts, the current wave of violence. While I have learned a lot, I must say that I am leaving with many more interrogations than certainties. I remain challenged by the contradictions posed by Israel, which is at the same time the vibrant startup nation, with which we cooperate so closely, and the author of a persistent, internationally unrecognized occupation. While I trust that you see clearer perspectives, I keep searching for the answer to a basic question found in a Haaretz article: what's the plan?
Israel unquestioningly belongs to the Western, democratic family of nations. Because we are family, we worry, we criticize, and we even may sometimes – as some will say - meddle in its internal affairs. We thus did not understand the necessity for a so-called NGO transparency bill, we consistently oppose settlement expansion and ask for better protection of vulnerable populations in Area C. On the Israeli-Palestinian conflict, we remain strong supporters of the only rational solution, the two States solution, as admirably sketched out by my friends of the Geneva Initiative. When I arrived, I was sure that this rational solution is more or less pre-ordained, that the parties, with support from the international community, will just have to find the - difficult - way to get there. I now rather more modestly believe that the outcome is open. Who wants what, how much, and with what means - this will determine the future. Israel, despite its many strategic challenges, chose to construct and realize a democratic, prosperous nation. This country, in spite of its fears and legitimate security concerns, can equally choose to concretely invest in peace. It is both a risk and a conscious choice. The environment and the present are a given, but the future is in your hands.
Around the world, these violent, uncomfortable times have robbed us of many certainties. We are being painfully reminded that history is not linear. Peace and prosperity through ever closer cooperation are being questioned even in Europe. The specter of new barriers, a revival of nationalism and even racism must alert us, in Europe of all places; yes, our security, our way of life are being challenged, but fear, anger, distrust and hate must not be allowed to dictate our future. As citizens, as members of civil society, we must fight, together, for our ideals and values, for a future of tolerance, of hope and opportunity. Fight democratically and peacefully, in politics, in schools, at the ballot box, if necessary on the streets. I trust in the well informed, enlightened European, Swiss and Israeli citizens.
How do you like Israel? How does it compare with your other postings? How often have I heard these questions! They are simple, honest, legitimate queries, but also tricky questions - because of the highly politicized, polarized Israeli environment, because of ongoing conflicts in the region, because of the weight of history. For a diplomat, this is a posting rich in banana peels, where the way from the high chair to the low chair can be very short. So we tend to avoid straightforward answers, fleeing into empty phrases such as "never a dull moment". And I shall not forget the words of an experienced colleague, who said: in Israel, never give advice, never compare. But today, almost at the last minute, I feel I owe you an answer, by telling you all the things I will miss here. I will miss the people, their creativity, warmth and passion, the stimulating, high level conversations, the challenging work environment. I will miss my trusted embassy colleagues and residence staff. I will miss the culture, the beautiful classical concerts and the original works of art, of which I can take only a very small sample with me. I will miss the balmy climate, the seashore, the road trips to the North and South, the incomparable food and wine. I will miss my garden and my rapidly growing family of wild cats. In short, I am leaving with much nostalgia.
In a few days, my successor Ambassador Jean-Daniel Ruch will take up his mission. I know he can count on your trust and warm welcome. The Indian capital New Delhi will soon be my new temporary home. I look forward to this exciting, challenging, high-energy posting. I'm following in the footsteps and the quests of so many Israelis, though they're usually a bit younger than me when they go there. One day, should I ever find serenity and wisdom, I may come back to the shores of the Mediterranean to watch the olive trees grow. Good bye, thank you and let's keep in touch.
The Diplomacy.co.il team wishes the ambassador the best of luck at his new posting.