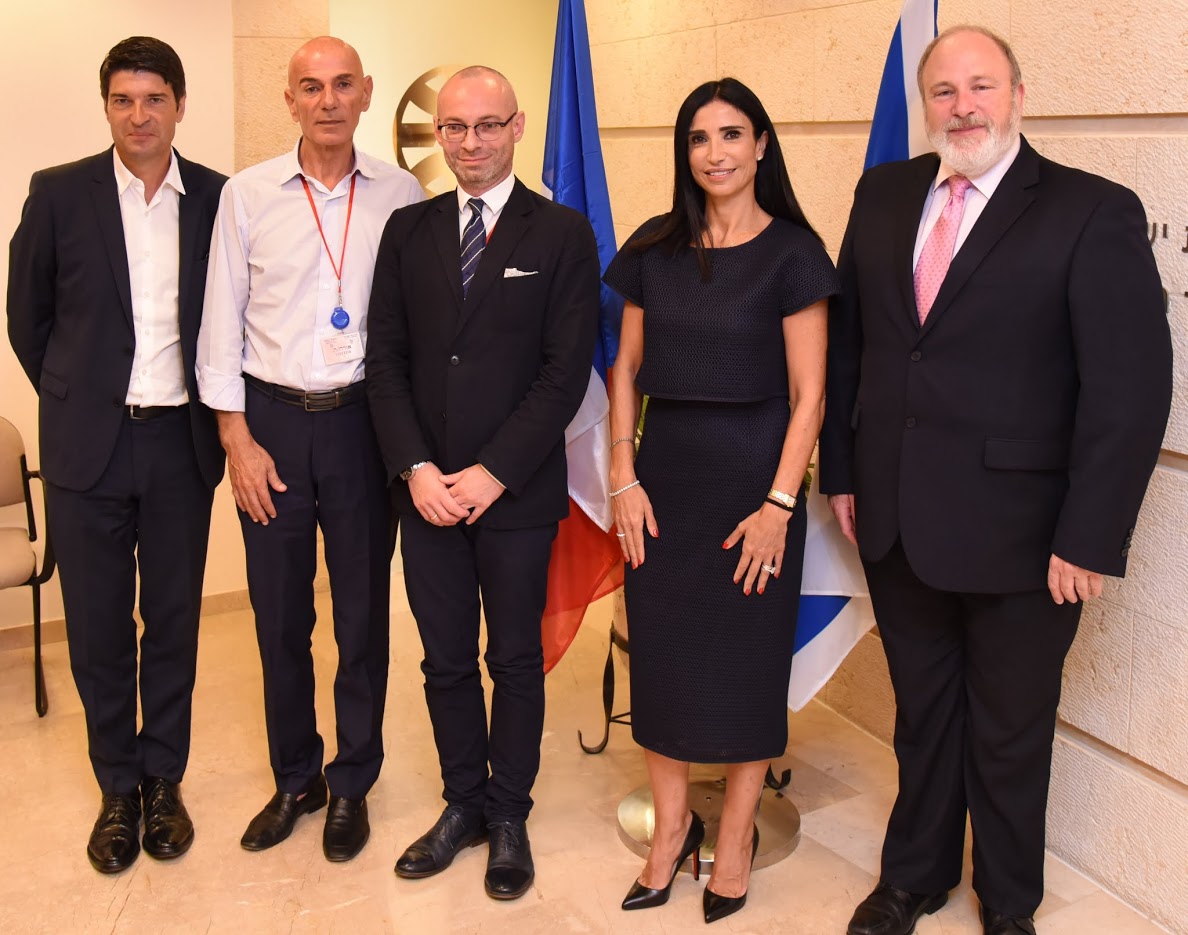 Nathalie Mimoun, new Honorary French Consul
The words sound better in French than in English: "Chavalier de L'Ordre National du Mérite". (Freely translated into English: Knight of the National Order of Merit).

This highly-regarded honor from the French Government (it was established by General De Gaulle in 1963) was recently bestowed on Ms. Nathalie Mimoun. At a sparkling reception last month at the residence of the Ambassador of France to Israel, his Excellency Patrick Maisonnave, Ms. Mimoun was feted for her social welfare and consular work in Israel and her fortitude in representing France as Honorary Consul for Netanya and the Sharon Area.
In a separate ceremony in Jerusalem, Ms. Mimoun was also awarded the official title of Honorary Consul of the French Republic in Netanya. This Mediterranean resort city has the highest concentration of French people in Israel – more that 10,000 – making it Israel's most "French" city.
To be perfectly accurate, Ms. Mimoun should be addressed as Dr. Mimoun. She arrived in Israel from Paris (where she was born and raised) as a young medical student, some 30 years ago. Practicing medicine has been swept away by her career in politics, social welfare activism and her family life with her husband and four children. The Order of Merit award is in recognition of her boundless and devoted efforts to help new immigrants to Israel to adapt to their new country but also for her work for the welfare of Holocaust survivors. Nathalie: "I often tell new immigrants: 'Don't be fixated on your past life, studies or career. You've come to a new country, a new culture, a new world. You can start a new life as well' ".
In an address to the gathering at the Ambassadorial ceremony, Nathalie spoke of her experiences as an immigrant to a new country; she recalled her culture shock, but also how Israelis "opened their hearts" to her and helped her to settle in. She spoke of her own wish now, as a seasoned Israeli, to help others, in particular new immigrants from France, to feel welcome in the country that is now so close to her heart. "When political, cultural or religious conflicts rear their ugly head we must always remember how such conflicts have always been resolved throughout history: by listening, understanding and learning from the 'other'. A lesson I never forget."
Her route from doctor to honorary consul is long and interesting, and includes her present career, in partnership with her husband, in the diamond and jewelry industry. "I have never abandoned my French roots and culture", she says, "but I have put down roots here in my adopted land and want to help others do the same with ease and equanimity."
One would assume that her career, family, consular tasks and social welfare efforts leave little time for other issues. Not so for Nathalie. She plays golf, tennis and chess and is a gourmet chef. (She's French, so gastronomy is in her genes). On life in Israel: "I love the friendship, the mix of cultures, the action … nobody agrees with others, we're always arguing ... the day and night life in non-stop Tel Aviv ... my freedom to express myself ... I feel secure".
There is an old saying: "Blowing out someone else's candle doesn't make yours shine any brighter". In Nathalie's case, the opposite is also true: Making someone else's candle glow, makes your own shine even brighter. The light she casts on those whose life she helps brighten certainly adds shine to the world about her.
Thanks Nathalie, Chavalier de L'Ordre National du Mérite and Honorary Consul of France
Photo 1 by MFA Protocol Appartment
Photo 2 Silvia G Golan