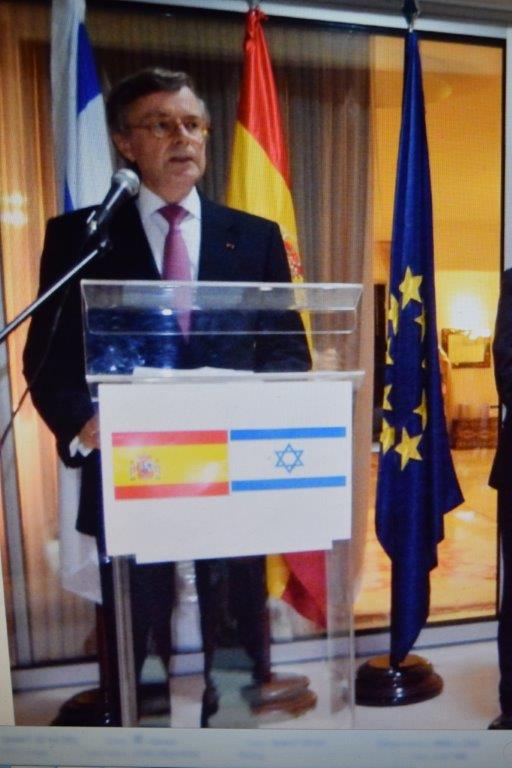 On Thursday night, October 13th, the Tel Aviv municipality building overlooking Rabin Square glowed red and yellow in honor of Fiesta Nacional de España—Spain's national holiday and Armed Forces Day. At the Spanish Embassy's annual party, Israeli, Spanish and international diplomats, military attaches, and local political and business leaders enjoyed an evening of wine, cheese, and authentic Spanish musical performances.
Ambassador Fernando Carderera opened the evening, which also commemorated 30 years of Israeli-Spanish diplomatic relations, by listing the educational and cultural events that had been planned as part of the celebration, culminating with a Goya exhibition opening in December at the Israel Museum in Jerusalem. The Ambassador mentioned the recent visit to Israel by the King of Spain to attend the funeral of Israeli statesman Shimon Peres, as a sign of the strong ties between the two nations. Ambassador Carderera stressed Spain's opposition to any boycotts of Israel, and then offered a toast to the heads of state of both countries, Spain's King Felipe VI and Israel's President Reuven Rivlin and to the continued friendship of Israel and Spain.
Israeli Knesset member Gilad Erdan, Minister of Public Security and Strategic Affairs spoke next and mentioned the long legacy of Jews in Spain, including the many scholars like Maimonides. He praised Spain's recent efforts to address the damage caused during the Inquisition and expulsion of Jews from Iberia in the 15th century by recent legislature allowing descendants of Spanish Jews to gain Spanish citizenship. Erdan also talked about Spain's role in promoting peace talks, especially during the Madrid Accords. Finally he mentioned the cultural bonds that Israelis and Spaniards share, including the many Israelis supporting Real Madrid, Barcelona, and other Spanish football clubs.
Following Mr. Erdan's speech, a representative of the Tel Aviv municipality spoke on behalf of Mayor Ron Huldai and the municipality. The guests were then shown a short film highlighting Spanish achievements, before enjoying live music and dance performances by Spanish performers, to ensure that the evening was a true Fiesta.
Article wirtten by Steven Aiello founder and director of the "Debate for Peace program"