President Reuven Rivlin this morning (Monday) at his residence received the diplomatic credentials of new ambassadors to Israel from France, Canada, Guatemala, Turkey, and Cambodia. Each ceremony began with the raising of the flag and the playing of the national anthem of the visiting country, included an honor guard, and - after the presentation of the credentials - the signing of the guest book, before the playing of Israel's national anthem 'Hatikva'.
Photo : President Rivlin welcoming H.E Mrs. Hélène Le Gal, Ambassador of France to Israel.
President Rivlin first welcomed Ambassador of France, H.E Mrs. Hélène Le Gal. He welcomed her and spoke of the good relations between the two countries and stated that he was hopeful that as she took up her post these ties would grow stronger and cooperation would increase. The President added, "We know of the goodwill of the President of France to bring to an end the Israeli-Palestinian conflict, the only way to bring about an understanding with our neighbors is to through direct negotiations. We welcome any initiative to end the tragedy between Israel and the Palestinians, but the Palestinians reject our offer for direct negotiations time and again – we have no war with Islam, but they must accept we are here to stay in our homeland."
The Ambassador thanked the President for his warm welcome, and noted that as this was her second posting to Israel, having served in Israel 20 years ago, she had a sense of returning home. She said, "France was of course very active in the first 20 years of the state to help build the military capacity here, and this is still one of the main domains of our relationship if we think about counter terrorism, and we have a lot to discuss on this matter." She added, "We are a permanent member of the Security Council and we are always keen to propose things, to try and find ideas for the different conflicts of the world. It is always in a very good spirit towards Israel. I would like to say that France and Israel share many values especially democracy, and freedom of speech and I appreciate your messages on these subjects."
Photo : President Rivlin welcoming H.E Ms. Deborah Lyons , Ambassador of Canada to Israel.
The President then received the credentials of new Ambassador of Canada, H.E Ms. Deborah Lyons. He welcomed her and said, "Next year you will celebrate 150 years and I congratulate all Canada on this." He added, "Canada's friendship is of great importance to us, it is a true friendship. Also when you may have criticisms we hear they are out of love – between true friends."
Ambassador Lyons said that, "The reception I have received from all the Government and people of Israel has been fantastic. I have been here for two and a half months, and we have had the prime minister, who of course came for a sad occasion, and then the visit of the Governor General who came with a large business delegation. I don't see it slowing down in the new year and we are looking forward to a very busy time, as it should be between us as close friends. We are natural friends, natural colleagues, but there is much more we can do together. We are looking forward to you being able to visit Canada." She noted that Canadians could learn much from Israel and said, "We have a new expression in the embassy from the more than 350 Canadians we have hosted in Israel since I arrived, and that is 'Wow Israel!'"
Photo : President Rivlin welcoming H.E Ms., Ambassador of Guatemala to Israel.
The President then received the credentials of the Ambassador of Guatemala H.E. Ms. Sara Angelina Solis Castañeda. The President stressed the importance of the recent visit by President Morales of Guatemala to Israel, as a milestone in the relationship between the two countries. He said, "The visit of your President was significant and important, and strengthened the good ties between our countries – ties which are warm and friendly. I welcome you to your new post, and wish you much success in the role."
The Ambassador thanked the President for his words and said, "It is a high honor to be here and a privilege to represent Guatemala to Israel - a country we love so much. It was a great honor to have President Morales visit at the beginning of my term." She noted that in addition to strengthening the bilateral cooperation in the fields of agriculture, technology and health, "I am talking to some of the universities in Israel, and want to help Israelis understand about the history of the civilization in Guatemala, and the history of the Mayan people who lived there thousands of years ago."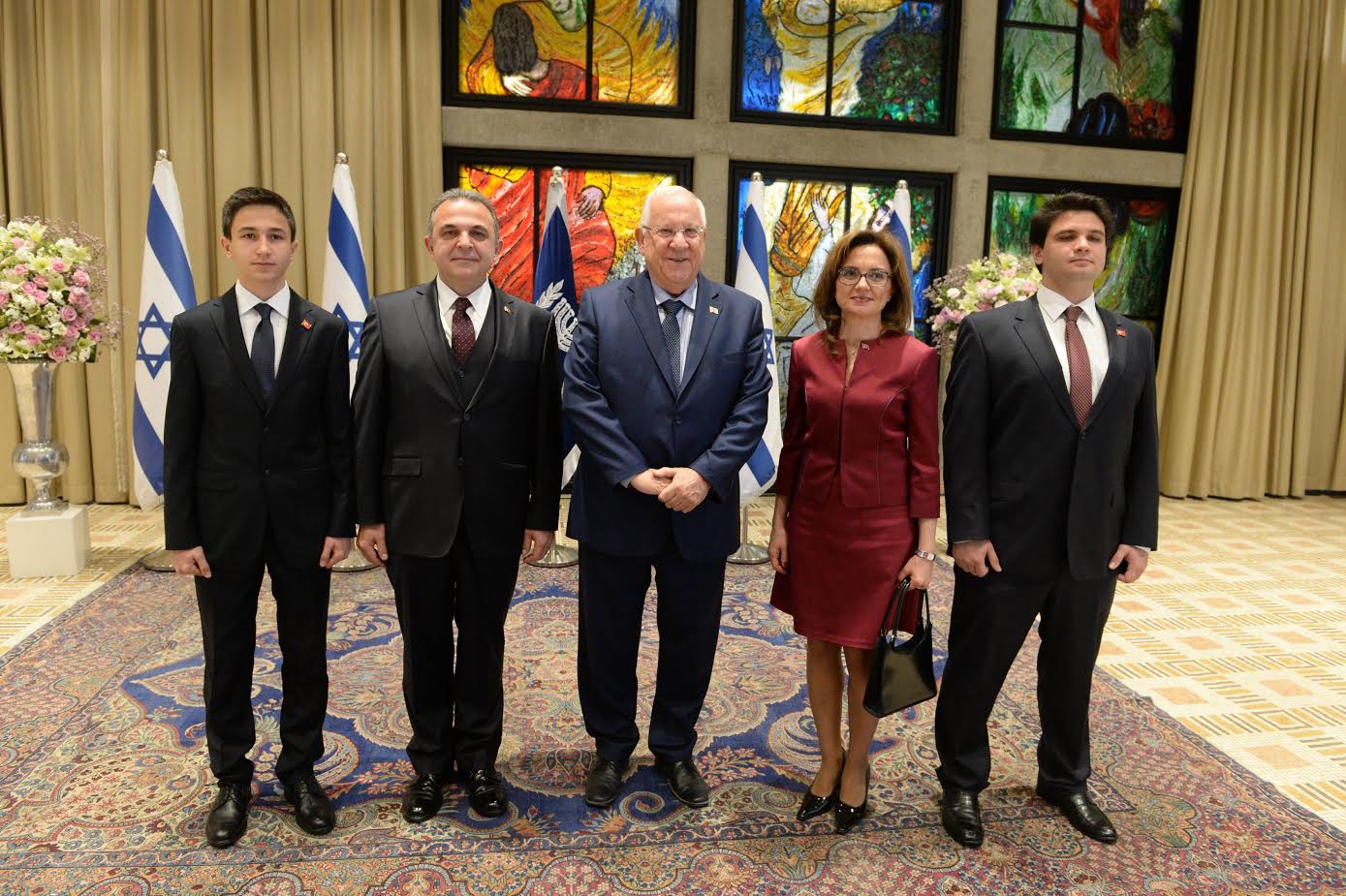 Photo : President Rivlin welcoming H.E Mr. Mekin Mustafa Kemal Okem , Ambassador of Turkia to Israel and family.
The President then received the diplomatic credentials of the new Ambassador of Turkey to Israel, H.E. Mr. Mekin Mustafa Kemal Okem, the first Turkish Ambassador to Israel for more than six years.
President Rivlin began by saying, "I want to start, by expressing my deep condolences to the Turkish people, to the victims of the terror attack in Istanbul, and to the families who have lost their loved ones. Mr. Ambassador, all life is sacred. Terror is terror is terror -whether in Brussels or Paris, Istanbul, Jerusalem, or Cairo. We have a duty to stand together against this terrible threat. "
He continued, "Mr. Ambassador, today is an honor, and a real moment in history. I want to express my appreciation for President Erdogan, and I thank him again for Turkey's help in fighting the fires across Israel last month. Our friendship goes back in history, and I hope that the reconciliation and the appointment of new ambassadors will open a new and promising page in this relationship. We must work together to promote our economic relations, trade and energy cooperation, as a real engine of growth for our friendship."
The President stressed, "Mr. Ambassador, as you know the Middle East is changing. We must find the way to give strength to the voices of peace and stability. We must strengthen our common ground. When I spoke to President Erdogan, we spoke about the situation in Gaza. I want to thank him for his commitment to help return the Israelis and the bodies of our soldiers held by Hamas. Israel like Turkey places great importance in rebuilding the lives of the civilians in Gaza; in infrastructure, economy, energy, water, and more. This must be with the cooperation of the Palestinian Authority. It is also an important way to show that we can live together in this region."
He concluded, "Israel and Turkey share a desire for peace and prosperity for all the peoples of the Middle East, and it is an honor and privilege to welcome you, as Ambassador of Turkey, here in Israel, welcome."
Ambassador Okem thanked the President and said, "I have just had the honour to present my credentials to the President of the State of Israel, His Excellency Reuven Rivlin. It is an honour for me to officially begin my tenure as Turkish Ambassador to the State of Israel as of today, and I would like to thank you for the warm welcome shown to me and my family.
He added, "Indeed, Mr. President this is a new beginning in our bilateral relations and in our joint efforts, in this region in which we have close ties, historical ties. Our region has more than its share of challenges but also of big opportunities. As before, Turkey and Israel will work together to make sure that these opportunities are fully utilized and challenges are met."
He concluded, "As per instructions of my president, His Excellency President Recep Tayyip Erdogan, and my Prime Minister, His Excellency Binali Yıldırım, I will explore all opportunities for cooperation in every field to the mutual benefit of our two nations. And, as an ambassador, I will do my best to enhance our relations in every field - regardless of any difficulties that we may face, we will be able to overcome together with our partners and friends Israel. So I am looking forward to closely working with all of the institutions in this country and do my best to cooperate with them. As you have just said Mr President, our hope is that this cooperation will also work for the benefit of other nations, particularly to the Palestinian Authority as well."
During their meeting, President Rivlin once again reaffirmed his wish to convey Israel's hope that the renewal in relations between Israel and Turkey would lead to the freeing of the Israeli citizens held captive in Gaza, and to the return of the bodies of the fallen Israeli soldiers Oron Shaul and Hadar Goldin being held by Hamas, so they could be brought for proper burial in Israel.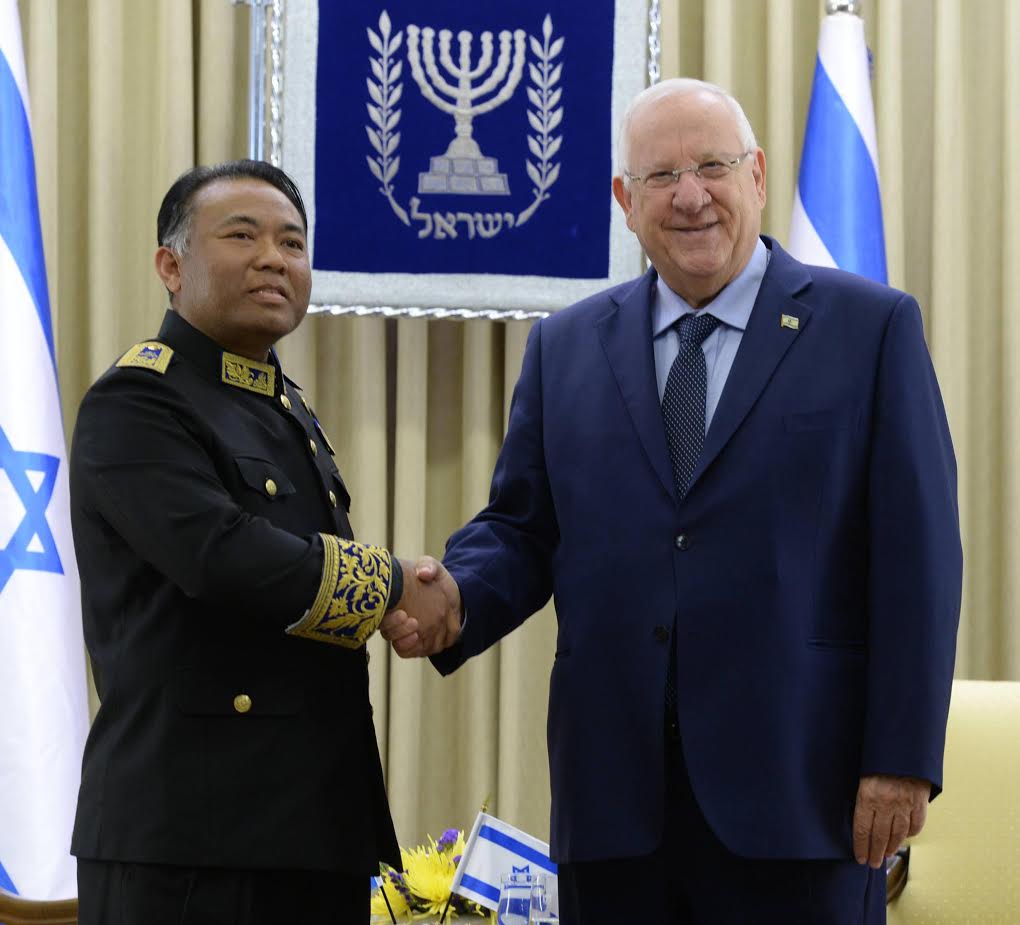 Photo : President Rivlin welcoming H.E Mr. Sman Manan, Ambassador of Cambodia to Israel.
Finally, the President received the new Ambassador of Cambodia, H.E Mr. Sman Manan. The President welcomed him and said, "Only recently your Agriculture Ministry was here and there is much we can do and learn from each other in the fields of water and agriculture. I know that there are more than 300 people this year alone from Cambodia learning in Israel. This number will grow and it is important for strengthening the ties between our people. Working together in medicine, we have brought a lot of hope to people in Cambodia, and our cooperation is for the mutual benefit of both our peoples."
The Ambassador thanked the President and said, "I want to thank the State of Israel for their help in medicine and agriculture, and also for the Israeli volunteers who have come to Cambodia." He noted that, "Seventy percent of Cambodia is agricultural land, but we don't have the technology. As ambassador I am going to work on this and promoting tourism and investment, and will try to promote our cooperation for the benefit of both peoples."
Photo Mark Neumann / GPO