On Sunday night, the Dan Hotel in Tel Aviv came alive with the sounds of Africa. Sunday evening ushered in Jamhuri (Republic) Day—Kenya's national day celebrating independence. Diplomats, academics, humanitarians, business leaders and Kenyan expatriates enjoyed a lovely and lively evening of food, music and dance which exemplified the uniqueness of Kenya and its relationship with Israel.
The evening opened with the national anthems of Kenya and Israel performed by the dynamic team of Gilad Millo and Wendy Kimani. H.E. Mr. Jon Chessoni, Charge d'Affairs of the Republic of Kenya welcomed all of the guests. Mr. Chessoni spoke about the long-standing and staunch ties linking the two nations of Kenya and Israel. In 1963, just three days before Kenya formally declared its independence, legendary Israeli Prime Minister Golda Meir visited the country to lay the cornerstone for the first Israeli Embassy in Nairobi. Israel and Kenya have enjoyed a strong relationship ever since.
Mr. Chessoni discussed Kenya's important roleas one of the largest and most robust economies in Africa, as well as the East African country's contributions to regional-level peace and stability. Mr. Chessoni became the acting ambassador in Israel when the previous ambassador left for Juba, South Sudan, to oversee efforts to reconcile differences in the difficult civil war facing that country. Kenya has also contributed to the AMISOM African Union Peacekeeping Mission in Somalia, as well as anti-piracy efforts in East Africa.
Mr. Chessoni also mentioned Kenya's efforts to promote international trade and development, including a number of recent conferences and meetings, many of which have involved Israeli cooperation. Mr. Chessoni applauded the strong ties at the governmental and people levels, and encouraged more Israelis to visit "Magical Kenya."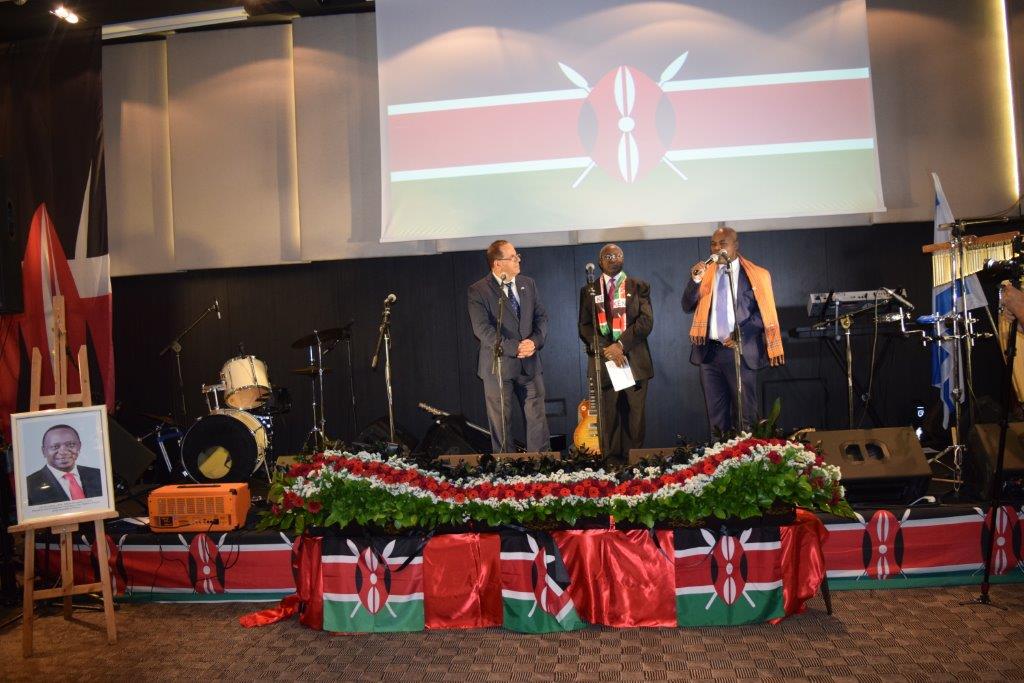 MK Ayoub Kara, Israel's Deputy Minister for Regional Cooperation, reinforced the message of Israeli-Kenyan partnership, specifically citing recent visits by Israeli Prime Minister Benjamin Netanyahu to Kenya in July 2016 and by Kenya's President Uhuru Kenyatta and Deputy President William Roto to Israel several months prior to that. Additionally, Mr. Kara noted, Israel and Kenya opened an important bilateral dialogue in Jerusalem in January 2016, with plans to hold a follow-up session in Nairobi in early 2017.
Mr. Kara discussed common challenges and opportunities for the two nations. He mentioned the threat of extremism and radicalization that challenged stability in the Middle East and East Africa—citing specifically Al-Shabab in Kenya's case, and Hamas, Hezbollah and Da'esh in Israel's case. On a more positive note,
Mr. Kara emphasized Israeli-Kenyan cooperation in initiatives like the MASHAV program, an international development program ranging from irrigation techniques to food security to education, with Kenya sending the highest number of participants to participate in MASHAV training programs in Israel. In closing, Mr. Kara offered his hope that ties between Israel and Kenya continue to blossom.
Following the speeches, guests were treated to a special performance by the eponymous group Gilad and Wendy. Gilad Millo is a the son of an Israeli ambassador, and a former diplomat himself, whose passion for music and travel has drawn him to Kenya over the years. Wendy Kimani is a Kenyan music star. The two were joined on stage by the Groove Ambassadors, an international band featuring influences from all over the world. Within minutes, the room had come alive, and guests were dancing to a combination of English and Swahili.
In an exclusive interview with Diplomacy, Furaha, Mr. Chessoni's daughter, discussed her experiences as a young Kenyan woman living in Israel. The Chessonis have been based in Israel for less than a year, and although the absence of the ambassador has placed additional obligations on Mr. Chessoni, the family loves living in Israel. Furaha studies Communications at the IDC Herzliya, while her younger siblings attend an international high school in Israel. Furaha Chessoni described her appreciation for the diversity of Israel and the way in which Israeli society incorporates religion and modernity, given that religion is a central part of life for so many (Kenya itself is home to numerous religious groups, and as Mr. Chessoni pointed out, had a synagogue in Nairobi as early as 1912). She drew a parallel to Kenya's own diversity, citing the more than 40 languages spoken by various tribes throughout Kenya. Furaha reiterated her father's call for Israelis to come visit Kenya, telling Diplomacy that Kenya's rich cultural and geographical landscape made it an ideal tourist destination spot.
The guest list at the Jamhuri celebration was similarly diverse, including not just diplomats and business leaders, but also musicians, academics and humanitarians. Israeli music superstar Idan Raichel attended with his wife Damaris, as did Ambassador Gil Haskel, former Ambasador to Kenya and current head of MASHAV, and Ambassador Emeritus Shlomo Avital, who served as a diplomat all over Africa, Professor Isaac Dagani (a researcher of African Studies and Islam at Bar Ilan University), Director of Rotary International Gideon Peiper, and numerous military attaches and political liasons. Dr. Rina Attias, who also attended the event, told Diplomacy about her work in Kenya for the Save a Child's Heart initiative, which brings children from all over the world to Israel for life-saving heart surgery by top surgeons.
Israel and Kenya have enjoyed a vibrant relationship ever since Kenyan independence and are positioned to continue with many exciting collaborations already in progress. It was only fitting, then that the Jamhuri celebration in Tel Aviv would commemorate this robust link with a gala, event featuring such energy, diversity and camaraderie.
Steven Aiello is the Director of the Debate for Peace MUN program
https://debateforpeace.wordpress.com
Photo Silvia Golan
More pics at Facebook DIPLOMACY ISRAEL