This month marks the 25th Anniversary of the establishment of diplomatic relations between the People's Republic of China and the State of Israel. And this year in the traditional Chinese calendar begins the Year of the Rooster, which symbolizes good fortune and bright future.
The Chinese Embassy in Israel held a series of activities celebrating both occasions.
The first event took place last week at the Suzanne Dellal Centre in cooperation with the Embassy of the People's Republic of China and the Ministry of Culture of China. "Shaolin," a fabulous performance, was held in the presence of the Chinese Minister of Culture, followed by a reception.
This week the Chinese Ambassador H.E Zhan Yongxin held a reception with a fantastic performance of the China National Ballet Liaoning, under Mme. Qu Zijiao at the Herzliya Performing Arts Center. The host of the reception was Counsellor Cai Weiming, the deputy head of the mission. The national anthems of both China and Israel were played.
The Chinese Ambassador opened the formalities by greeting the guests (The full text of the ambassador's remarks appears below.) Then Israel's Minister of Science and Technology, MK Ofir Akunis and Member of Knesset in the Israeli Parliament, Erel Margalit, thanked Ambassador Zhan, and they were invited to sign three post cards featuring new stamps with the Menorah and Shofar symbols commemorating the 25th Anniversary of the establishment of diplomatic relations between the People's Republic of China and the State of Israel.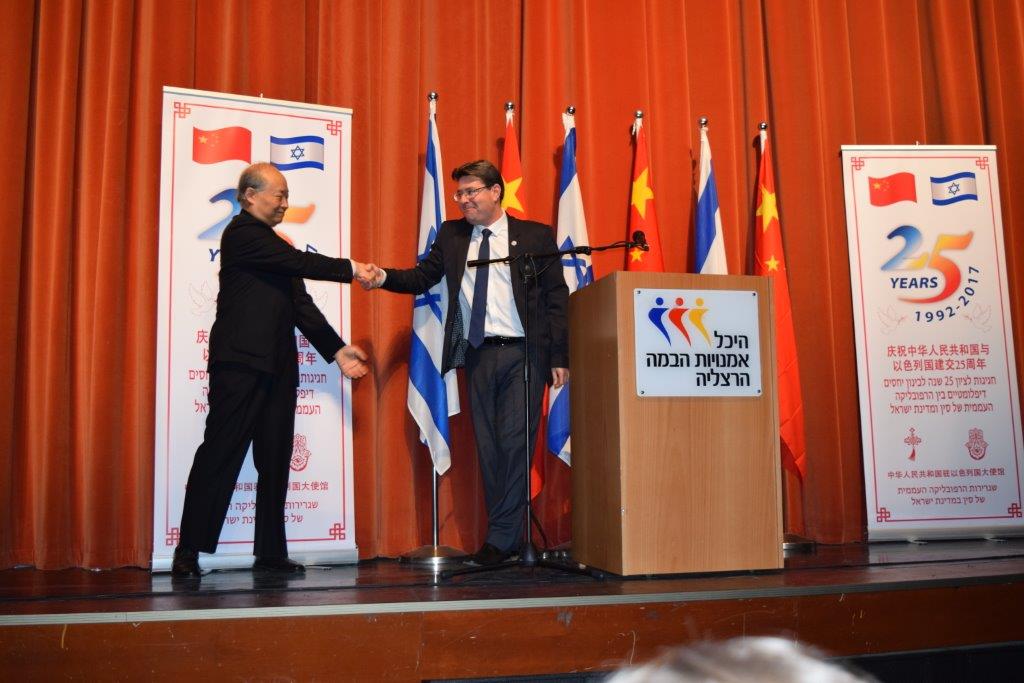 The guests of honor at the event included former Minister of Foreign Affairs David Levy, Israel's Ambassador to China Matan Vilnai, former Minister of Agriculture and Rural Development Orit Noked , Ambassador Meron Reuben - FM Protocol Chief , Itzhak Eldan – former Israel's head of ceremony, Professor Dan Shechtman, Nobel Prize in Chemistry 2011 and many other distinguished guests.
www.diplomacy staff wishes a Happy Chinese New Year! Enjoy the celebrations for the Year of the Rooster!
Ambassador Yongxin's remarks:
Remarks
At the Reception to Celebrate the 25th Anniversary of China-Israel Diplomatic Relations
And the Chinese New Year
By H.E. Zhan Yongxin, Chinese Ambassador to Israel
Jan. 23rd, 2017
Your Excellency Mr. Ofir Akunis, Minister of Science, Technology and Space,
Your Excellency Mr. Erel Margalit, Chairman of the Israel-China Friendship Group of the Knesset,
Your Excellency Mr. David Levy, Former Deputy Prime Minister and Foreign Minister,
Distinguished Guests,
Ladies and Gentlemen,
Dear friends,
Good evening! Erev Tov!
Today, we are here to celebrate the 25th anniversary of the establishment of diplomatic relations between China and Israel. First of all, I'd like to express my high respect and sincere gratitude to all those who have dedicated and contributed to the growth of China-Israel friendship.

The exchanges between the Chinese and Jewish peoples date back to more than 1000 years ago. We always respect, admire, and sympathize each other. In the darkest days of WWII, our two peoples offered mutual support and assistance. On 24th January 1992, H.E. Mr. Qian Qichen, then State Councilor and Foreign Minister of China, and H.E. Mr. David Levy, then Deputy Prime Minister and Foreign Minister of Israel, signed the Joint Communiqué on the Establishment of Diplomatic Relations between China and Israel, which opened a new chapter in the history of our two great nations. Since then, we have seen expanding bilateral exchanges and cooperation, and growing mutual understanding and friendship between our two peoples. Today, we are very happy to have Mr. David Levy join us. Mr. Levy, thank you!
In the past 25 years, many high-level visits took place between our two countries. We also established two governmental mechanisms supervising bilateral cooperation, namely China-Israel Joint Committee on Innovation Cooperation and China-Israel Inter-governmental Economic and Technical Cooperation.
In the past 25 years, our economic and trade cooperation developed rapidly. Now China is Israel's largest trading partner in Asia and third largest in the world. Our trade volume surpassed $11 billion. China's market is open to Israel. From January to November last year, Israel's export to China increased by 15.7%. Our pragmatic cooperation has expanded from agriculture in the early days to desalination, food, sport, culture, chemical industry, cyber technology, etc. China's investment to Israel has reached more than $6 billion. Last year, we started negotiations on FTA, in the good will to further boost our economic and trade cooperation.
In the past 25 years, our people-to-people exchanges flourished as well. In 1992, it was hard to see Chinese tourists in Israel. In 2016, nearly 80,000 Chinese came to visit Israel, with a 69% increase compared with 2015. On the other hand, "Happy Spring Festival" and other Chinese cultural activities like Dragon Boat Race also enrich the Israeli cultural life. The opening of more direct flight and the implementation of 10 year multi-entry visas will promote further exchanges and strengthen friendship between our two countries.
Ladies and gentlemen,
Two years ago, when I assumed office, I was looking forward to further promoting our bilateral relations into a more steady, more concrete and more deepening dimension. I mentioned that it was time for us to interpret planning into action and transform expectation into reality. Two years have passed, some expectations have turned into reality, some not yet. So, we shall roll up our sleeves to work harder in the coming years. Our experience in the past 25 years tells us that mutually beneficial and pragmatic cooperation is the best way for us to get along with each other, and it serves our common interests.
Four days later is the Chinese New Year of the Rooster, which means auspiciousness, hope, and happiness. Please allow me here to wish you all health and success in the new year, and more achievements of our bilateral cooperation!

Thank you! Toda Raba!
Photos : Silvia G Golan
More Pics at https://www.facebook.com/diplomacy.israel