Romanian Ambassador to Israel, H.E. Edward Iosiper welcomed a large contingent of guests at his home in Herzilya as Romania celebrated its National Day - a day centered around the 1918 reunification of 'Greater Romania' in which Transylvania was reincorporated into the country's complete territorial control.

The night had even more added meaning for Mr. Iosiper this year as he and MK Michael Eitan, the Israeli Minister of Improvement of Government Services, lit a 'menorah' in honor of the first night of Hannukah - the Jewish, 8-day festival of lights. Ambassador Iosiper, who himself is Jewish, lead those in attendance by signing the prayers recited on the festival's first night.


In his opening speech, the Romanian Ambassador addressed the unbreakable ties between his country and Israel, making special note of the fact that Romania was the only Soviet country NOT to break off relations with Israel after the Six Day War in 1967; rather, Israel and Romania have maintained diplomatic ties for 62 years and have recently pledged to expand areas of international cooperation that are vital to both nations' interests.


Unfortunately however, the demonstration of those strong ties could not be highlighted without the recognition and remembrance of the seven air force members - one Romanian and six Israelis - who lost their lives when their helicopter crashed during a joint-military training exercise while navigating through the mountainous terrains in central Romania. It was an ironic moment as the tragedy was recalled in sadness; yet at the same time, marking the strong bonds between the two countries.


Trade between Israel and Romania reached roughly 270 million dollars in 2010 and is expected to increase. Romania is also looking to get record numbers of Israeli tourists in 2011 in the wake of the Gaza flotilla incident with Israelis increasingly searching for new destinations as they are far more reluctant in traveling to Turkey.


2011 will also see numerous state visits between the two nations. Israeli Minister of Industry, Trade and Labor, Binyamin (Fuoad) Ben Eliezer, is expected to visit Romania in the coming months while there will be key meetings held between representatives of each's foreign ministry throughout the year.
Ambassador Iosiper expressed his desire to see both Israeli President Shimon Peres and Prime Minister Binyamin Netanyahu make official visits to Romania in the coming year.


A telling moment in the evening came as MK Eitan recounted his visit with Romanian President, Traian Băsescu, to Yad Vashem (Israel's Holocaust Museum) in May 2009.


"The Romanian President told me that growing up, it was never taught in schools that Romania collaborated with the Nazis during World War II. Only after seeing the photos of Romanian train cars did he truly recognize the misdeeds and injustices of previous Romanian governments in not recognizing these tragedies," explained Eitan.


Eitan, speaking in English, congratulated the Romanian diplomatic mission to Tel Aviv and all of its citizens on celebrating its 92nd National Day.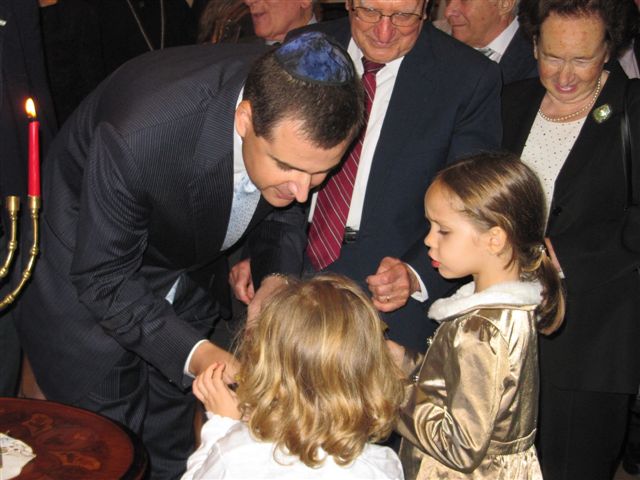 The evening was capped by guests enjoying traditional Romanian food and sufganiot (jelly doughnuts) in celebration of Hanukkah.




For more information on Romania and its diplomatic presences in Tel Aviv, click here