Sarona grows and flourishes in the heart of Tel Aviv.
In the past – a Templar settlement, and today – a center of shopping and entertainment.
Ambassadors and their spouses arrived (despite of the hot weather) to a festive visit, to get a taste of the past, and experience the present of Sarona.
The event was organized by Israel's Diplomatic Portal (www.diplomacy.co.il), directed by Ms. Silvia Golan, in association with Sarona's Management Company under the chairmanship of General Manager Iris Rar-Berz.
We met in the "Tasting Room" to taste Israeli wines.
We continued with Ms. Paul Kedem-Racover - certified and experienced tour guide, specialized in guided tours in Tel Aviv.
We toured between the picturesque balconies, lawns and parks, the pool with water flowers, the stores, and sport facilities.
Ms. Kedem-Racover started by presenting the history of the place; she told us about Sarona, which was the fourth settlement that the German Templers built in Israel in 1871, by the west bank of the Ayalon river.
The Templers were members of the "Temple Society"- a German Protestant sect, with roots in the religious movement of the Lutheran Church Protestant, originated in the middle of the 19th century. The founder of this movement, Christoph Hoffmann, intended to promote spiritual cooperation to advance the rebuilding of the Temple in the Holy land - Palestine at that time - believing that this foundation will promote the second coming of Christ.
When the Nazi regime took power in Germany, members of the Templar community in Israel started to be involved in Nazi political activities. The British mandate government put them in confined camps, and considered them as enemies (spies) and deported many of them to Australia. The British also liberated some of them in exchange to Jewish people with Israeli citizenship that were held in concentration camps in Europe. The Templers' possessions, including the high-valued real estate of their settlements, were transferred to the management of the trustee of absentees' properties.
In 1948 the Hagana forces conquered the Waldheim and Galilean Bethlehem, and the last Templar's settlers were deported from Israel.
The process of transfer of compensations to the Templers lasted about ten years. Up to 1962, the Israeli government paid 54 million German marks to the Templers and their successors - about 13 million dollars, as compensations for their lands and possessions.
And finally…

We completed our tour with a lunch picnic in the Sarona lawns, under the auspices of the Little Italy restaurant. We enjoyed the pizzas and Italian pasta, and excellent champagne.
Who needs more than all this to learn from Ms. Kedem-Racover about the past, and enjoy Sarona in the present?
The ambassadors thanked the tour organizers, and expressed their pleasure for the enrichment of their knowledge about the Templar period and the delicious culinary.
Link to the original article in Hebrew, written by Sima Lahat:

http://www.sima-blog.com/#!שרונה-–-מהטמפלרים-לכפר-קניות-ובילוי/c1kod/555c8c340cf21fee13a20f0b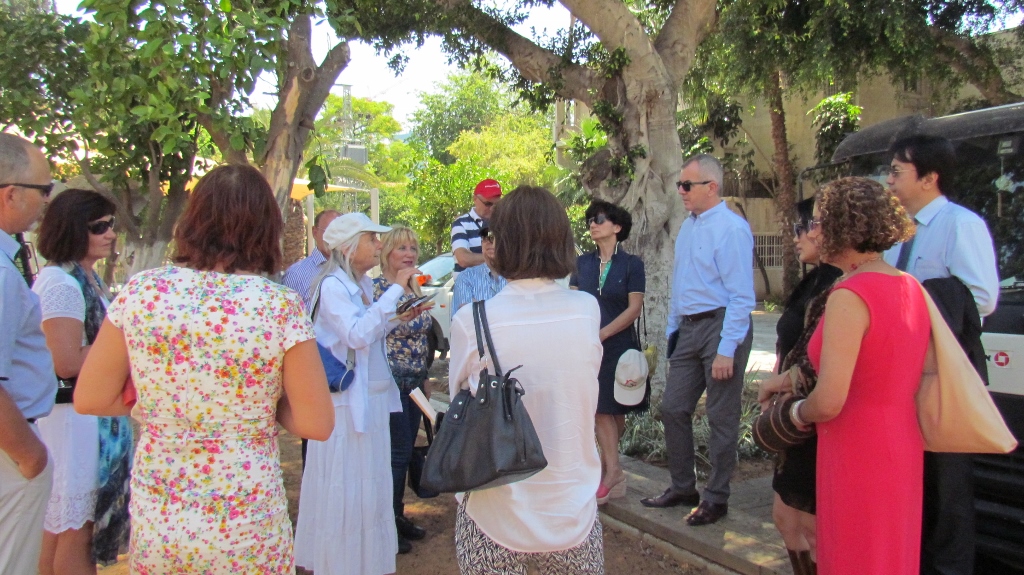 Photos Silvia Golan