Unique Restaurant in Jerusalem
Sometimes we choose a restaurant based on the cuisine (Chinese, Italian, Mexican etc.); sometimes because of the location (mountaintop, lakeside); sometimes for the elegance, service and ambience, and sometimes even for the price. All are perfectly legitimate reasons to choose where to dine.
"Tmol Shilshom" – the name translates loosely into "just yesterday …", but the two words are also the name of a celebrated book by Nobel-prize laureate S.Y. Agnon – is one of those restaurants we choose for multiple reasons. It is located in an old and charming building on a quiet side street in downtown Jerusalem; the cuisine is modern Israeli with a European touch; the service is efficient, friendly but professional, and the pricing is sane. If you seek elegance in a formal setting with starched white napery and polished silverware, please look elsewhere. If you are looking for a fun place to eat with good food and a special atmosphere, this is for you. Go to "Tmol Shilshom" to relax and enjoy and to absorb the unique atmosphere.
Because this is not just a fine restaurant, it is also a laid-back cultural institution that resonates with charm. "Tmol Shilshom" is also a bookshop, a library, a meeting place for poets, writers and media personalities. There are two indoor spaces, and a pleasant outdoor patio, from which to choose. You can relax over a cup of coffee or a beer while you scan magazines and books, or order an entire meal and people-watch as other diners do their thing too. The waitstaff are pleasant and informed, the eclectic menu (kosher – this is Jerusalem) has something for everyone, with indications on the menu of vegetarian, vegan and even gluten-free dishes. No meat whatsoever, and the restaurant is closed on Saturdays. Visit the website http://www.tmol-shilshom.co.il/en/home/ for more photographs. The website lists upcoming events (like poetry readings, discussions, lectures and more) at the bookshop/restaurant. (Most, but not all, of the events would be in Hebrew).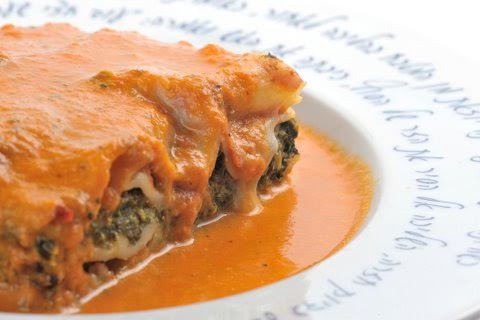 Breakfast, lunch or dinner. This might be the one place for you to impress your guests with your knowledge of the real insiders' secrets about Israel's capital's in-places to meet and eat.
Israeli restaurants can be good, even though sometimes we see the strange choices of English-language menu translations. We always wonder: if the owners can't be bothered with the small things like finding a professional to translate the Hebrew into perfect (or at least understandable) English, can they be trusted to bother about the big things, like training the wait staff, fresh raw materials, proper cooking and more? At "Tmol Shilshom" your critic did not find even one tiny flaw in the entire English menu. (Well maybe one: they spell "filet" with a double "l" (fillet), but that's just nitpicking about British/American spelling and we don't want to go there …. ).
Photos provided by the restaurant