Retro Pancake and Bar Expands to Kfar Saba
Retro, Rishon Lezion's unique combination of pancake restaurant and bar, is now officially a chain, with the opening this month of its second branch, in Kfar Saba. The name of the chain derives from its distinctive decor, resembling an old-fashioned American diner, complete with chairs upholstered in red vinyl, antique signs and period black-and-white photos.
The chain's menu is built around authentic American-style pancakes; and at Retro, they are thick, fluffy and very satisfying. Moreover, an order of the basic version starts at a very reasonable NIS 22 (NIS 28 with the standard additions of butter and maple syrup), and a stack of two flapjacks is quite filling.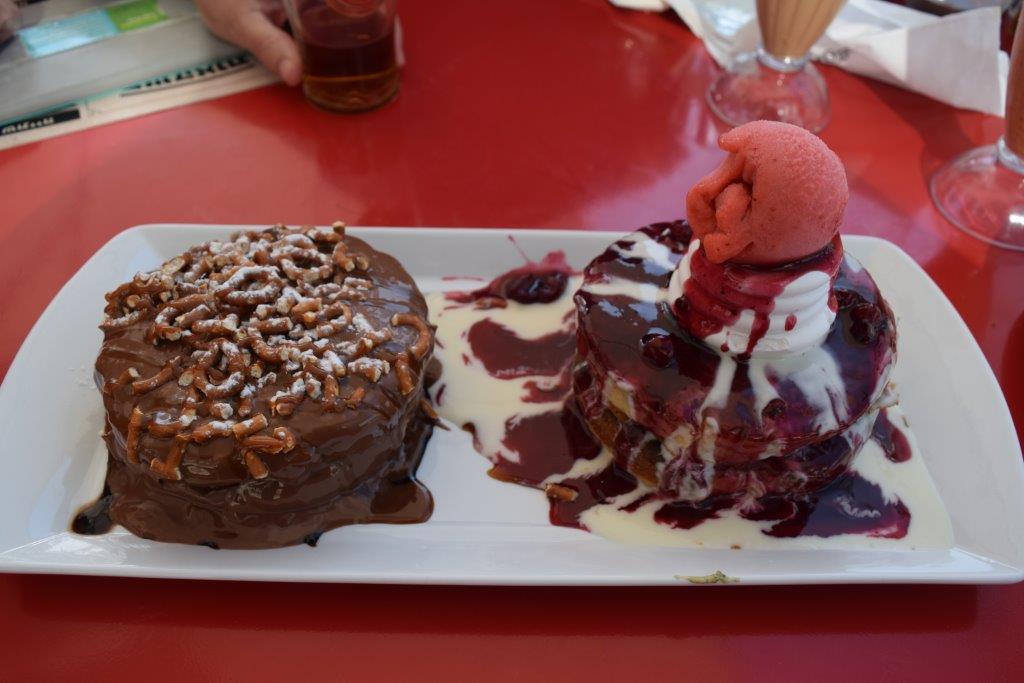 Retro's specialty, however, is taking these basic building blocks and creating innovative dishes, of both the savory and sweet variety. There are literally dozens of these towering creations, imaginatively reflecting North American, Middle Eastern and continental European cuisines. They also bear intriguingly cosmopolitan names, like Florence, Provence and Saloniki.
Retro is open virtually around the clock -- seven days a week, from morning until after midnight -- and thus there are dishes suitable for breakfast, brunch, lunch, and dinner, not to mention both main courses and desserts. In addition to the pancake-based entrées, there is more standard fare, as well as salads and toasted sandwiches. Moreover, there are ample vegetarian, vegan and gluten-free options.
Retro's new location has seating both indoors and al fresco, on a spacious terrace on the top floor of the Kfar Saba Hayeruka shopping center. The rooftop venue is also the site of weekly live music performances, on Friday afternoons and evenings.
Retro Pancake and Bar is a novelty restaurant that should certainly pique the curiosity of any food lover. And while the alcohol menu and late hours may target an adult market, both the comprehensive food and beverage selections and price ranges render the chain family-friendly. Menus are available in both Hebrew and English (the latter starting next week).
http://www.rol.co.il/sites/retro-pancake-bar/ SITE
https://www.facebook.com/Retro-Pancake-Bar-%D7%A8%D7%98%D7%A8%D7%95-%D7%A4%D7%A0%D7%A7%D7%99%D7%99%D7%A7-%D7%95%D7%91%D7%A8-705938556146108/ FACEBOOK
Address
Kfar Saba Hayeruka Shopping Center, Rapoport Street 3, Kfar Saba
Tel 09-772-2688
Photo Silvia Golan