Indian Culinary Week in Israel
The "shining star" of the Indian culinary orbit, Chef Sanjeev Kapoor, is in Israel to orchestrate the culinary festival organized by the Indian Embassy, under the able conductorship of his Excellency Ambassador Pavan Kapoor. (It is a singular coincidence that both the ambassador and the chef bear the same name.)
So on Tuesday morning Chef Kapoor was presented to the media at a reception hosted in conjunction with Israel's leading hotel chain, Dan Hotels, at their flagship property, the Dan Tel Aviv. Chef Kapoor is an internationally acclaimed chef and an award-winning TV celebrity and media personality in his native India. Dan Hotels and the Indian Embassy united to bring him to Israel where he will share his skills and innovative techniques with Israeli chefs, restauranteurs and other foodies. The Ambassador introduced the guest of honor and then spoke briefly of the fine bilateral diplomatic relations between India and Israel. He noted that cultural ties – as in the exchange of traditional foods, music, literature and more – go a long way to improving political and diplomatic ties. Ambassador Kapoor also praised and thanked the Dan Chain for their cooperation.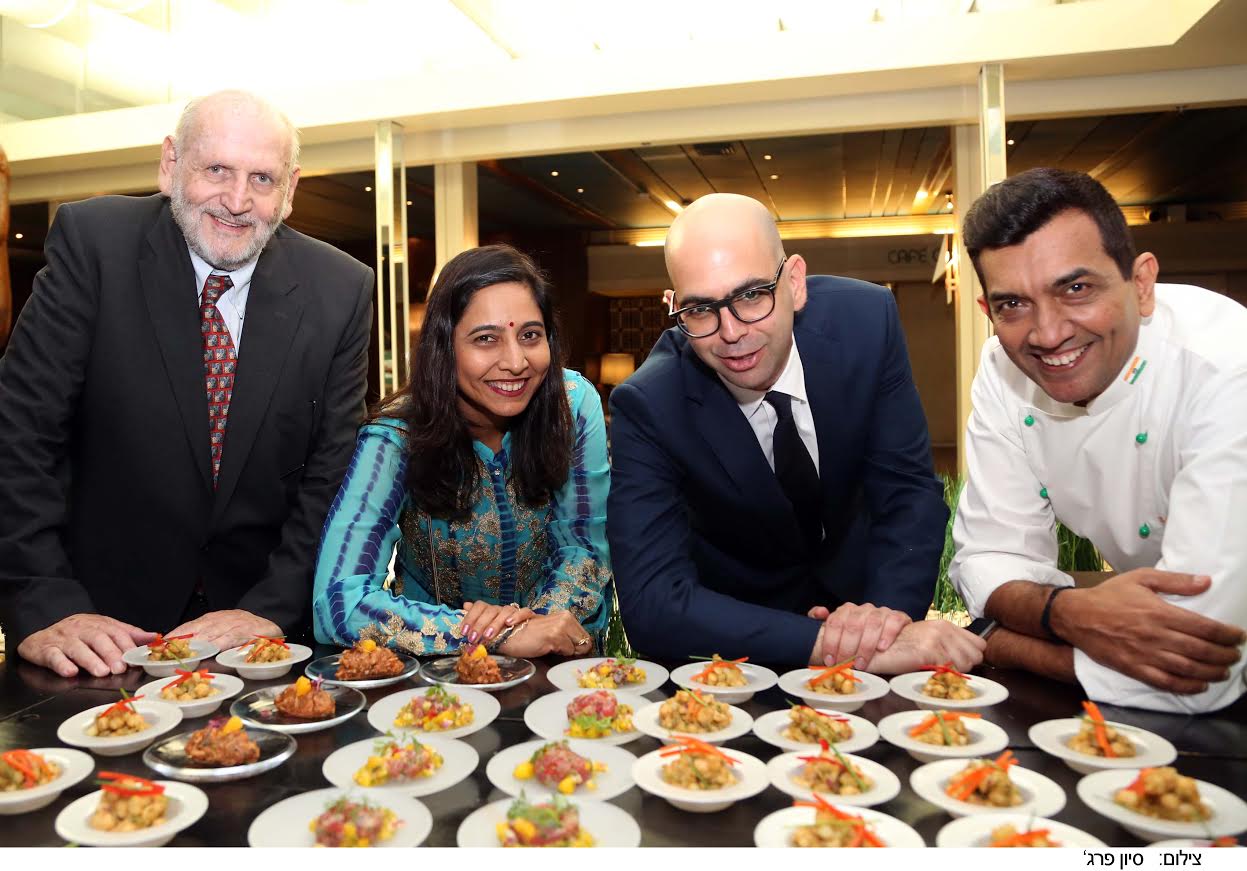 Chef Kapoor then addressed the guests and told them that he had come to Israel to learn as much as to share his knowledge. "This is my first time in Israel", he said and added, to much amusement: "Israelis don't know "Indian food" because even Indians don't know Indian food". He explained that his country on 1.25 billion inhabitants is so large and diverse that what is "Indian food" in one area, is possibly unknown in another. The scale and novelty of Indian culinary secrets awaits us all.
And what better opportunity to discover some of those secrets, in Jerusalem, than at the King David Hotel's elegant "La Regence" restaurant on the 17th to 19th May. There the hotel's Executive Chef David Biton will join forces with Chef Kapoor in offering authentic (and kosher) Indian dishes on a special celebratory menu. Think of bhatti ka murgh, galouti kabab, mango murgh makhani, nalli roganjosh and dum gosht biryani. The very names make us hungry.
Let's talk international: Besides his five popular restaurants in India, Chef Kapoor also has several restaurants in various parts of the world. We can't wait to dine at the "Yellow Chilli" in Bangalore, and the great opportunity will arise in about 10-12 months when the Dan Chain opens its first property, a luxury hotel, in India in – Bangalore!
And if that is not enough to whet your appetite, right now "Neptune Foods" is running an Indian Food Festival at several Israeli supermarket chains. Spices, preserves, sauces and more, that are often impossible (or very difficult) to find, are on sale now until the 25th May. For information on where to purchase: www.neptunefoods.co.il
Bon appetit.
Photo Sivan Farag