Festival Between the Vineyards 2016 -Tu B'Av at Merom Hagalil ( from 18 to 26.8.16)
Tu B'Av - a Jewish traditional holiday in which the young Israeli unmarried woman, are dancing in the vineyards, in full moon in order to "Catch" a groom.
There is no better place to celebrate this holiday than Merom Hagalil area. The area offers lovely country side accommodation, located between vineyards with the harvest fragrance, breathtaking scenery along with the Festival "Between the Vineyards" organized by "Merom Hagalil" Regional Council.
The Festival will take place between 18 to 26.8.16 celebrating a decade of activates with eight days and nights of various events: Festival Opening night, with the two giant Israeli singers- Shlomi Shabat & Rita-At Ein Hozim forest. A sunrise performance of Miri Mesika overlooking the Sea of ​​Galilee and the Golan Heights at Livnim Amphitheater. Two classics on one stage-Avraham Fried & Yoram Gaon at Ein Hozim. A special show At Amirim village- "G'hbls Reggae from the North Zion". "Peter-Pan" will take the kids and youth, to a magical tour, in the woods with Tinkerbell and friends. Street Fairs, local musical events, tours to wineries and vineyards, Festival special menus in the local restaurants, lots of activities for the family all accompanied with good wine and romance..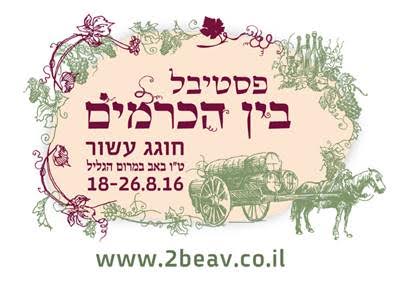 For tickets and information please call 04-6919807 & 04-6220066
The Festival website with a full program and options: www.2beav co.il
On-line ticket purchasing: keshet.smarticket.co.il