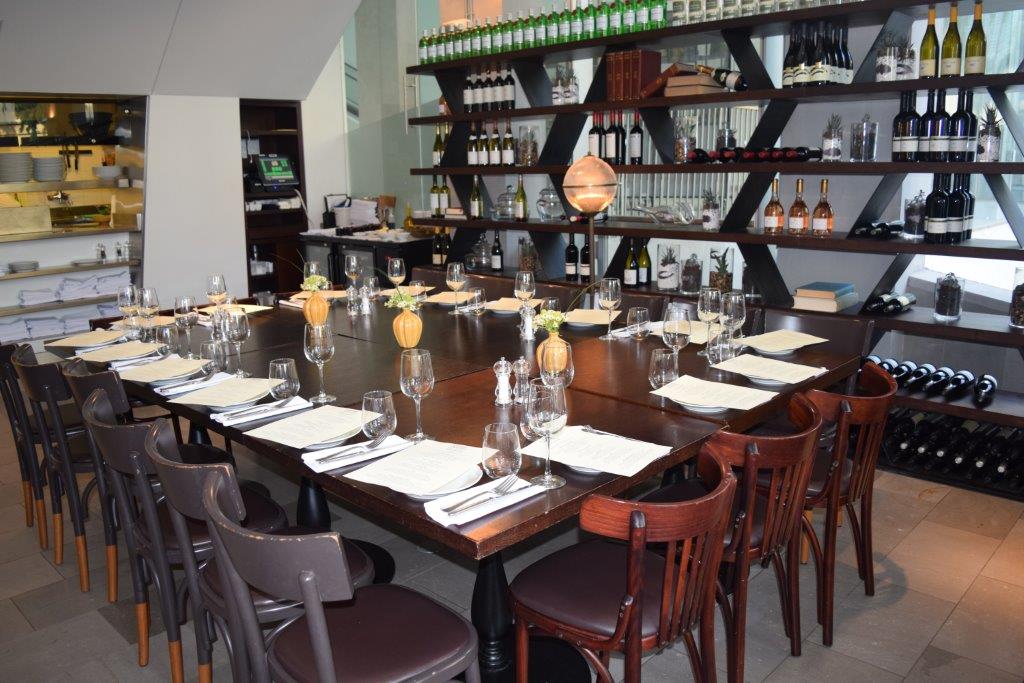 Pastel: The Art of Dining
The arts complex that houses Israel's Opera House, the Cameri Theater and the Tel Aviv Museum of Art is also home to Pastel, winner of Idea Tops' 2014 International Space Design Award for the best designed restaurant in the world.
Fortunately, the stunning restaurant can rely not only on its impressive décor but also on the artistic creativity of Chef Hillel Tavakuli to attract customers.
It is not just the kitchen that brims with talent. Pastel recently recruited mixologist Shir Dagan from Aria to revamp its cocktail menu. It is with good reason that the full name of the restaurant is Pastel Brasserie and Bar.
The tempting selection of specialty cocktails features the eponymous Pastel Muse, which combines gin with vermouth, lime juice, tonic water and berries, resulting in a slightly astringent drink that is bracing and refreshing. The intriguing Guatemala Sour, meanwhile, blends quality rum with classic sour mix and orange, for a complex citrusy cocktail that is both sweet and tangy.
Another drink with a Latin American pedigree is the Mexicana -- tequila, lime, passion fruit syrup, chili -- an explosion of sweet, sour and spicy in a martini glass. For those who want the experience without the alcohol, Dagan whips up a mean "mocktail" -- berries, pineapple, passion fruit, cucumber and mint -- that is a terrific thirst quencher for Tel Aviv's hot summer.
A meal at Pastel starts with a basket of fresh, whole grain breads, studded with olives or nuts, accompanied by a tomato salsa in olive oil. The salsa is so tasty you have to be careful not to fill up prematurely.
Our first appetizer was the beetroot gazpacho with smoked labaneh, blue cheese, caramelized hazelnuts and melon balls. Poured tableside by the waitress from a dainty pitcher, this variation on the famous cold soup was a symphony of flavors.
A popular appetizer at Pastel is the chicken liver pâté -- a generous, decadently rich slab of the delicacy atop a toasted brioche. The pâté itself was paired with an intriguing pear chutney, which nicely cut the extreme richness of the star of this dish.
Another of Patel's classic appetizers is the tuna sashimi: slices of the glistening, burgundy-hued fish were draped over pieces of green apple and cucumber (or avocado, when in season), atop a curry vinaigrette. The astoundingly fresh fish melts in the mouth, and the interplay of flavors and textures -- helped along with garnishes of coriander and chili, and the crunch of scattered chopped nuts -- is extraordinary.
When the time came for main courses, we discovered that Pastel's special pasta, formerly kept in reserve for vegetarians, had been deservedly promoted to the printed menu. The mafaldine in cream of pea sauce with broccoli and feta cheese rivals the best pasta course any dedicated Italian restaurant could offer. The wavy ribbon pasta itself is distinctive enough, but the combination of the sauce with the al dente cruciferous vegetable, the salty cheese, toasted pine nuts and gremolata (a pesto-like condiment of lemon zest, garlic and parsley) truly made the dish unforgettable. (It is available also as a vegan option: the kitchen would use olive oil instead of butter and substitute for the cheese.)
While Pastel has expanded its vegetarian options, carnivores need not worry: the grilled beef fillet in cream and brandy sauce on a bed of spinach will more than satisfy any steak aficionado. The tender, flavorful fillet is accompanied by superb mashed potatoes, as well as a tower constructed of a bone filled with succulent marrow and crowned with portobello mushrooms.
Fish and seafood are more than adequately represented as well. The seafood gnocchi pairs soft pillows of the potato pasta with shrimp, calamari and mussels swimming in a delicious sauce redolent with garlic.
Finally, the dessert menu is constantly being tweaked, but Pastel's signature dessert bears the evocative name "floating islands", whose exotic components include strawberry sorbet, amarena cherries, caramelized pistachio, soft meringue, kadaif and rose malabi. Once again, there is tableside decanting, this time of the malabi, to create an "island" of multi-layered confection. The kadaif, uniquely shaped in a hoop completes the tableau of a dessert that looks almost too pretty to eat.
Chocolate lovers will be delighted with the Ferrero Rocher -- a large candy shell studded with hazelnuts praliné encasing layers of dark chocolate and milk chocolate mousse, with additional hazelnut granite for extra crunch.
Not kosher
Shaul Hamelekh Blvd. 27, Tel Aviv
Tel. (03) 644-7441
Site: http://www.pastel-tlv.com/
Photos Silvia G. Golan