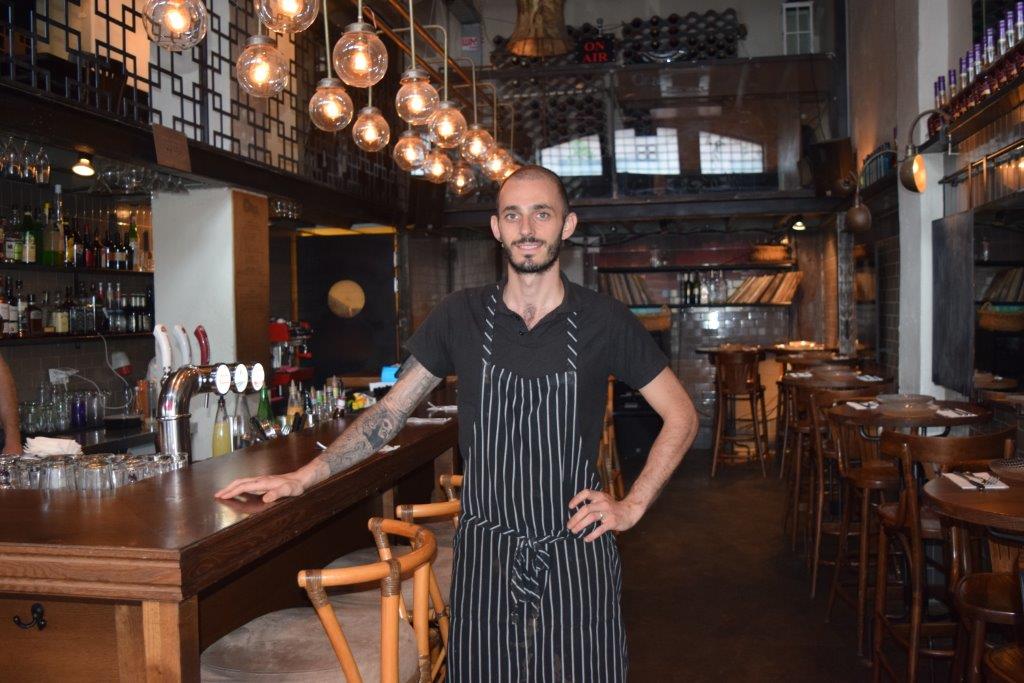 Onza Food and Vibe
Onza was the first restaurant of celebrated chef Yossi Shitreet, who now reigns at two other acclaimed restaurants: Kitchen Market and Mashya. Onza has evolved since Shitreet left the restaurant in the capable hands of Chef Muli Magriso, who has taken the kitchen in the direction of a modern interpretation of Turkish cuisine. The restaurant's slogan now is "food and vibe" -- and along with the revamped menu, there is Turkish music on Sundays and live music on Mondays and Fridays.
Most of Onza's tables are al fresco, in a quaint side street of Jaffa's flea market. It is the kind of place that calls for starting off with a drink, and the talented bar's specialty cocktails make that idea especially appealing. The smoked margarita -- tequila reposado, Grand Marnier, citrus and orange bitters, served in a martini glass rimmed with sugar -- is complex yet mellow, imparting a sweet finish. The wheat mojito -- rum, St. Germain, lime and wheat beer, garnished with fresh mint -- is very refreshing, like a supercharged shandy. There is also an extensive wine list, with vintages from around the world.
The meal itself is best commenced with the restaurant's mezze. Onza's long, sesame-crusted soft rolls are perfect for dipping in all of the unique and truly delicious appetizers: the warm eggplant dip made with yogurt, butter and chopped pistachio; the hummus-like fava bean cream, with a dollop of grape leaf skhoug that imparts just the right amount of heat; or the rich and creamy ivory-colored ikra, garnished with red onion and black olives.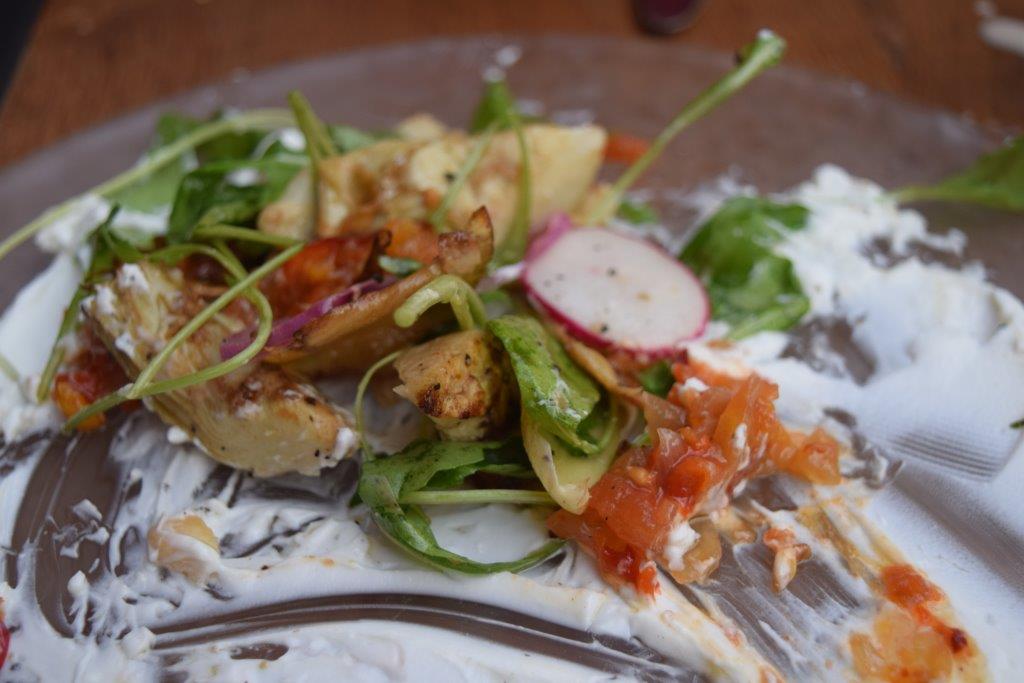 The pachanga borek, which resembles a Moroccan cigar filled with succulent smoked sausage and leeks, goes well with the gigik -- Turkish tzaziki of sheep yogurt, cucumber and mint, with a splash of olive oil and a sprinkling of zaatar. And the tomato salad with walnuts and feta cheese in pomegranate syrup, garnished with green chili pepper, is a symphony of flavors.
There are also intermediate-sized dishes, such as drum fish carpaccio topped with tabouleh and garnished with mint, parsley, and green chili pepper. This unusual combination of the ultra-fresh fish with the delicate tabouleh salad, enhanced with dollops of labaneh, is as tasty as it is inventive.
Another dish with labaneh as its base is the grilled artichoke salad, with arugula, radishes and onions in a distinctive burnt vinaigrette. The interplay of the warm and cold vegetables with the unusual dressing is startlingly successful.
Main courses run the gamut of fish, meat ,seafood and vegetarian options​
.
Our first entrée was the filet of sea bass stuffed with nuts and herbs on a bed of cauliflower cream. The fish was cooked perfectly, and the cauliflower cream was heavenly.
The second entrée was Gaziantep kebab: two skewers of herb-seasoned ground lamb on a bed of eggplant cooked in butter, under a drizzle of tehina sweetened with pomegranate syrup. A truly inspired combination.
A third main course is the seafood pan: shrimp, calamari, mussels, chickpeas and artichokes in a distinctive marinière sauce made with raki instead of wine. A nice touch was warm lafa with kashkaval to mop up every last drop of the juice.
The dessert menu, delivered orally, comprises two Western and two Mediterranean options. The knaffeh with yogurt mousse and white chocolate, which takes 15 minutes to prepare, is well worth the wait. The coconut cream malabi on raw tehina with caramelized fruit is another sweet delight, guaranteed to make you think of traditional malabi in a new light.
Naturally, there is a chocolate option as well: the chocolate mousse on chocolate crumble is slightly salty and particularly intense. There is also a delectable cheesecake mousse with dried fruit on lotus cookies.
From start to finish, Onza is a casual, informal place with the exacting culinary standards of many of Tel Aviv's fancier establishments.
Not kosher
Rabbi Hanina Street 3, Tel Aviv-Yafo
Tel. (03) 648-6060