On November 20th, the US Embassy's American Center opened the first conference of the year for the Debate for Peace Model United Nations program. The conference included 80 Jewish and Muslim high school students from more than ten cities and a dozen schools around Israel. The students had five hours to resolve challenging conflicts in Afghanistan and Somalia, while representing their assigned countries.
Students attending the conference came from schools in Sakhnin, Baqa al-Gharabiya, Tira, Petah Tiqva, Givatayim, Yafo, Modi'in, Gedera, Gan Yavne and Yavne. For many of the students it was their first time participating in an MUN conference, or an interfaith event of this kind.
The Debate for Peace (DfP) program is run in partnership with the Interfaith Encounters Association (IEA) and the Jerusalem Peacebuilders (JPB) and is the only Model UN conference series in Israel that is free for participants. The conference on November 20th, in addition to being hosted by the American Center, was sponsored by Citizens Diplomacy Initiatives (CDI), a Florida-based NGO that works to connect Israeli, Palestinian and American citizens.
During the conference, students represented a range of countries and made speeches, debated, and negotiated in their effort to address the conflicts in Afghanistan and Somalia, following rules modeled after the UN rules of procedure. Both groups managed to pass resolutions before the awards ceremony that marked the end of the day.
Yehuda Stolov opened the awards ceremony, explaining to the students that they were now IEA members, and were welcome to participate in and initiate future events. Mayor Lauren Poe spoke next on behalf of his delegation from Gainesville, Florida. Although this was his first visit to Israel, Mayor Poe promised that there would be more and invited the students to visit Gainesville and interact with MUN students in Florida. Steve Kalishman then explained about CDI's efforts in bridging between Israeli, Palestinian and American citizens, and the importance in being willing to take risks to make peace.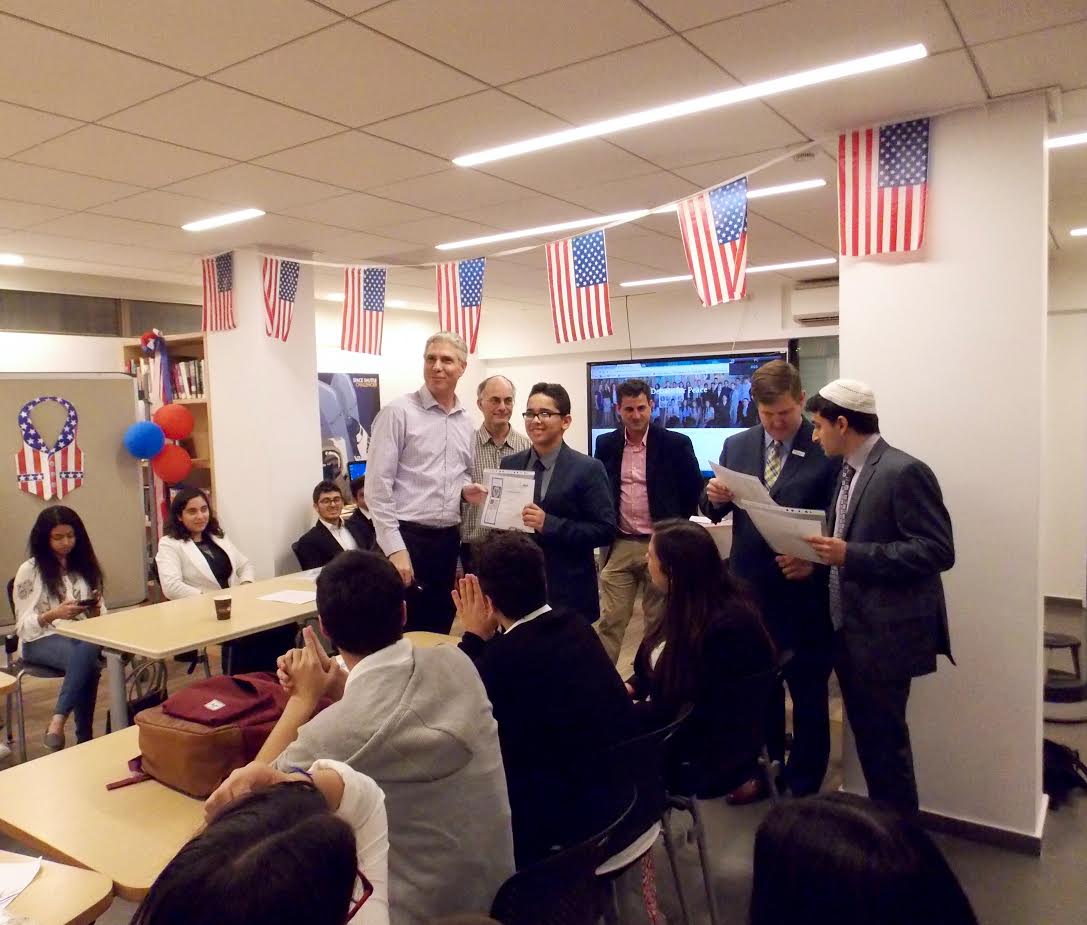 Mr. Michael Snowden, political counselor at the US Embassy in Tel Aviv, spoke to the students on behalf of the American Embassy. Mr. Snowden shared insights from his own career as a diplomat, including time spent at the UN headquarters in NYC. He encouraged students considering careers in diplomacy to pursue their dreams, and said that the skills gained through MUN could help everyone in their personal and professional lives.
During the awards ceremony, outstanding participants from each committee were recognized (Aya Abu Mokh, Adan Masri and Alon Mor in the Somalia committee and Oded Riftin, Gabrielle Imperial, Ben Hami and Tomer Dovzhenko in the Afghanistan committee). In addition, one student from each school received a Best of Delegation Award.
At the end of the ceremony, Jack Karn made an important announcement on behalf of the Jerusalem Peacebuilders. He announced that the JPB would be offering full scholarships to DfP MUN students to attend JPB interfaith leadership camps in the US this summer (held in Connecticut, Houston and Vermont). Jack announced the five students who were chosen based on their participation at the conference, with another two dozen to be chosen at upcoming conferences.

Feedback from the participants, teachers and guests was overwhelmingly positive. Many of the students had been apprehensive or intimidated going into the event, but all came away with smiles (along with Certificates of Participation and gifts from the University of Florida). Sean Yona, from Yachad Modi'in, said that beforehand "I didn't know what to expect, and I was scared. When I got there, I saw that everybody felt the same way, and that it was most people's first time too. Everyone was very friendly, and the chairs were helpful." Carmel Kenneth, a student at Ort Rabin in Gan Yavne, agreed: "It was my first time in a Model UN, and I had a lot of fun. I think it gives a lot of experience for life, in debating and making new friends."
Omri Weinstock, who chaired the Somalia committee, said "This conference was an important milestone for me, in the extraordinary journey of Model United Nations." His counterpart Sana Zahalka, who chaired the Afghanistan committee, seconded the sentiment, saying "I enjoyed chairing a lot of amazing, eloquent delegates...one of the best days of my life."
The next DfP conference will be held in January, in Baqa al-Gharabiya. For more information and to register for conferences, please visit the DfP website: https://debateforpeace.wordpress.com/
Written by Steven Aiello,
Director, Debate for Peace program
Photos Jack Karn