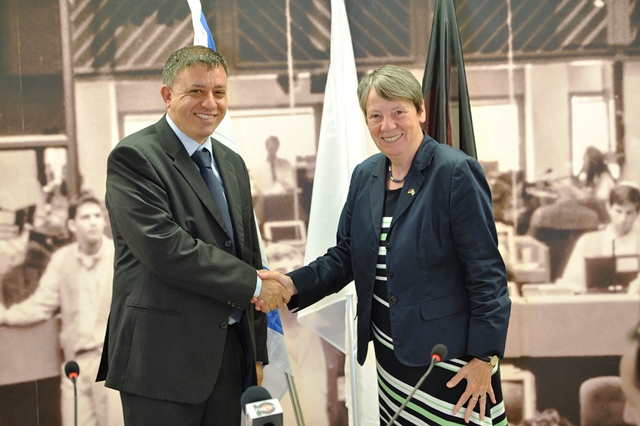 One of the most important climate conferences ever is taking place in Paris in December 2015. The 21st Conference of the Parties, or COP 21, of the United Nations Framework Convention on Climate Change (UNFCCC) is being held from November 30-December 11, 2015. ​The Paris Climate Conference is considered so significant because a new, binding agreement on greenhouse gas (GHG) emissions, which will be applicable to all countries, is expected to be adopted there.
Israel's has committed to reduce per capita greenhouse gas emissions to 7.7 tCO2e (tonnes of carbon dioxide equivalent) by 2030. This constitutes a reduction of 26% below the 2005 GHG emissions level.
Israel's GHG Emissions Reduction Target

Background

​While Israel has been a Party to the UNFCCC since 1996 and to the Kyoto Protocol since 2004, it was defined by Kyoto to be a developing, or non-Annex 1 country. Thus, it was not legally obligated to reduce greenhouse gas (GHG) emissions.
At the UNFCCC in Copenhagen in 2009, Israeli President Shimon Peres announced Israel's intention to reduce GHG emissions 20% by 2020, compared to a business-as-usual scenario. The government formulated a national GHG reduction program in 2010. But the Finance Ministry froze the program in 2013, making it unlikely the country will reach its 20% reduction target.
Under a new agreement expected to be adopted at the 2015 Paris conference, all countries, including Israel, will be obligated to reduce GHG emissions.
2015: A New Target
In Sept. 2015, an inter-ministerial committee submitted a recommendation to the Israeli government that it approve a program to reduce GHG emissions 25% by 2030.
In October 2015, the Israeli government submitted its official GHG reduction target to the UNFCCC.
The mitigation target is a per capita emissions reduction of 7.7 tCO2e (tonnes of carbon dioxide equivalent) by 2030. This constitutes a reduction of 26% below the level in 2005 of 10.4 tCO2e per capita. An interim target of 8.8 tCO2e is expected by 2025.
There are also sector-specific targets for 2030:
17% reduction in electricity consumption relative to BAU (business as usual) scenario
17% of the electricity consumed will be from renewable sources (Currently 2% of Israel's electricity is generated by renewables.)
20% shift from private to public transportation relative to BAU scenario, transition from diesel to compressed natural gas for heavy vehicles
The emissions target is part of Israel's Intended Nationally Determined Contribution (INDC), all the climate actions Israel intends to take under the new agreement.
Back to top
Preparations in Israel for the Paris Climate Conference


Conference on Sustainable Innovation: Towards the UN Convention on Climate Change, July 14, 2015
Hosts: Israel Ministry of Environmental Protection (MoEP), Israel Ministry of Economy, German Ministry for the Environment, Nature Conservation, Building and Nuclear Safety.
English presentations:
New Climate Economy: An Action Agenda for Sustainable Economic Growth
​A Universal Climate Agreement: Convergence of Moral and Economic Imperatives
​Energy Efficiency on (and Beyond) the Road to Paris 2015
Comparative Findings on Climate Policy Among OECD Members
In addition, head of the MoEP's Climate Change Division presented conclusions of the inter-ministerial committee that was analyzing Israel's potential for reducing energy consumption and GHGs.
In accordance with the committee's findings, the MoEP recommended a reduction target of 30% of greenhouse gases by 2030, compared to a business as usual scenario. These reductions would come from sectors such as: electricity, industry, transportation, residential and commercial buildings, waste, and agriculture. (Ultimately, a slightly lower target was submitted. See GHG Emissions Reduction Target above.)
Article on conference, German Environment Ministry Website: "Climate action is a driver of innovation," July 14, 2015
More about the Sustainable Innovation Conference.
Climate Change Adaptation Conference, Sept. 7, 2015

Hosts: MoEP and other government ministries and agencies dealing with climate change adaptation
Topics included:
Creating a strategy and action plan to prepare Israel for climate change
The climate treaty expected to be adopted at the Paris Climate Conference
Climate trends and forecasts
The expected impact of climate change and adaptation efforts being made in Israel. Areas expected to be affected include: agriculture, biodiversity, rivers and streams, forestation, health, education, security, energy, planning and building, water, technologies, and more.
Israeli Delegation at COP 21
The delegation includes:
Nearly 70 people altogether; 12 from the MoEP
Israeli Prime Minister Benjamin Netanyahu, Environmental Protection Minister Avi Gabbay, Director General Yisrael Dancziger
Knesset (Parliament) members, Officials from other ministries and agencies
Representatives from environmental NGOs, academia, business executives
Side events:
Three side events are being organized by members of the Israeli delegation. Topics of the side events are:
Alternative refrigerants. (The use of alternative refrigerants, instead of GHG-producing HFCs, to replace HCFCs that are being phased out as a result of the Montreal Protocol.) More about the HCFC phase-out and alternative refrigerants.
Organizers: MoEP and its counterpart in Bavaria, Germany, which is partnering with Israel on a project to promote alternative refrigerants in Israel.
Deforestation. Organizers: Jewish National Fund, Montenegro organization
Renewable Energies. Organizers: Israel Foreign Ministry
Israeli Speakers:
Prime Minister Benjamin Netanyahu will address the conference on Day One, Nov. 30th.
Photo :Israeli and German Environment Ministers Avi Gabbay and Dr. Barbara Hendricks at the Sustainable Innovation Conference
Photo by Aviad Weitzman