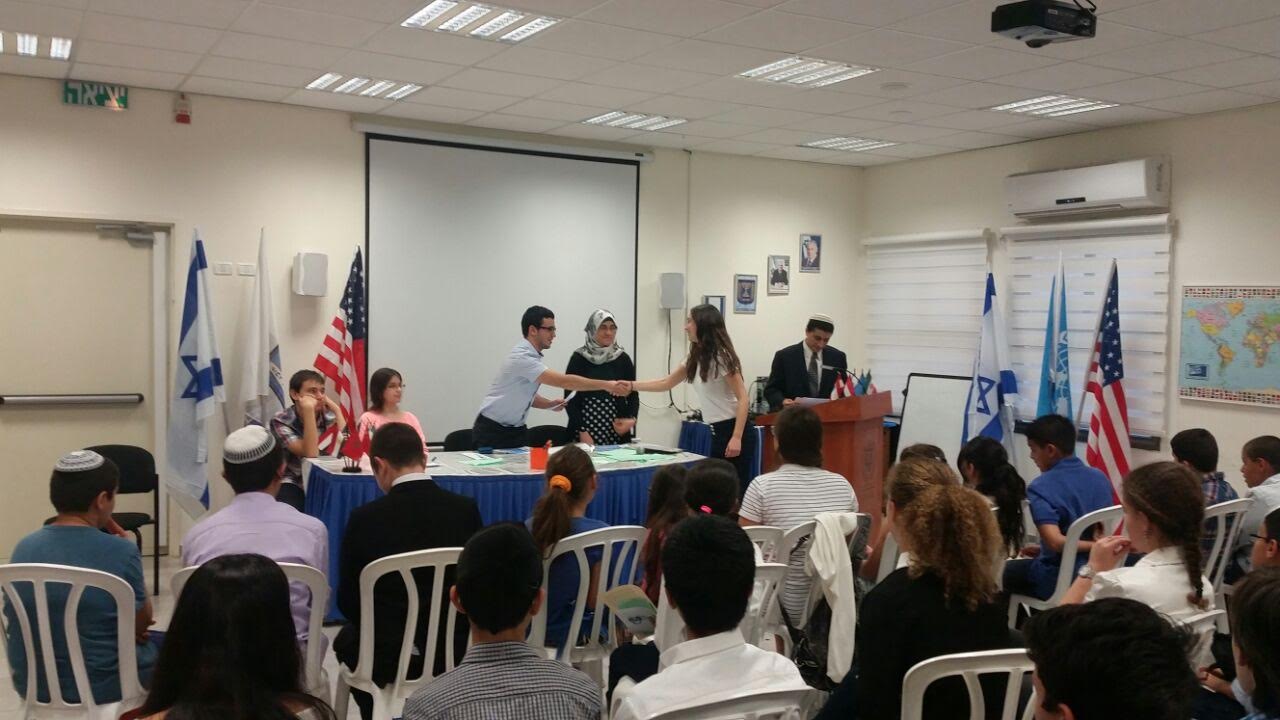 "Israel's Youngest Diplomats Address the Syrian Conflict"
The youngest diplomats in Israeli history participated in a unique conference in Petah Tikva on Sunday, April 10th. The Young Ambassadors School in Petah Tikva, which is used to training young leaders and marking historic occasions, welcomed its youngest students in the Model United Nations (MUN) program. Approximately thirty 5th and 6th grade students represented countries ranging from Australia to the United Arab Emirates, and spent 2.5 hours addressing the conflict in Syria.

As the youngest MUN students in Israeli history, the students spent weeks preparing for the conference by studying rules for how to interact in a diplomatic conference, and the complexities of the Syrian conflict, from the issue of Kurdish sovereignty to the threat of Jabhat al-Nusra to replace the presence of Islamic State.

The conference, the third one this year organized by the Young Ambassadors School in partnership with the Interfaith Encounters Association, also included three committees for older students—one dealing with Human Rights in Saudi Arabia, one addressing the threat of Islamic State (Daesh), and a crisis committee simulating an Israeli airstrike on Iran. Participants included 7th-12th grade students from the Young Ambassadors School, as well as the Yachad Modiin team, and individual students from other cities. Students from Khadeja Junior High School in Umm al-Fahem and AlJadedah High School in Kfar Kasem also attended as observers in hopes of establishing their own MUN programs in the future.

Following the debates and negotiations, each committee voted on and passed a separate resolution. For the Syrian Conflict committee that meant deciding to partition Syria into distinct, autonomous areas, with one overarching central government to unite the different areas.

At the end of the evening, those who represented their countries the best were called up to the podium to receive awards. These included Eden Peri (Iran), Uri Haimovitch (China), Itay Ozer (Saudi Arabia) and Mika Galperin (USA) in the Syrian Conflict committee; Almog Vilder (Lebanon), Sarah Frydman (Syria) and Niv Geva (Iraq) in the ISIS committee; Arielle Lieberman (USA), Tamar Shahar (Canada) and Oz Alfy (Italy) in the Human Rights Council, and Austen Hamilton (Israel) and Omri Weinstock (Iran) in the Crisis Committee.

Or Shipperman from Elimelekh Kaner Elementary School, who represented Russia in the 5th-6th grade group, said that she enjoyed herself immensely, and that it had been an incredible experience. "I learned about how the conflict looks from a different perspective, and of course how to represent a different view than my personal one" she said. Ori Vikel, from Neve Oz Elementary School, added that in her view, the experience of learning to make speeches and represent countries was preparation for the job of representing Israel for which the Young Ambassadors program prepares students. Judging by the conference, Israel's diplomatic future, rests in some capable young hands.
For more information and to attend future conferences, please contact Steven Aiello, Director of the Model UN program at the Young Ambassadors School
Steven Aiello
Contributing Analyst -- Wikistrat.com
Model UN and Debate Instructor -- School for Young Ambassadors
Mail :
This email address is being protected from spambots. You need JavaScript enabled to view it.
‏
Tel : 052-8194878