On the Occasion of International Women's Day: Ninth President Shimon Peres and International Supermodel Naomi Campbell salut Israeli women trailblazers in their fields
The Ninth President Shimon Peres opened the "Women Leading Change" event with the remark:

"We have no future in a world that discriminates against women"

"No one is allowed to discriminate against women, not in Israeli society, and not around the world. Discrimination against women harms all of us and the future of our children"
As part of an interview with Israel's Ninth President, the guest of honor, Supermodel Naomi Campbell said:
"Leaders such as yourself, Mr. Peres, and those like Nelson Mandela, are what make the world a better place. You inspire me."

"My mother is an anchor in my life, she raised me on her own and made me believe in myself and never to give up."
Ninth President Shimon Peres and International Supermodel Naomi Campbell today (8.3) saluted women trailblazers at the "Women Leading Change" event held on the occasion of International Women's Day at the Peres Center for Peace. During the event, the Ninth President and the Supermodel held a joint interview on stage, during which they discussed the importance of advancing women's rights and the need for gender equality. Following the interview, nine women leading change in various fields including education, society, business and the media took the stage, sharing their message and answering the question - How can woman leaders help to advance change in their industry? The event was attended by over 200 leading women in Israeli society including: Minister Gila Gamliel, the Diplomatic Spouses Club, City Mayors, CEOs of leading companies and more.
The Ninth President began the conversation between the two by saying: "Women are the future. There are women pilots, and we can learn a lot from them, they are strong, have courage, have precision, and are brave. A place without women is a place without a future. A world without women is a world without a future. I believe that women can teach us the difference between power and strength. Men know how to express themselves through power, but women have even more strength."
Campbell noted at the event that: "I overcame many obstacles in my life, but I never threw up my hands and gave up. I was blessed with wonderful people who work with me and accompanied me along the way, and my mother, who is my anchor, and who showed me that, even a single parent can be a wonderful mother. I think that you must have courage and love what you do, you must be one hundred percent committed. The sky is never the limit."
At the end of the conversation, Ninth President Peres gave Supermodel Campbell an award and congratulated her on her advocacy promoting women and helping communities affected by natural disasters around the world: "Thank you for all that you do for women around the world. Your work is appreciated the world over".
Campbell thanked Peres and said: "I believe that once a person is blessed, that person must help others. I learned this from inspiring leaders such as yourself and Nelson Mandela."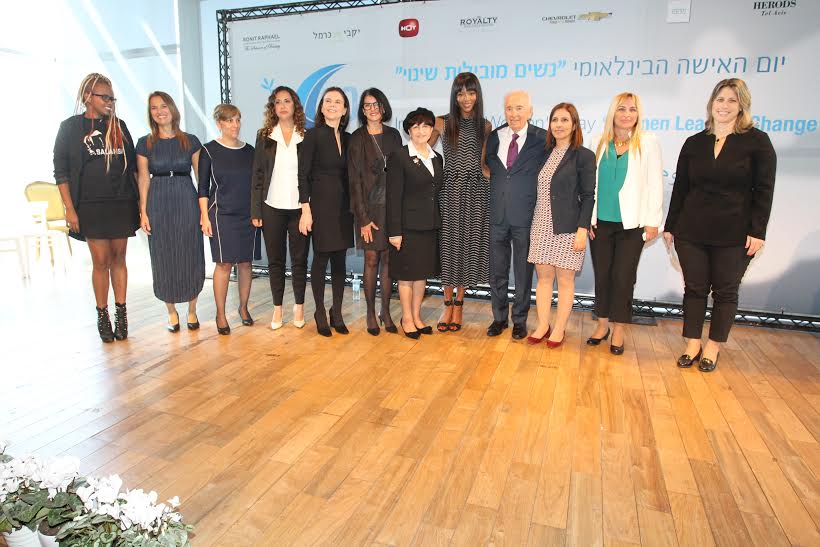 Among the women who received an award were: Ofra Strauss, Chair of Strauss Group and Chair of Jasmine, an organization promoting entrepreneurship among Jewish and Arab women business owners. Adina Bar Shalom, founder of the Haredi College in Jerusalem. Tal Granot- Goldstein, CEO of HOT. Nadia Kanani- Director of Hand in Hand, a bilingual school in Jerusalem. Tal Schneider, leading Israeli political journalist and blogger. Prof. Annan Felah, a woman trailblazer among the Druze community. Yael Ovadia- Executive director of "Letet Ahshav" (To Give a Future), which works to develop entrepreneurship and small businesses by women. Iris Beck-Codner- Group EVP, Global Marketing and Communications at "Teva" Pharmaceutical.
Photo Rafi Deloya