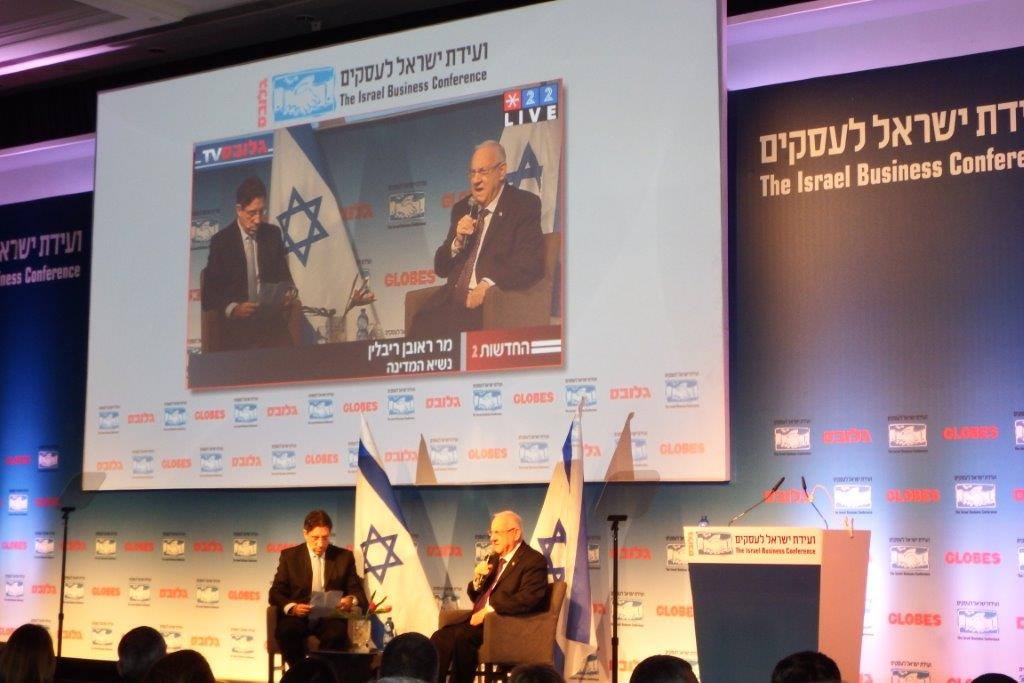 President Reuven Rivlin this morning (Sunday, 7 December 2014), participated in the Globes 'Israel Business Conference' in Tel Aviv. The President spoke 'in conversation' with Globes Editor-in-Chief Guy Rolnik about the proposed upcoming elections. He said, "I hope that what happened before won't happen this time, with regard to the voter turnout. I am afraid the public will not get out to vote, because they have lost faith. I hope everyone will vote."
The President continued, "Even the political leaders need to understand that a return to the central voter blocs is important for governance and the ability to make difficult decisions. The elections always raise the same questions: security or society, but today, we have to find a solution to both, it is no longer 'either or'. The social protests brought about the unprecedented replacement of 57 members of Knesset, and that was a clear message."
In relation to the situation in Israel's society, the President said, "We find ourselves with two economies – the Start Up nation, and another Israel. The gaps are growing and widening even within the second group, and amongst the middle classes. All this demands the involvement of society; by voting and understanding that elected representatives are elected to deal with these issues too."
The President continued to address the issue of violence in Israel over the past months. "The cure for violence, is hope. As Jewish leaders, we must deal with the issue of Jewish fundamentalism, and Arab leaders need to deal with the issue of Arab fundamentalism. Where there is no hope, violence breeds."
To the question of how the President regards the suggestion he had changed his opinions since entering office, he said, "I was and remain a student of Jabotinsky, the education system within which I was educated and raised was that of the Herut and the Likud. I have said in the past, and I say again and again. Jews and Arabs were not doomed to live together, but destined to live together. As a Jew and a Zionist, I believe fully in the Jewish State, which must be democratic, and governed according to the will of the majority. That which I say today, I have been saying for years, and all who know me are aware of this."
To the question of whether the President was a 'digital president', the President responded, "I write with a fountain pen, and sometimes with a pencil. My grandchildren have shown me the marvels of the internet. I understood early on, the magnitude of the revolution that the internet has brought and the significance it holds for our lives. Personally however, I can't really send a text message without the help of my aides. That said, I understand what I am talking about, and I can happily live with it with my grandchildren by my side."
Photos Silvia G Golan